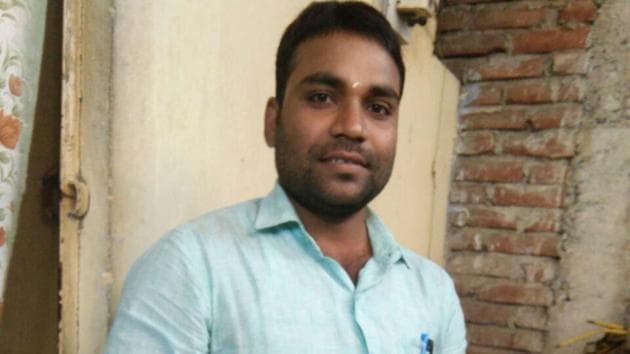 Gaya cyber café owner who caught terror suspects turns pauper
Anurag Basu's heroism is extracting a huge price on him and his family in financial terms.
UPDATED ON OCT 01, 2017 09:30 PM IST
A cyber café owner and publisher who became a hero a fortnight back after catching a terror suspect of 2008 Ahmedabad serial blasts, is now staring at penury.
With his business crippled for fear of retaliation, Anurag Basu is today unsure how to pay the school fees of his son Shivam, a second standard. He is also uncertain about paying his monthly rent of his house and cyber café.
Basu's life has changed since he caught two terror suspects on September 13. Tauseef Khan alias Atik Khan, an accused in the Ahmedabad blast, was one of the two men. The blast killed 56 people and injured more than 200 .
He has already paid a heavy price for what his wife Aradhana Kumari describes was a 'misadventure'. He had chased down the suspects after they left his cyber café in a jiffy when he asked them to furnish identity documents and share their mobile numbers — a prerequisite for accessing services at a public cyber café.
"Customers do not come to my cyber café anymore fearing retaliation by terrorists. Four of my employees have also deserted me for the same reason. The average daily customer footfall has come down from 60-80 to near zero. From earning anything between Rs 30,000 and Rs 40,000 monthly, my income is now zero," Basu told HT.
Advertisements for his vernacular monthly socio-political magazine 'Saaf Swar' have also dried up. As a result, Basu does not have resources enough to pay his freelance contributors or print the magazine, affecting its publication this month.
Read more: 2008 Ahmedabad blast accused among two terror suspects arrested from cyber café at Gaya
To make matters worse, the police have confiscated the master computer at his cyber café as part of the investigation. Besides, he is forced to make rounds of the police, with sleuths of the anti-terrorist squad (ATS) handling the case, special branch and the intelligence bureau (IB) summoning Basu for questioning.
All he has earned in return is accolades from Gaya senior superintendent of police Garima Mallick, who had said that the police would award Basu for his valour and courage.
Son of a retired armyman Vishnudeo Prasad, Basu is a third degree black belt in karate from the Temple of Martial Arts in Kolkata. His sibling Shivnandan is also an army commando and had fought in the Kargil conflict.
The adversity notwithstanding, Basu's patriotism and zeal to serve the country has not diminished. Unfortunately, that does not ensure any income for Basu which has plunged his family into a crisis.
Close