'Gory murder' of RSS woman by Leftist Muslims in Kerala is fake news
Updated on Oct 01, 2017 12:53 PM IST
On Wednesday, a video showing a BJP woman supporter being allegedly murdered in Kerala surfaced on social media. Only, it is fake!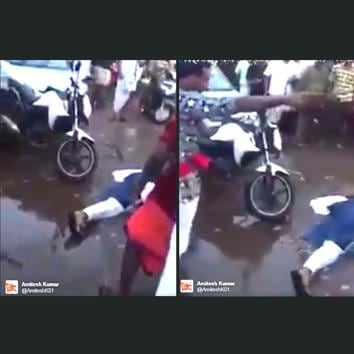 The fake news machinery is at it again.
On Wednesday, a video showing a BJP woman supporter being allegedly murdered in Kerala surfaced on social media.
The video showed two men on a bike, their faces covered, dragging a woman out of the car. As she struggles to free herself from their clutches, she is 'shot' at, collapsing on the ground. A man then addresses the people who have surrounded the body, in Malayalam. The word 'RSS' used repeatedly, is the only distinguishable word for those who do not understand the language.
Twitter user @AmiteshK01 posted the video, calling it "another gory murder in Kerala by Commie/Jihadi goons of a lady supportive of BJP".
The text written in Hindi, flashing on the video translates to, "RSS Hindu woman shot dead by Muslims in Kerala".
But none of it is real – the murder did not happen, the woman did not die. The video was a clipping of a street play performed by the Democratic Youth Federation of India (DYFI) at Kalikavu in Malappuram, a report in Malayalam newspaper Mathrubhumi noted.
The street play was an enactment of the murder of journalist-activist Gauri Lankesh, who was shot dead outside her home in Bengaluru on September 5.
The DYFI Kalikavu Area Secretary CT Sakkaria, was seen screaming that RSS is behind the murders of that including Gauri Lankesh.
But the damage was done. The fake news had already started circulating around social media, before it was debunked.
According to the Mathrubhumi report, the video was picked up by Hindi news channel Zee News and presented with the title 'Kerala's leftist Muslims killing a woman with RSS inclination in the middle of the road'.
Though the channel has now removed the report, but many including Palakkad MP MB Rajesh slammed the news organisation.
Many quickly took to Twitter to correct the false news being circulated across social media.
This isn't the first time the same Twitter user has been caught spreading fake news. Last week, Amitesh Kumar came under fire for spreading scurrilous information about Gauri Lankesh.
He had tweeted misconstruing her newspaper's name as Gauri Lankesh Patrick instead of Gauri Lankesh Patrike to allege that Gauri was a Christian and had an agenda.