Govt's new advert policy gives fresh lease of life to RSS-backed news service
Hindustan Times |
, New Delhi
Aloke Tikku & Kumar Uttam
Jun 21, 2016 01:18 AM IST
A new policy on print media advertisements has included Hindusthan Samachar as one of the three news agencies to which newspapers could subscribe, to score points to qualify for government ads.
A news agency linked with the Rashtriya Swayamsevak Sangh (RSS) looks set for a major expansion, with some help from the NDA government.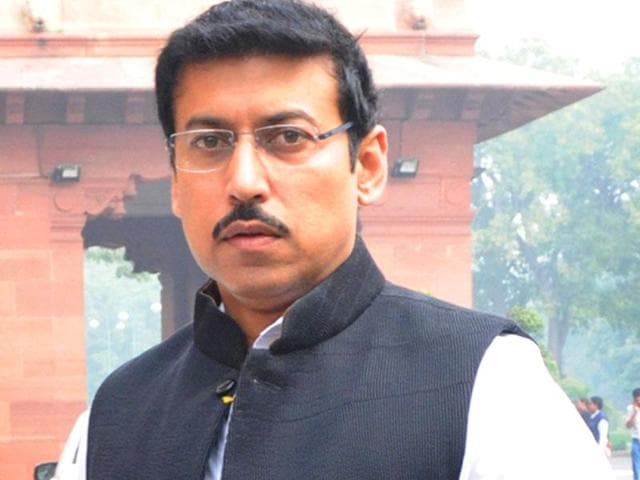 A new policy on print media advertisements has included Hindusthan Samachar as one of the three news agencies to which newspapers could subscribe, to score points to qualify for government ads.
The other two agencies are the Press Trust of India (PTI) and the United News of India (UNI).
Hindusthan Samachar was started in 1948 as a multilingual agency by senior RSS pracharak Shivram Shankar Apte, who along with Sangh ideologue MS Golwalkar co-founded the Vishwa Hindu Parishad (VHP) too.
But the agency ran into trouble with the Indira Gandhi government during Emergency in the 1970s and never stood up on its feet again. It was eventually shut down in 1986.
The RSS started working on its revival in 2000 when the Atal Bihari Vajpayee government was in power at the Centre. With the return of a BJP government at the Centre, Hindusthan Samachar — with its office above a temple in New Delhi's Paharganj — hopes to expand its reach. It will soon move to a swanky office in Noida.
The inclusion is expected to raise subscription revenue for the Sangh's news agency and make the task of reaching millions of people with its "nationalist" perspective financially sustainable. Over 8,000 publications — most of them small and medium — are empanelled with the Directorate of Advertising and Visual Publicity to get government advertisements. Last year, the government spent more than Rs 400 crore on advertisements in print media.
Under the new policy announced this June to reduce discretion and promote transparency, the government introduced a marking scheme to identify medium and large newspapers that could get its advertisements for the maximum impact. Newspapers have to score at least 45 out of 100.
So there are marks for newspapers to get their circulation certified — such as subscribe to the employees' provident fund, pay subscription dues to regulator Press Council of India, number of pages and so on. Newspapers that subscribe to any of the three news agencies, PTI, UNI or HS will get 15 points.
Junior information and broadcasting minister Rajyavardhan Rathore could not be contacted for his comments. But a senior government official defended the entry of RSS-backed Hindusthan Samachar into the list, saying it was done on merit, not ideology.
"There really is no way that the government could have kept Hindusthan Samachar out of this list ... Unlike PTI and UNI, they (Hindusthan Samachar) deliver news in regional languages," the official said.
It would have been unfair to the vernacular media to nudge them to subscribe to a news agency that only delivers news in English, Hindi or Urdu, the official explained.
A senior Hindusthan Samachar official denied the RSS, the BJP's ideological mentor, had anything to do with its inclusion in the new advertising policy.
Satish Raghuvanshi, who heads the agency's business development, said it applied after hearing that the government was firming up the new policy, and got in.
"The agency survived attempts by former prime ministers Indira Gandhi and Rajiv Gandhi to close it. But we grew stronger and are India's only multi-lingual agency providing news to our subscribers in 10 Indian languages ... Our inclusion is just," he said.
BJP parliamentarian RK Sinha is the patron of the agency's board of directors.
For now, the agency appears to target newspapers in regional languages rather than English.
The English news page of its website — that claims to have a subscriber base of 500 newspapers — was last updated in March 2015 but the pages in regional languages are regularly updated.
Incidentally, the news agency does not have a single correspondent accredited to the central government's Press Information Bureau.
Asked if the agency reflected the Sangh's ideology, Raghuvanshi said its reportage only reflected its own "nationalist views", fulfilled the "expectation of diversity in news" and fought the misinformation campaign of Marxists who too had tried to strangle the institution.