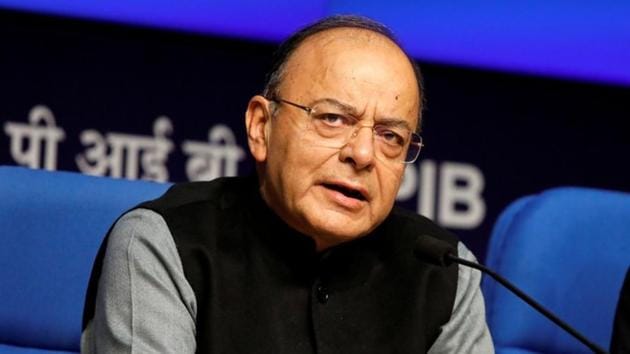 Government launches 5 measures to boost rupee, says more in offing
Finance Minister Arun Jaitley's statement comes after a crucial review meeting against the backdrop of a weakening rupee, high oil prices and a widening current account deficit.
Hindustan Times, New Delhi | By HT Correspondent
UPDATED ON SEP 14, 2018 11:12 PM IST
After a several-hour-long meeting of key finance ministry and Reserve Bank of India officials with the Prime Minister, Union finance minister Arun Jaitley announced on Friday five specific measures to cut down the current account deficit in an attempt to strengthen the rupee which has lost close to 13% against the dollar since January 1, and said more measures, including curbs on non-essential imports and promotion of exports, would be announced soon.
Soon after Jaitley's late evening announcement, economic affairs secretary SC Garg told TV channel CNBC TV18 that the five measures would have an impact of $8-10 billion. India's current account deficit for the April-June quarter was the highest in four quarters at 2.4% of GDP.
The five measures announced by the finance minister are all aimed at increasing inflow and reducing outflow of dollars. The measures include two that pertain to external currency borrowings: a review of the mandatory hedging conditions for external infrastructure loans and the permission for manufacturing companies to raise up to $50 million through such loans for a minimum period of a year (down from three previously).
They also included two measures related to masala bonds , which are bonds issued outside India but denominated in Indian rupees: an exemption for masala bonds issued in 2018-19 from withholding tax (which will encourage more people to buy them); and removal of the restriction on Indian banks on market making or such bonds including underwriting them (which, again, will encourage more such bond issues).
The final measure is a decision to review the cap on the exposure of foreign portfolio investors in bonds of a business group (currently 20%) and 50% of a single bond issue. This will encourage foreign investors to buy more bonds.
The measures announced come ahead of a meeting on Saturday when the Prime Minister is expected to review the state of the economy. The falling rupee and the rising price of fuel have both become pain-points for individuals, businesses, and even the government, which has had to deal with criticism from opposition parties on its inability to control this. Garg told CNBC TV18 that no measures regarding fuel price were discussed on Friday and that the meeting was focused on steps to bridge the Current Account Deficit. He added that there was also no talk of NRI bonds; there has been some talk of issuing such bonds to increase dollar inflows.
Close