Former soldier kills 6 with iron rod in 2 hours in Haryana, crime caught on CCTV
The accused, identified as an ex-serviceman, committed the crimes within 100m of the police station.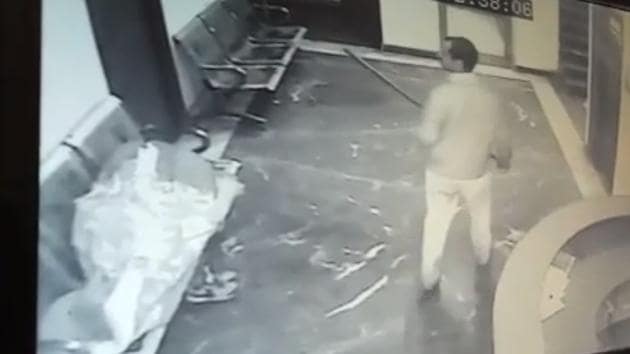 Updated on Jan 02, 2018 09:23 PM IST
Hindustan Times, Palwal/Faridabad |
Shiv Sunny and Prabhu Razdan
A 43-year-old government official went on a killing spree in Haryana's Palwal town, bludgeoning six persons to death with an iron rod in a two-hour-long mayhem in the early hours of Tuesday, police said.
The accused, Naresh Dhankar, is a sub-divisional officer (SDO) with the Haryana government's agricultural department in Bhiwani. In 2003, he had taken voluntary retirement from the army as a lieutenant.
Dhankar allegedly went about killing anyone he could find on the street in Palwal, about 90 km from Delhi.
While three of his victims were watchmen, Dhankar also entered a hospital where he allegedly killed a woman attending to her sick relative. Five of the victims were found dead in a 400 metre radius from the Palwal city police station. All the victims had head injuries.
Dhankar was caught by a police team around 7.15 am on Tuesday when he was reportedly chasing his seventh victim on the street outside his in-laws' home, barely 300 metres from a spot where he had killed one of victims.
Dhankar allegedly attacked the police team but suffered a brain haemorrhage in the end. Referred to Delhi's Safdarjung Hospital after treatment at a Faridabad hospital, Dhankar remained unconscious at the time of filing this report.
Family members of Dhankar's wife, Seema, alleged that he was "mentally ill" and would physically and mentally abuse her. The murders were apparently triggered by a ruckus outside his in-laws' house on Monday night.
"The serial killings happened after Dhankar's in-laws refused to allow him to enter their home around 11 pm on Monday. He left the neighbourhood while hurling abuses at his wife, but that was his usual behaviour," said neighbour Kapil Vikal, a private firm manager who barely escaped death hours later.
The exact sequence of events or the order of killings remains unknown as there were no eyewitnesses to the six murders, police said. But the first of the six bodies was discovered around 2.30 am.
A passerby made a call to police after noticing the bloodied body of guard, 35-year-old Munshi Ram, by the roadside in Moti Colony. "We had barely moved him to a hospital that we received a call about another body in Palwal Hospital, barely 100 metres from where the first body was found," said an investigator.
At the hospital, Dhankar killed Anjum, a 30-year-old woman who was attending her sister-in-law undergoing treatment for post-delivery complications. The woman was sleeping on a bench outside the ICU.
CCTV footage captured at 2.34 am showed Dhankar, armed with an iron rod, walking into the lobby of the hospital, a dingy private healthcare centre located around a kilometre from his in-laws' home. Afraid that a serial killer was on the loose, police circulated the suspect's visuals even as a manhunt was launched.
As police searched for the killer, they stumbled upon more bodies. One was of an unidentified man, found outside the walls of the Palwal City police station. The next was of a 43-year-old guard, Shiv Nath, found outside a restaurant across the police station.
The fifth victim too was a guard, 52-year-old Seeta Ram. He was killed 200 metres from the police station, outside the shop of a scrap dealer who had hired him. The sixth victim, Khemchand, 46, was found at Rasulpur Chowk, close to his in-laws' home.
Police said Dhankar's run came to an end when Vikal, his in-laws' neighbour, alerted the police after narrowly escaping death. "The police had to tie Dhankar before taking him away," said Vikal, who was injured while fending Dhankar off.
(With PTI inputs)
Close Story