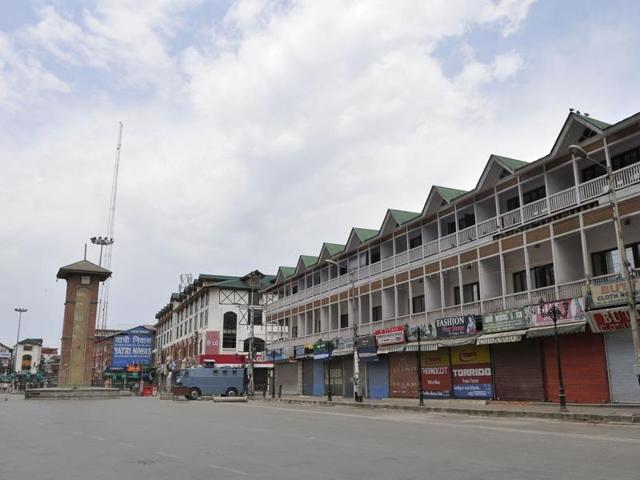 Hizbul Mujahideen blames India for posters threatening Kashmiri Pandits
Hizbul Mujahideen's Saifullah Khalid, claimed "Indian agencies are once again trying to play Pandit card to show that our freedom struggle is 'terrorism and communalism'."
Hindustan Times | By Ashiq Bhat
, Srinagar
UPDATED ON AUG 09, 2016 01:23 AM IST
Days after posters threatening Kashmiri Pandits surfaced near their transit accommodations in south Kashmir, militant outfit Hizbul Mujahideen (HM) on Monday blamed it on "Indian agencies to portray Kashmir's freedom struggle as communal".
The outfit distanced itself from the unsigned posters, issued under the name of Lashkar-e-Islam, which had appeared in Pulwama and warned Pandits to leave the Valley.
In a statement mailed to media organizations in Kashmir, deputy Ameer(deputy chief) of HM, Saifullah Khalid, claimed "Indian agencies are once again trying to play Pandit card to show that our freedom struggle is 'terrorism and communalism'."
Police officials were sceptical that the posters were by any real militant organization. They said that the posters could be the "handiwork of miscreants to create fear among the minority community."
Khalid said that Pandits should not fall "prey to these tricks". "No outfit by the name of Lashkar-e-Islami existed. Indian agencies are using these fake names to defame the freedom movement," he said.
Many migrant Pandits, who had returned to Valley to get government jobs under the Prime Minister's package, have been living in transit accommodations in south and central Kashmir. They have however been demanding their transfers back to Jammu and other parts of the country.
The name of Lashkar-e-Islam started making rounds last year after posters appeared in north Kashmir's Baramulla district asking telecom vendors to shut shops saying that Indian armed forces were using mobile phone services to track militants.
Close