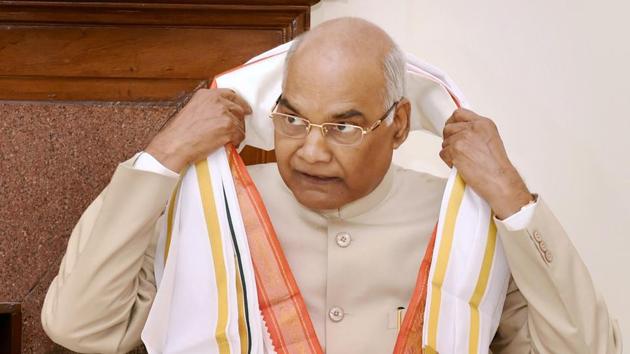 Hollow tokenism or Dalit empowerment: How media reported Ram Nath Kovind's path to presidency
In the run up to the presidential election, media analysis and opinion focused on Ram Nath Kovind's caste.
UPDATED ON APR 25, 2018 02:46 PM IST
After BJP announced Ram Nath Kovind as its presidential candidate, one question dominated the headlines: Who is he? The low profile Bihar governor was thrust into the limelight after his surprise nomination.
In the run-up to the election, profiles on Kovind noted his humble beginnings and his journey through politics. But a lot of debate centered around Kovind's caste identity. Many commentators considered Kovind's nomination a masterstroke by the BJP, as it allowed the ruling party to woo Dalits and pitch a candidate no one could object to.
A round up of the articles on India's next president:
Hindustan Times
An article by Faizan Mustafa, vice-chancellor of NALSAR University, and Yogesh Pratap Singh, deputy registrar (research), Supreme Court, talked about the president's constitutional powers and how incumbents chose to interpret it.
"One hopes that the new president, Ram Nath Kovind, will follow the footsteps of Rajendra Prasad, Zail Singh and KR Narayanan who refused to be a rubber stamp. Through the intelligent use of power of reconsideration of the Cabinet's advice (like Narayan did) and the use of pocket veto and right to be informed like Zail Singh, Kovind can fulfil his oath and enhance the stature his office."
The Hindu
An editorial in The Hindu warned India's new president against becoming either an "unthinking rubber stamp or an overzealous interventionist".
"To the BJP's credit, it did not choose a dyed-in-saffron member of the Sangh Parivar. Mr. Kovind's candidature may have been a strategic political compromise. On the one hand it ensured the wider support that the BJP wanted and, on the other, it wasn't entirely politically neutral, not enough anyway to allow the Congress or the Left parties the satisfaction of a consensus candidate. He is a Dalit, and his nomination was intended by the BJP to signal a socially inclusive agenda. But as President, Mr. Kovind will have to rise above political and social identities. He will be called upon to apply his mind and distinguish between settled conventions and questionable precedents in arriving at decisions."
The Indian Express
A powerful piece by BJP's general secretary Ram Madhav argued that limiting the discourse to Kovind's caste identity was an injustice.
"In a caste-obsessed polity, Kovind's caste identity becomes an important debating issue with some reducing it to the BJP's "political outreach" while some others see it as a political "masterstroke". Kovind's identity as a Dalit is certainly a matter of fact. He belongs to a lower middle class family of farmers. His rise to become a nominee for the post of the first citizen of India is a tribute to the power of our value system and democracy," wrote Madhav.
The newspaper ran another article by former union minister and Congress leader Kapil Sibal, where he termed BJP's candidature of Kovind "a hollow symbolism".
"Tokenism breeds cynicism," wrote Sibal. "I am worried that the candidature of Ram Nath Kovind will be projected as if it represents the empowerment of Dalits. The BJP, which has historically been anti-Dalit, will now use the caste of their nominee to seduce Dalits into believing that the party is pro-Dalit because of this symbolic gesture. Not that Dalits will be taken in.
BBC
A report in the BBC wondered why India's next president was so unknown?
The report quoted Dalit activist and writer Chandrabhan Prasad as saying, "I have been writing about the Dalits [formerly untouchables] for 27 years. But I first heard of Ram Nath Kovind the day he was nominated for India's next president."
The piece, which went on to explain the caste system in India and Kovind's RSS affiliation quoted an anonymous Dalit writer as saying, "I have never heard him take a stand on Dalit issues. It could be my ignorance. He seems to be an educated, conscientious person but I have never heard him comment on the atrocities against the Dalits."
The New York Times
The NYT report started by saying that Kovind's election as president was a "rare achievement for a member of a community once known as "untouchables" and one of the most deprived groups in India." The story included a comment from political analyst Neerja Chowdhury on the nature of the Dalit-versus-Dalit contest. "Dalit politics suddenly has come center stage with a bang," Chowdhury says. "Every leader is bending over backward to show 'I am a well-wisher'."
The Washington Post
A report in the Post noted why Kovind's election was a strategic move by the BJP. "The nomination of high-caste Yogi Adityanath to the coveted position of chief minister in India's most populous state, Uttar Pradesh, was also seen as pandering to the party's high-caste voter base… The BJP has been at the wrong end of the political spectrum due to the rising number of atrocities committed against the Dalits during their regime," said Praveen Rai, political analyst at the Center for the Study of Developing Societies, based in New Delhi. "By selecting him on 'Dalit identity,' it hopes to [calm] the rising tempers of the community and win back their votes for the next general elections in 2019."
Close