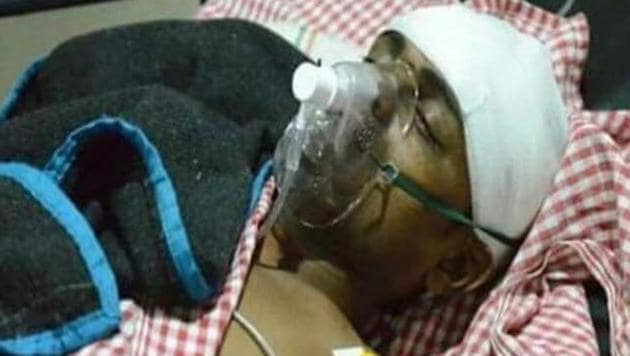 Hospital forcing us to pay, says wife of man allegedly assaulted for cow slaughter in MP
A mob had allegedly attacked Mohammad Shakeel and his neighbor Riyaz, in Satna district, accusing them of killing cows.
Hindustan Times, Jabalpur/Bhopal | By Monika Pandey/ Ranjan
UPDATED ON MAY 22, 2018 11:50 PM IST
The wife of a Muslim man who was injured and his neighbour killed in an alleged assault on suspicion of cow slaughter in Madhya Pradesh has accused a private hospital of trying to force her husband out because they are unable to afford the treatment.
Sanno's husband Mohammad Shakeel, 38, a resident of Maihar town in Madhya Pradesh, was admitted to the intensive care unit of the Metro Hospital in Jabalpur on Friday after he was brought in a critical condition from Satna district hospital.
A mob had allegedly attacked Shakeel and his neighbor Riyaz, 45, in Satna district earlier in the day, accusing them of killing cows. Riyaz died at the district hospital in Satna a few hours after the alleged assault at Amgara village, about 28km from their home in Purani Basti locality of Maihar town.
Riyaz, a tailor, is survived by his wife and three children. Shakeel operates a taxi. In his complaint to the police, Shakeel said a mob attacked him and Riyaz with sticks. Police said Shakeel denied indulging in cow slaughter.
Sanno said hospital authorities asked her on Monday to fill the discharge form as she was not able to pay for the treatment. She said the hospital authorities told her they had to pay Rs 25,000 for Shakeel's treatment to continue.
The hospital denied the charge. "There was no pressure on the patient or his family," Dr Suneel Asati of the Metro Hospital said on Tuesday. "Since ours is a private hospital, it's our duty to tell them how money has been spent on the treatment," he added.
Satna superintendent of police Rajesh Hingankar said on Tuesday he had learnt that the hospital bill would be paid from the chief minister's discretionary fund.
Police have arrested four persons of Amgara village in the case on charges of murder and assault, and identified the accused as Pawan Singh Gond, Vijay Singh Gond, Phool Singh Gond and Narayan Singh Gond.
One of the accused, Pawan Singh Gond, lodged a complaint with the police against Riyaz and Shakeel, accusing them of slaughtering cows in the village. Pawan Singh Gond also said in his complaint that Riyaz and Shakeel were injured when they fell while trying to run away. The accused denied assaulting the duo, police said.
Hingankar said two cow carcasses were recovered from the site where the men were allegedly assaulted. "Shakeel will be arrested after he recovers. His condition is improving," he added.
Police have registered an FIR on the basis of Pawan Singh Gond's complaint against Riyaz and Shakeel under different sections of the Madhya Pradesh Cow Slaughter Ban Act, 2004, and the Madhya Pradesh Agriculture Cattle Preservation Act, 1959.
Madhya Pradesh amended its rules against cow slaughter in 2012 and raised the maximum punishment from 3 years' imprisonment to 7 years for those convicted of killing cow and progeny.
Sanno insisted her husband was innocent and had gone to Katni and other places to collect money people owed him. "He is being framed," she said. Riyaz's family members have consistently declined to talk to mediapersons.
Close