How India is dealing with China: Improve ties but stay alert
Jul 12, 2018 11:43 AM IST
At a meeting with India's high commissioners and ambassadors to South Asian and Indian Ocean countries last week, Sushma Swaraj said that they must continue to watch Beijing's activities.
Last week, external affairs minister Sushma Swaraj held a meeting with India's high commissioners and ambassadors to South Asian and Indian Ocean countries on the sidelines of the Heads of Mission Conference. She asked them to give her a sense of Chinese activities in each of the countries. And she finally said that they must continue to watch Beijing's activities, pursue their own projects, and educate neighbours on the consequences of economic engagement with China.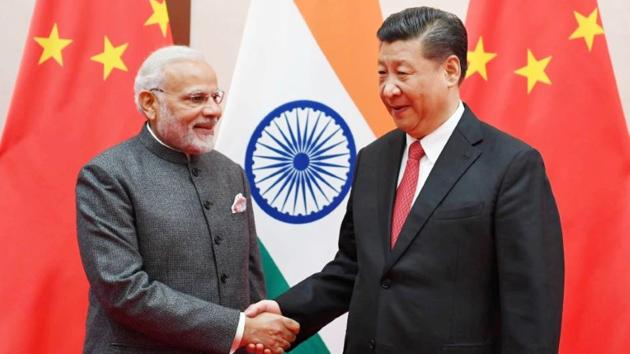 Issue
A key shift in South Asia over the last decade has been China's increasing engagement with each country in the region. While Beijing was a close partner of Pakistan and almost its security guarantor, the other countries --in the imagination of Delhi's mandarins --were within India's sphere of influence. This has slowly changed.
A resurgence of nationalist sentiment in smaller neighbours; a desire to diversify relations and play the 'China card' to offset the Indian influence; China's own enhanced capabilities and willingness to step up its economic and political engagement with local elites in South Asian states; and India's weaknesses in terms of delivering on commitments as well as either reduced leverage or inability to effectively use its levers have all come together in changing the complexion of South Asia.
Today, Beijing is a player in Kathmandu's domestic politics; it is the reason the regime in Male can diplomatically snub India; it has trapped Sri Lanka in a relationship of economic dependence; it has become even more hegemonic in Pakistan's polity; and it has even compelled a section of Bhutan's elite to consider establishing diplomatic ties.
Significance
The context is important. In the first three years of this government's term, there was a willingness to not only let contradictions with China emerge sharply but an appetite to confront it directly. But over the past six months, India and China have decided to lower the temperature. In Delhi, following the informal summit in Wuhan in April, there is actually an attempt to underplay the differences and contradictions and convince Beijing as well as India's own strategic community that the focus should be on the cooperative rather than the competitive elements of the relationship.
It is in this context that Swaraj held her meeting and formulated her threefold doctrine. The focus on closely monitoring Chinese activities suggests that Delhi will remain alert and not let its guard down.
The focus on pursuing its own projects and delivering on commitments reflects a realisation that India has natural synergies and advantages that it has not leveraged enough. It has allowed a perception to grow that it is weak in delivery, and this has to be corrected. The focus on educating and advising the neighbours on possible 'debt traps' comes from a view that it is only through diplomacy and the art of persuasion and working closely with governments, civil society and media that an alternative narrative can be constructed.
Debate
Those who advocate the current approach believe it is important to understand the gaps in capabilities and resources between India and China; the limits of a confrontational and 'muscular' approach that antagonises neighbouring elite and only opens up space for China further; to not see this as a 'zero-sum game'. Instead, it is better to focus on India's strategic redlines and ensure they are not compromised.
Those who are uncomfortable with this approach believe that India may actually be losing strategic space to China in a critical neighbourhood; that it may not pose a strategic threat just yet but the important thing to look out for is capabilities and not current intentions. And if Beijing's intentions become less than benign in the future, India's options will get squeezed. Critics also believe that this approach will demoralise friends in the neighbouring capitals, show there is no cost to deepening ties with China, and weaken Indian standing and leverage further.
But for the moment, the Indian approach is clear-- remain alert but practice restraint.
(This story is part of our series called Policy Dive, which picks a policy issue, traces the debate around it, the different schools of thought, and the choices involved.)
"Exciting news! Hindustan Times is now on WhatsApp Channels
Subscribe today by clicking the link and stay updated with the latest news!"
Click here!
Get
Latest India News
along with
Latest News
and
Top Headlines
from India and around the world