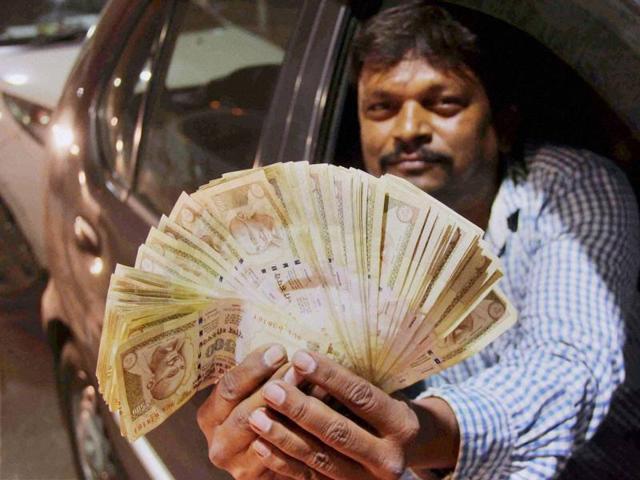 How the country reacted to govt's Rs 500, Rs 1000 note ban
Tuesday night's announcement of abolition of Rs 500 and Rs 1000 notes have sparked wide-ranging reactions from across the country. While many say they have been inconvenienced and are being forced to endure hardships, some have welcomed the move.
Hindustan Times | By HT Correspondents
, New Delhi
UPDATED ON NOV 09, 2016 08:01 PM IST
Tuesday night's announcement of abolition of Rs 500 and Rs 1000 notes has sparked wide-ranging reactions from across the country. While many say they have been inconvenienced and are being forced to endure hardships, some have welcomed the move.
HT reporters spoke to people in various cities and towns to gauge the public mood.
Hyderabad:
-A Yadagiri Rao, 78, noted Telangana painter: "Last night, I went home in a cab after my painting exhibition. The cab driver refused to accept Rs 500 note and I had no other currency. I had to borrow Rs 200 from my neighbour to pay him. I think Modi should have given at least 24 hours."
-P Achyuta Rao, 55, rights activist: Perhaps Modi government is habituated to making such last- minute announcements, as it does on petrol and diesel price hike at the eleventh hour every fortnight. Such sudden announcement hit the common people hard.
-P Pavan, 45, Vijayawada: "I may have to postpone my house-warming ceremony slated for November 11. I have no other currency, except of higher denominations. What can I do?"
Chennai:
-Praveen Sudevan, 23, journalist: "I usually eat from the dhabas that don't accept card payments. I had around 400 bucks on me when the announcement was made. I think it's a good move by the Centre to curb black money, but I also want to know how this move affects people less privileged such as domestic help and daily wage labourers."
-Prabhakaran, 42, tea seller: "I'm worried about this. It's supposed to go after the black money that the rich have, but people like me earn and save differently from people like you. Most of what I make in a day's work is in change - but what I save after a week's rent and groceries is usually kept in Rs500 notes. I am confused about what to do - do I need to have a bank account to exchange the money?"
-Shaktivelli, 50, domestic help: "Whatever I manage to save after working and paying bills I usually keep in Rs 500 notes around the house. I have a small sum stashed away just in case - I was hoping to use it for my daughter's wedding. I have no bank account, and am confused about what I should do now."
Mumbai:
Abhisekh Pandey, 35, employee at share broking firm: "With ATMs shut for two days I am saving every piece of loose change on me".
Satish Nayak: Owner, Idli House: "Small restaurants are the major sufferers as we don't accept credit cards and people are having problems in cash. Business is down 50% since morning."
Punjab:
Rashmi Sandhu: "I had a tough time paying to the cab driver. I had just Rs 5 00 note and the cab driver was not ready to accept it. After much pleading the driver accepted the currency. I don't know how will we survive for next two days."
Talwinder Kaur, wedding in family: "We do not know how to manage the wedding shopping. For two days we are stuck with no ATMs functioning and banks closed. The government should have give us some time to make arrangements."
Diwakar Sahoonja, trader: "We are not accepting Rs 500 or Rs 1000 notes. We are encouraging people to pay through debit and credit cards. It is just an inconvenience for two days and we are hopeful the new notes will be circulated in the market after two days."
Alok Diwan, software professional and resident of Panchkula: "We hardly have currency notes in denomination of Rs 100. The government did not give us time to plan. There are long queues outside petrol pumps and also they are not offering any change."
Shikha Sharma, housewife: "I had gone to buy milk and bread in the morning but the vendor refused to accept Rs 500. There is panic all round and no one wants to take the burden of exchanging this denomination later."
Kolkata:
Subrata Shau: Businessman, 52: "I am in deep trouble. I have a small manufacturing unit and a lot of transactions happen with cash. With the banks and ATMs closed and all Rs 500 and 1,000 notes out of circulation, my business will be terribly hit for a few days."
Rina Sarkar: retired teacher: "Only a few days ago I took out Rs 15,000 from the ATM for household expenditure. The entire money except Rs 500 -- five notes of Rs 100 -- emerged in Rs 500 and Rs 1,000 notes. I have no idea of what I am going to do now. The grocer flatly refused to accept the notes."
Asesh Sengupta, entrepreneur, 41: "I am supposed to withdraw money from my bank and make payments to a number of vendors as I am getting married on December 2 but I just can't take out the money not only today, but for a number of days. If there is no way out, I may be forced to cancel the celebrations."
Raipur:
-Rahul Divakar, 34, Bhilai: "There is a marriage ceremony in my family in Bihar next week. I was assigned to buy many things but now I have no option. I have to deposit the cash and wait for the new currency. Each and every friend of mine is suffering from similar situation. What kind of decision is this? There should be a process and people should be given time before banning Rs 500 and Rs 1000 notes."
-Rajat Khare, Raipur resident: "Rich people never stack notes, rather they cunningly invest in properties, shares, investment schemes and other kinds. It is the middle and lower class like us who stack or save cash and who will be badly affected by this decision."
-Kamlesh Tiwari, tea shop owner in Raipur: "I have to close my shop for next few days because I have no money to buy anything. I had four notes of Rs 500 (Rs 2000 cash) but it will not work now."
Trade body reactions:
-Mahesh Singhania, chairman, Federation of West Bengal Trade Associations: "I urge the trading fraternity to declare all India trade bandh & non-cooperation movement for the next 96 hours. The whole economy is bound to collapse at least up to the time the existing higher denomination notes get exchanged with the new currency papers. Educated people may be able to adjust or stand by this shock but not the uneducated ones.I appeal to the legal fraternity to file PIL."
-Harshavardhan Neotia, president, FICCI: "This is an extremely bold move by the PM and will have a debilitating impact on the parallel economy in the country as well as terror financing. FICCI completely supports this move of the government. "There could be some inconvenience that this change may lead to for the people of our country for a few days. However, we are sure that government and RBI will take adequate measures to ensure that the transition happens smoothly."
-Chiranjeev Singh, chairman of Chandigarh Beopar Mandal: "The traders are authorised to deposit their sale proceeds into the banks. Small-time traders do not have much problem but the new currency should be supplied in market soon. Debit and credit cards are accetable. We will give credit and take payments later.
Jitendra Barlota, working president, Chhattisgarh Chamber of Commerce: "Hundred rupee notes are difficult to find as most of time ATMs were giving out Rs 500 notes. Small traders were totally dependent upon Rs 500 and Rs 1000 notes, hence they will be suffering for next one month. Secondly, the consumer which is mainly middle class and lower class, will not be able to purchase goods because they have no cash."
-Ganapati Ramachandran, president-elect of South Indian Chamber of Commerce and Industry: "It is a bold initiative but how efficient would it be, remains to be seen. It would be difficult to carry out business in the short run, but in the long run it would be beneficial. It will change the way business is done in India and India will conform to the globally accepted standards and practices."
- CH Venkatachalam, General Seccretary, All India Bank Employees Association: The initiative will not help in fighting black money as it is stashed away in foreign banks, foreign currency, gold or other assets. Everyone knows that black money is mostly in foreign currency, in foreign banks, in gold or in properties and less in cash. Which is why, this would not help in detecting black money."
-Vivek Sahu, spokesperson of Confederation of All India Traders (CAIT): "This is really a surgical strike for businessmen. Businessmen have refused to accept the notes of denomination of Rs 500 and Rs 1000. The trading has stopped totally and buyers are also facing trouble in it."
-Prashant Bhatia: Ladhu Udyog Bharti, Uttar Pradesh: "The decision of the government to abolish Rs 500 and Rs 1000 currency notes will help eliminate corruption and target black money. The problem for common man is temporary but those who have black money will face trouble, especially the politicians."
Adarsh Shetty, president of Indian Hotels and Restaurant Association (AHAR), Mumbai: "From morning, patrons eat and then pay us these scrapped notes. Even we have no change to pay them back."
Close