How the net killed Delhi's poll bazaar
Published on Apr 21, 2019 06:37 AM IST
"In the 2009 general elections, I had employed 100 people, now I have only 10. We used to work through the night during the elections and still could not meet the demand. Many top politicians visited my office to ensure we complete their orders in time," says Malik.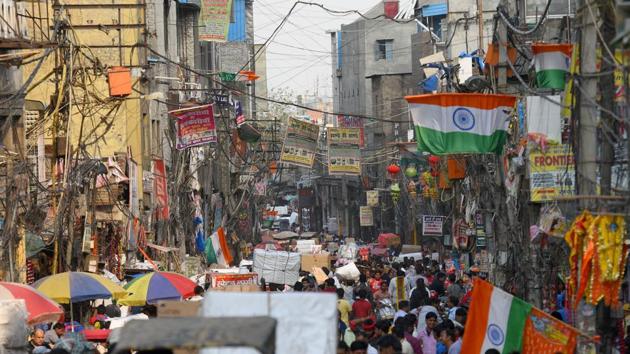 Mohammed Chaman , a short, soft-spoken merchant of election merchandise in Delhi's Sadar Bazaar, is miffed at the way the general elections are going for him.
" I have not sold anything since morning; I don't know who will eventually win or lose, but I am certainly a loser. My business is down by half this time," says Chaman, sitting in his shop overflowing with stacks of scarves, caps, t-shirts, bands, watches featuring slogans and symbols of various political parties.
"This smartphone has killed my business," he says, pulling out a phone from his pocket. "Earlier, the contestants had merchandise rooms at their offices, now they have war rooms where tech-savvy youngsters run their campaign on laptops. They do not seem to need us anymore."
Chaman, who runs Aaroma Enterprises, is not the only one whose business has taken a nosedive — traders and manufacturers in Sadar Bazaar, which has been supplying election merchandise to political parties and candidates all over the country for decades, say they have not seen a slump like this before. And they blame it on the mobile internet.
The trend of online campaigning, which started during the 2014 general elections, they say, has reached a crescendo in 2019 , with contestants relying more on digital platforms to reach out to their voters than the traditional methods like public speeches, road shows, door- to- door campaigns, killing their decades-old business.
They are not exaggerating — India now has 450 million smartphones owners against 155 million during the previous general elections in 2014, according to Counterpoint Research, a research and analysis company. And experts say the online advertising expenditure by political parties is likely to double to 400 to 500 crore this Lok Sabha election.
Abdul Malik, whose firm Bharat Handloom Cloth House, better known as Gaffar Bhai Jhandewale, has been supplying flags to political parties and candidates all over the country since 1954 cannot hide his pique for what he calls "election planners".
"Earlier, we used to have wedding planners and now we have these election planners. They have managed to convince our customers that the mobile phone, and not the merchandise, is the tool to take their messages to the voters," says Malik, sitting in his first-floor office whose walls are festooned with flags of various political parties.
According to an estimate by the industry body Assocham, there were around 150 'political consultants', big and small, in 2014. Industry insiders peg their current number at 400, and their stated 'expertise' lies in helping political parties and candidates meet technological and social media challenges.
Malik , who, on an average, made about 3 crore flags during every general election in the past, says his business is down by 75 per cent this year.
"In the 2009 general elections, I had employed 100 people, now I have only 10. We used to work through the night during the elections and still could not meet the demand. Many top politicians visited my office to ensure we complete their orders in time," says Malik.
He points to several sewing machines and workers, sitting idle among stacks of unsold flags. "They have gone silent now," he says. The party workers and volunteers who came to buy merchandise from them, Malik says, are now busy creating and running WhatsApp accounts. This new method of campaigning, he says ruefully, has not only deprived the festival of democracy of its colour, but has also led to a disconnect between voters and candidates.
"In the past, politicians and part workers went door to door, canvassing for votes with folded hands. They would personally meet men, women and children, pin badges on their shirts and offer them flags. They no longer do all of this, and so do not need our merchandise," says Malik. "Now, there is no personal chemistry left between voters and candidates. Even voters do not like to wear badges and bands of any political parties, except those of BSP who like to assert their caste and political identity."
Political consultants say their clients have realised that election merchandise is out of fashion and a sheer waste of time and money. "They can get 1,000 likes for a few hundred rupees on Facebook, imagine how much time and money it would take to personally reach out to 1,000 households," says Vivek Bagri, who runs Lead Tech, a political consultancy firm in Gurgaon. "Besides, digital campaigning has a lot of room for creativity in terms of design and messaging. Since 2014, our business has gone up ten times. We are working in almost every state for political parties and candidates during the current elections."
But Bagri admits that digital campaigning has led to what he calls an 'emotional detachment' between the candidate and their constituents. "A bond is developed when a politician goes to personally meet his or her voters," says Bagri.
"The smartphone, which people use both for information and entertainment, has emerged as a very potent campaigning tool, a perfect delivery mechanism for customized political messaging in India," says Apar Gupta, executive director, Internet Freedom Foundation ( IFF), a Delhi- based non-government organisation that works in the sphere of digital rights. " But yes, political parties need to strike a balance between on-ground and digital campaign."
Sadar Baaar traders say that the business used to be so good in the past that during the general elections, about 200 traders from other states came and rented shops for a few months in the market to sell election merchandise. Now, hardly 25 shops are left.
"And they too are looking for alternative business opportunities," says Anil Gupta, one of the biggest merchandise dealers in Sadar Bazaar, and the president of All India Election Material Manufacturer and Traders Association. Gupta, a stout man who looks more like a politician in his impeccable white kurta and pyjama, has been in the business since 1979. It is afternoon, and he is sitting on a cushion on the floor watching TV along with half a dozen staff in his big air-conditioned shop whose shelves are crammed with election merchandise.
"In the 1980s, we used to sell only caps, badges and flags; then came stickers, wrist bands, paper masks, pens, purse, ribbons; now we also sell water bottles, phone covers, pen drives, diaries with messages and symbols of political parties, to keep up with the times," says Gupta, adding, " But most contestants have now outsourced their campaign to political consultants, who do not believe in merchandise." No wonder then, Gupta is now trying to reinvent his firm. "I have asked my son to explore if we too can become campaign planners."
The shock of the slump in business is being felt not just in Sadar Bazaar, but in other part of Delhi, too. There are thousands of families in east Delhi localities such as Seelampur, Bhajanpura, Nand Nagri, Sonia Vihar, Welcome Colony for whom elections brought an opportunity to earn decent money.
"We sew flags, and caps, etc. In the past, the work started six months before the elections and we worked day and night and made about ₹2- 3 lakhs. But now, there is no work, " says Mohammed Iliyas, who lives in Janta Colony in Shahdara.
Every general election, Illiyas, says, about 50, 000 workers in Haryana, Punjab and UP flocked to these east Delhi localities to work during elections. The traders say, the general elections provided temporary employment to 2 lakh in the capital. " We have never sided with any political party, and sold merchandise of all. But now they have ditched us, " says Chaman.
Close Story
Personalise your news feed. Follow trending topics