RSS filing cases to deter me from fighting for the poor: Rahul
Updated on Sep 29, 2016 02:18 PM IST
Congress vice-president Rahul Gandhi said on Thursday he is against the Rashtriya Swayamsevak Sangh's ideology that divided the nation as he appeared in a Guwahati court in a defamation case involving the Hindu group.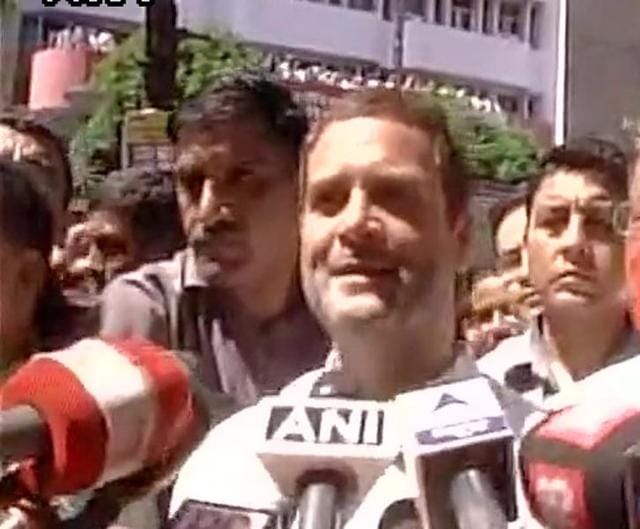 Congress vice-president Rahul Gandhi said on Thursday the Rashtriya Swayamsevak Sangh (RSS) has been filing cases against him to prevent him from fighting for India's poor.
"Let them put as many cases on me as they want. I am happy they are doing it. I will not be deterred," the 46-year-old leader said after appearing before the chief judicial magistrate's court here.
The CJM court had summoned Gandhi in connection with a defamation case filed by an RSS activist last year. The Sangh member, Anjan Bora, had taken offence to the Congress vice-president's December 12 accusation that the RSS was using women activists to stop him from entering Barpeta Satra, a Vaishnava monastery in western Assam.
On Thursday, Gandhi said he was against the rightwing ideology of the RSS and "all such organisations that try to divide India and are harmful" for the country. "These cases are being put against me because I am fighting for the rights of the poor, the farmers, the unemployed, and the labourers," he added.
The underprivileged, he added, have been denied their rights because the Narendra Modi government was being run "in the interest of 12-15 people".
"But I will continue to fight for the unity and the poor of the country despite their attempts to bury me under cases," he said, minutes after the CJM granted him a personal recognizance bond of Rs 50,000 and set November 5 as the next date of hearing.
Former Assam chief minister Tarun Gogoi accompanied Gandhi to the CJM court, from where they went to Rajiv Bhavan, the state Congress headquarters, for a meeting with party workers.
A Pradesh Congress spokesperson said the focus of the meeting was rebuilding the party and "working on the lessons learnt from the assembly election debacle" earlier this year.
On his part, complainant Bora said he filed the case because Gandhi had "lied" about the RSS. "I believe the court will ensure justice is delivered," he added.
Bora's lawyer Bijan Mahajan said Gandhi could serve two years in prison or be fined if convicted in the defamation case. Mahajan is also a BJP leader.
Personalise your news feed. Follow trending topics