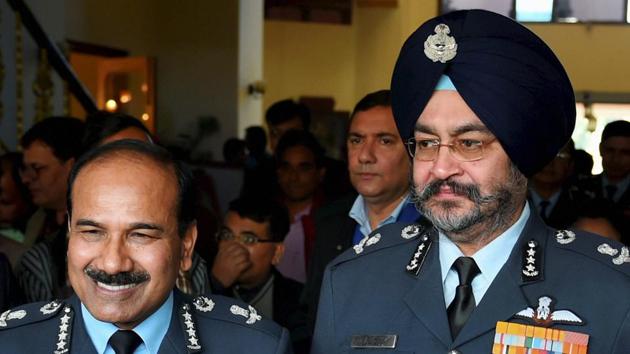 IAF learnt lessons, better prepared post Pathankot attack: Air chief
The air chief also said they had upgraded the Advanced Landing Grounds (ALGs) in the northeast.
UPDATED ON DEC 28, 2016 03:35 PM IST
Chief of air staff, air chief marshal Arup Raha, on Wednesday said the Pathankot terror attack in January this year was the first setback, adding that they are now better prepared having learnt lessons from the incident.
"The second setback was the missing of the AN-32. Even after efforts, we could not trace the aircraft. We are helping their families. It is one of the worst memories in my career. AN-32s don't have underwater locater beacons. We have taken up the case with the government," the air chief said.
On operational preparedness, Raha said, they were dwindling with the fighters.
"We paid attention to the latest acquisitions and upgrades of the aircraft we have. On Rafael, we have invited LCA. Three are flying and we will accept 123 in the next ten years. The second squadron of C130 will come soon. It will be based at the Arjangadh base. A large number of radars, which are indigenous, have been inducted. The air force is well on its way to have network centric capabilities. We have done reasonably well in looking after the sub-conventional threats like terrorism," he added.
He asserted that the revenue cases languishing since long have been signed due the proactiveness of the government and defence minister Manohar Parrikar.
"The average flying we did was more than the average flying of the last 10 years. We have flown in the fighter fleet 40,000 hours, more than the last 10 years, due to better serviceability. We have done an average night flying of 27% which was less earlier. There has been a large improvement in the professional capabilities. We have been involved deeply in the operations against extremism, logistics support, flying by night," he said.
The air chief also said they had upgraded the Advanced Landing Grounds (ALGs) in the northeast.
"The government has given approval of 27 flights of Garuns, with each having 45 Grains. 23 more Garun Flights will be raised later. (Garun is the special force under the Indian Air Force). We have been able to sign various cases in the last two and a half years including Rafale which will be in India. It will be operational within the next three years to five-and-a-half years," he said.
Close