IAF's mid-air refuelling fleet to take a hit as numbers fall
The IAF operates a modest fleet of six IL-78 aircraft bought from Russia in 2003-04 at a cost of Rs 132 crore each to expand the strategic reach of its fighter jets.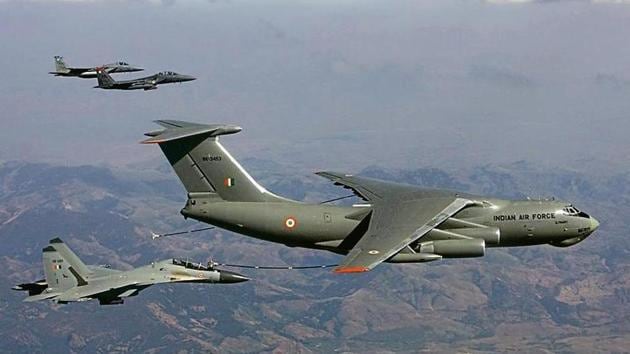 Updated on Dec 18, 2017 06:19 AM IST
The Indian Air Force's mid-air refuelling capabilities will take a hit next year when its Russia-procured Ilyushin-78 tankers go for an overhaul, leaving the air force with little option as two attempts to buy new tankers have failed.
The IAF operates a modest fleet of six IL-78 aircraft bought from Russia in 2003-04 at a cost of Rs 132 crore each to expand the strategic reach of its fighter jets. Riddled with problems, only two or three planes from the tanker squadron are available for missions at any given time.
Used for refuelling jets mid-air to keep them airborne longer, the IL-78 tankers' overhaul — in phases — will involve upgrading the engines of the aircraft to allow them to take off from shorter runways.
"No doubt we will have even fewer refuellers to exploit during the refit. This happens in the lifetime of every fleet. It's unavoidable," said Air Chief Marshal Fali Major, a retired IAF chief. The air force's midair refuelling crisis is partly a result of failed attempts to strengthen its capabilities with new tankers.
Two tenders to buy refuellers in the last 10 years came to naught due to commercial complications. European Airbus 330 MRTT was the frontrunner in both tanker contests in which the Russian IL-78 also took part.
India is expected to float a new global tender for six or more tankers next year to stay prepared to counter China in the eastern sector, the sources said. The purchase could be worth as much as Rs 13,000 crore.
The finance ministry had raised objections over the price during the last tender.
"Building military strength doesn't come cheap. You can't put a price on enhanced operational capability. Tankers are an essential requirement and the government needs to prioritise the purchase," said Air Marshal Vinod Patni (retd), head of Centre for Air Power Studies and a former IAF vice chief.
Air Chief Marshal PV Naik, also a retired IAF chief, stressed that the tankers allow fighter planes to carry more weapons and less fuel when taking off from high altitude bases.
American, Russian, European and Israeli military contractors are tracking the air force's tanker programme. US defence major Boeing and Israel Aerospace Industries' Bedek Aviation Group are expected to be new entrants in the tanker competition.
A recent comprehensive audit of the tanker fleet revealed that the IAF's runways were too short for its IL-78 tanker fleet, their refuelling pods were dogged by failures and the aircraft's overall airworthiness was questionable.
In a report tabled in Parliament in August, the Comptroller and Auditor General (CAG) also found that there weren't enough hangars for the IL-78 refuellers, tanking them up on the ground posed problems and there were no dedicated refuelling corridors in the skies.
The aircraft requires a runway length of 11,480 feet to 15,022 feet to carry full fuel loads, but the 10 airfields identified by the IAF for tanker operations have runways measuring less than 10,000 feet.
The national auditor also raised questions about the reliability of the fleet. The report found that the serviceability of the IL-78 fleet stood at 49% during the 2010-16 period, compared to a desired 70%, and also that less than half the fleet was mission-ready at any given time.
The serviceability of aerial refuelling pods — hoses used to transfer fuel — was also found to be poor due to frequent failures, inadequate repair facilities and poor maintenance support from the manufacturer.
The air force doesn't have enough hydrant refueling systems (HRS) to tank up the refuellers swiftly and efficiently on the ground.
The HRS facility or underground tanks was available only in two of the 10 airbases identified for IL-78 operations in 2007, the report found.
It also revealed that the IAF had not obtained approval for creating 12 dedicated corridors for midair refuelling so that commercial traffic is not disrupted and only one hangar had been constructed for the six refuellers.
Close Story