'If happened will hang myself...': WFI chief on Phogat's sexual harassment claim
Jan 18, 2023 07:35 PM IST
Wrestling Federation of India: WFI chief Brijbhushan Singh - also a BJP MP from Uttar Pradesh - responded to Vinesh Phogat and wrestlers' claims, and said '…ready for investigation'.
Wrestling Federation of India chief Brijbhushan Sharan Singh on Wednesday firmly denied sexual harassment claims levelled by the country's top wrestlers, declaring 'if such a thing has happened, then I will hang myself'.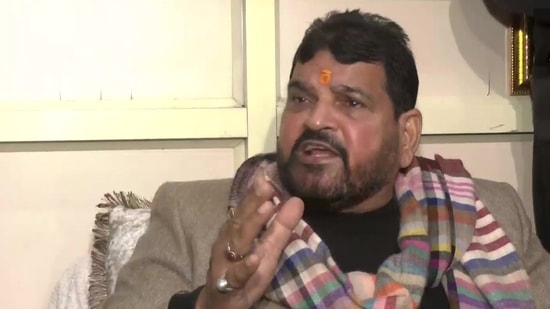 "There has been no incident of sexual harassment..." he was quoted by news agency ANI after gold medal winner Vinesh Phogat claimed sexual harassment by him and coaches, and also claimed that she and others faced death threats.
Stay tuned with breaking news on HT Channel on Facebook.
Join Now
READ | Why are wrestlers, including Olympic medalists, protesting?
"Is there any person in front who can say that the Federation harassed any athlete... Did they have no problems with the Federation for the past ten years? Issues emerge when new rules and regulations are brought in..." Singh said.
"Sexual harassment is a big allegation. How can I take action when my own name has been dragged into this? I am ready for an investigation," he added.
The WFI chief then launched a counter-attack, declaring, "I want to ask Vinesh Phogat… why did she wear a costume with a company's logo on it in the Olympics? After she lost the match, I only encouraged and motivated her."
What the wrestlers said
Earlier Phogat - who won gold at three successive Commonwealth Games, the 2018 Asian Games and the 2021 Asian Championships - was quoted by news agency PTI as saying women wrestlers had been 'sexually harassed'.
"Some of the coaches appointed at national camps have been sexually harassing women wrestlers for years. WFI president is also involved in sexual harassment. Many young women wrestlers cried…" she was quoted by the Indian Express.
READ | Wrestlers Bajrang Punia, Vinesh Phogat protest WFI's 'dictatorship'
Bajrang Punia, Sakshi Malik and Phogat were among those who protested at Delhi's Jantar Mantar earlier, alleging 'harassment of wrestlers' by the WFI.
Phogat told reporters: "We will present all evidence when the high court will direct us. We are also ready to submit all evidence to the PM."
Punia, a gold medallist at last year's Commonwealth Games, told reporters, "The girls here are from respectable families. If our sisters and daughters are not safe here then we cannot accept it. We demand that the federation be changed."
Malik - who claimed a bronze in the 58kg category at the 2016 Olympics, becoming the first Indian woman wrestler to claim an Olympic medal - called for the entire federation to be 'removed… so future of new wrestlers is safe'.
"Dirt has spread from the lower level. We'll speak to PM (Narendra Modi) and HM (union home minister Amit Shah) and reveal details," she said.
Wrestlers' Wednesday protest
Earlier today Phogat tweeted a photo of the wrestlers seated together on a large sheet and holding the national flag. "... players want self-respect (to) prepare for Olympics and big games with full vigour but if the federation does not support... morale breaks down. We will not bow down... will fight for our rights."
WFI assistant secretary Vinod Tomar told ANI the wrestlers hadn't taken the WFI into confidence. "They haven't yet told me what their grouse is. No issue has been raised..."
Punia hit out at the WFI's 'ongoing dictatorship'. "Our fight is not against government or SAI. This is against WFI," he said, "Yeh ab aar paar ki ladai hai' (It's a fight to the finish)."
"Players make every effort to win medals for the country but the federation has not done anything except downgrading us. Arbitrary rules are being framed to torture athletes," Sakshi Malik said.
Anshu Malik, Sangeeta Phogat and others tweeted on similar lines, with the hashtag BoycottWFIPresident and tagging prime minister Narendra Modi and his office, as well as union home minister Amit Shah.
Singh - a Bharatiya Janata Party MP from Uttar Pradesh's Kaiserganj - has led the WFI since 2011; he was elected to a the third consecutive time in 2019.