In a 1st, menstruation talk in PM's Independence Day speech
Updated on Aug 16, 2020 06:00 AM IST
Since last year, Jan Aushadhi Suvidha Sanitary Napkins are being sold at a subsidised price of Re 1 at 6,550 Pradhan Mantri Bhartiya Janaushadhi Pariyojana Kendras across the country.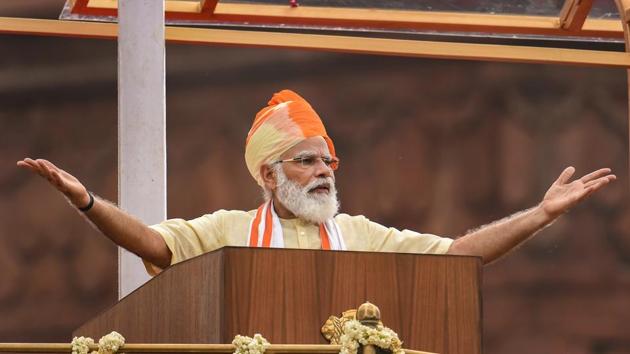 Prime Minister Narendra Modi's mention of sanitary pads in his Independence Day speech sends a powerful message to India's 1.3 billion population that menstruation is a natural, biological process like eating and sleeping, and should be treated as such.
Yet, the stigma around menstruation and female hygiene products lead to women talking about it in whispers, girls dropping out of school, advertisers replacing blood with sky blue ink, and embarrassed pharmacists and shopkeepers selling sanitary napkins shrouded in used newspapers and opaque bags.
"This government has been always concerned about the health of our daughters and sisters. Through 6,000 Jan Aushadhi centres, about 50 million women have got sanitary pads at Re 1. We have worked for women's empowerment. Navy and Air Force are taking women in combat roles… women are now leaders," Modi said in his address from the ramparts of Red Fort.
Since last year, Jan Aushadhi Suvidha Sanitary Napkins are being sold at a subsidised price of Re 1 at 6,550 Pradhan Mantri Bhartiya Janaushadhi Pariyojana Kendras across the country. The cost of production of each of these oxo-biodegradable pads is ₹2.50, but is sold for Re 1 each with the government subsidising the retail discount from August 29, 2019.
Centuries of stigma has made menstruating women temporary pariahs in some communities, which consider them impure and exclude them from religious, social and community participation. Menstrual blood, which consists of a mix of blood and cells and tissue from the uterine endometrial lining that is shed during menstruation, is as safe as blood from any other part of the human body.
But we can't just blame tradition. Even in modern societies, menstruating women are considered physically and biologically weak, less competent, and more emotional and high-strung. Such prejudices add to gender polarisation, which for generations has been used to exclude women from education, voting, owning property and participating in economic activity.
Female workforce participation in India was 21% in 2019, which is comparable to the Arab world and is amongst the lowest in the world, according World Bank data modelled on International Labour Organisation estimates released on June 21, 2020. The global average of women in the workforce is 47%, with neighbouring Nepal having 83% working women, Bangladesh, 36%, and China, 60%.
As women move from low-wage unskilled jobs to productive employment and better wages in the services and manufacturing sectors, they need employers to regard them as productive workers who won't have an emotional or physical breakdown each time they menstruate. Equitable access to opportunities can be created by implementing policies that promote women employment, investing in economic sectors more attractive to women, and monitoring gender disparity in employment patterns.
In a competitive workplace, laws with inherent gender biases create deeper unexpressed resentment and carry a high-risk of penalising women, both in terms of salary and career advancement. Since the new Maternity Benefit (Amendment) Act doubled maternity leave for women from 12 weeks to 26 weeks for the first two children and 12 weeks for subsequent children, some companies have started treating women as a potential liability, with human resources personnel asking women employees intrusive questions about when they want to start a family, something they would never consider asking men. Such practices must be stopped.
Talking about menstruation without embarrassment is a step in the direction of gender parity. In a country where women launch Mars Orbiters wearing Kanjivaram silk sarees and women in fatigues hold combat roles in the armed forces, menstruation is but a blimp in life's journey.
Personalise your news feed. Follow trending topics