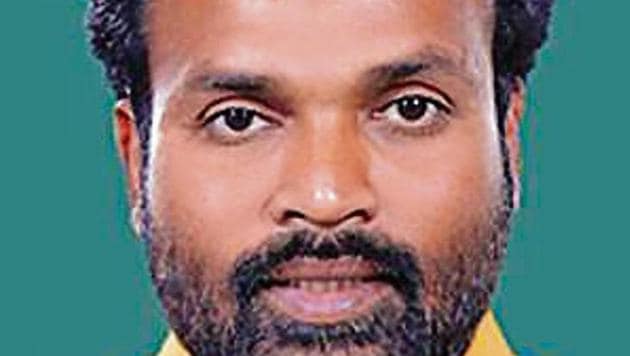 In Karnataka, BJP gets a new star in tribal leader Sreeramulu
The 46-year-old tribal leader is fighting from two seats, one of them against chief minister Siddaramaiah in Badami.
PUBLISHED ON MAY 01, 2018 11:07 PM IST
The Bharatiya Janata Party (BJP) has big plans for Bellary MP B Sreeramulu, including featuring him in party posters and campaigning across the state, and might even appoint him deputy chief minister if voted to power, two party leaders familiar with the discussions said.
His possible elevation is seen as an exercise to not only break free of the power tussle between the influential Lingayat and Vokkaliga communities but also groom a new generation of young leaders in a state where the BJP is trying to grow roots .
The 46-year-old tribal leader is fighting from two seats, one of them against chief minister Siddaramaiah in Badami.
"Sreeramulu will get a place of prominence in the government if the BJP is voted to power," the first party leader said on the condition of anonymity. "The deputy chief minister's post in not ruled out." Vokkaliga leader R Ashoka (60) and Kuruba leader KS Eshwarappa (69) were deputy CMs in previous BJP governments.
In shifting the limelight to Sreeramulu, the BJP is trying to look beyond the present leadership that includes faces such as BS Yeddyurappa (75), Jagadish Shettar (62) – both former CMs from the Lingayat community. "Sreeramulu is young, dynamic and comes from a socially marginalised Nayaka tribe with a strong population in North Karnataka districts," the first leader said. Scheduled Tribes have 15 reserved seats with a significant presence in 20 other constituencies of a total of 224.
Sreeramulu became a councillor in Ballari at the age of 25 in 1996. He made his debut in the Karnataka assembly in 2004 and entered Parliament in 2014. "He is one of the most popular leaders of the BJP in Karnataka. You need to attend his rallies to see his connect," BJP general secretary P Muralidhar Rao said.
The party plans to use Sreeramulu for campaign even outside his constituencies and he will figure prominently in the party posters and share stage with the national leaders in public meetings, second BJP leader said.
Sreeramulu, a former minister, is considered close to corruption-tainted Ballari mining magnet G Janardhana Reddy and his two brothers, popularly known as the Ballari brothers. Sreeramulu and the Ballari brothers wielded immense clout in the previous BJP government. After the Reddy brothers were kicked out following corruption cases against them in the mining scam, Sreeramulu walked out of the BJP in 2012 and formed the BSR Congress Party to contest the 2013 election separately. It fielded 176 candidates, won four seats, stood second in three and polled 850,000 votes with 2.7% vote share across Karnataka. He returned to the BJP ahead of the 2014 Lok Sabha polls and won the Ballari parliamentary constituency.
Close