The indefatigable Manohar Parrikar: From IIT-grad to 4-time Goa chief minister
From the moment he made his way into becoming Goa's first BJP chief minister in October 2000 after causing a split in the ruling Congress, which had won a full majority barely 11 months earlier - Parrikar became the mainstay of Goan politics.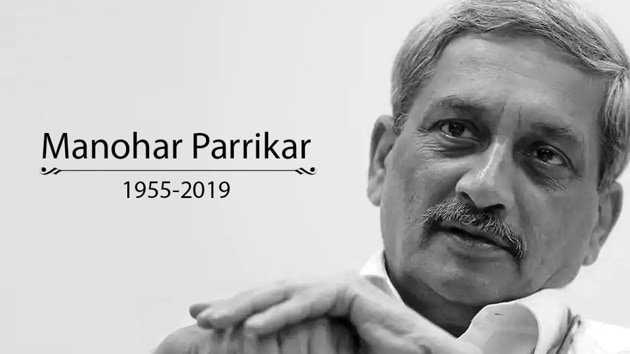 Updated on Apr 23, 2020 07:38 PM IST
Hindustan Times, Panaji |
Gerard de Souza
Manohar Gopalkrishna Prabhu Parrikar, 63, from a business family in Parra village (from which his family derives its name), not only dominated state politics for two decades but was also a rare national leader from Goa.
From the moment he became the state's first Bharatiya Janata Party (BJP) chief minister in October 2000 - after causing a split in the ruling Congress, which won a full majority 11 months earlier - Parrikar became the mainstay of Goa politics.
A half-sleeved untucked shirt and leather sandals were to become his trademark attire; while his brisk pace and replies that went beyond "I will look into it" crafted an image of a professional-turned-politician. Ambition, acumen, and the willingness to battle it out, helped the Indian Institute of Technology-Bombay graduate be recognised as a "technocrat chief minister".
As the man incharge of Goa between 2000 and 2005 (two terms from 2000-2002 and 2002-2005), Parrikar shot onto the national stage for his decisiveness. He projected himself as a leader across religious boundaries; he uniquely managed to woo the state's 26% Catholic community despite being a Hindu. His reputation was enhanced by successfully ensuring that a small state like Goa, which critics at the time said lacked a "film culture", successfully hosted the International Film Festival of India in 2004, and continues to do so to this day.
Parrikar liked wearing his half-sleeve shirts and flip-flops even during the height of Delhi's harsh winters, which he could never warm to. Parrikar's greatest contribution to the Indian military establishment was the one-rank, one-pension scheme or OROP. Even when finance and defence ministry mandarins cringed at the financial implications of the proposal, he would prepare financial flowcharts to extrapolate the cost to the exchequer. To the naysayers, he would say that if PM Narendra Modi had promised it, it must be delivered. Parrikar's other major contribution was the implementation of the Shekatkar committee recommendations to make the army fighting fit along with the replenishment of much required ammunition.
Read more| From surgical strikes to OROP: How Manohar Parrikar shaped India's military
Parrikar's mentor in the RSS, Subhash Velingkar, recalls how, back in 1984 when Parrikar first announced at home that he would contest elections, his family was extremely upset.
That year, there was talk of the BJP and the local Maharashtravadi Gomantak Party (MGP) coming together for an alliance. When the MGP refused to budge initially, it was decided that pressure would be built on the MGP by setting up candidates against them, which they would withdraw once the alliance was thrashed out.
"I called Manohar and explained the plan. 'You are going to show that you are seriously contesting and don't reveal to anybody, not even at home, that you are going to withdraw,' I told him," Velingkar recalled. Parrikar, who managed the M/s Goa Hydraulics Ltd manufacturing unit, and was a sanghchalak for the RSS in Mapusa town, had no real interest in joining politics. "His wife and parents were very angry. Till the last moment, when we asked him to withdraw, he didn't tell anybody - that this was only a pretense and withdrawing was the plan all along," Velingkar said.
In the 1989 state elections, Parrikar and a few volunteers from Mapusa used to work during the day and spend the night painting party symbols in Mandrem, where former Goa CM Laxmikant Parsekar was contesting elections against Ramakant Khalap, who later became the Union law minister in 1996.
In 1991, after he was relieved of organisational responsibilities by RSS, Parrikar contested his first election as the BJP's candidate for the North Goa Lok Sabha seat. He got 26,003 votes but lost to the Congress candidate Harish Zantye who won 88,139 votes. He won his first election two years later in 1994 as BJP's candidate for the Panaji assembly seat despite being an "outsider" to the city, and started his journey as a lawmaker.
Parrikar steered his party to a full majority in 2012, when at his behest, it took a conscious decision to hand out tickets to seven Catholic candidates. It proved to be a masterstroke as all seven were elected. The other three times that he was CM, it was through defections and coalitions, including his final stint starting in 2017.
Parrikar was also among the earliest supporters of Gujarat chief minister Narendra Modi as the BJP's prime ministerial candidate when Modi faced intense opposition within the party. In 2013, Parrikar invited the national BJP leadership - at that time a deeply divided house over Modi being projected PM candidate - for its national executive in Goa and fully backed him.
Read more| Manohar Parrikar: BJP's crisis man in Goa
When the 2014 mandate was won, it came as no surprise then that Parrikar was summoned to Delhi to be the Union defence minister, which he accepted despite being extremely attached" to Goa. He leaves behind impressive civic infrastructure, including signature bridges and sports stadiums constructed during his tenure.
Parrikar's stint in the Union Cabinet (2014-2016), along with his long run as CM of Goa, makes him the tallest leader the state has produced. But rather than be remembered for his time in Delhi, Parrikar was most comfortable in the state where his writ ran large.
Close Story