1 billion jabs identity of a new India: PM Modi
Modi also took a swipe at his opponents and said economic growth was getting a boost from rising vaccinations, a day after India administered the billionth Covid-19 shot to much fanfare.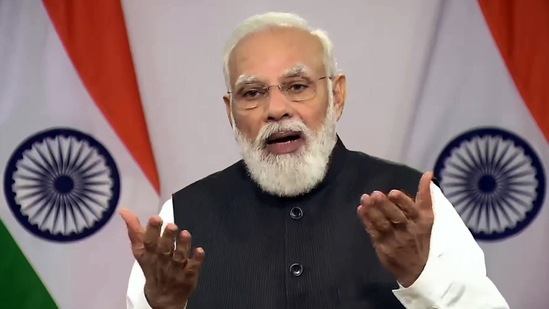 Updated on Oct 22, 2021 11:50 PM IST
India gave a befitting reply to those questioning the country's ability to vaccinate its population against Covid-19 and surmounted the challenge posed by the pandemic by administering one billion shots in a short time, Prime Minister Narendra Modi said on Friday.
Modi also took a swipe at his opponents and said economic growth was getting a boost from rising vaccinations, a day after India administered the billionth Covid-19 shot to much fanfare.
"100 crore vaccinations are not just a figure, but a reflection of the strength of the country, it is the creation of a new chapter of history. This is a picture of a new India that sets difficult goals and knows how to achieve them," the PM said in a televised address to the nation.
He said that while other countries had the expertise, India achieved the target by basing the vaccination programme on scientific methods. "Questions were asked if Indians can cope with this pandemic, where will it get the money to purchase vaccines, will Indians get the vaccines or not, will it be able to inoculate so many to stop the (Covid-19) spread… This one billion is an answer to these questions," he added.
The billionth shot was administered on Thursday, nine months and five days after the country's Covid-19 immunisation programme kicked off on January 16. Only China has been able to administer more doses. The vaccines were administered in roughly 430,000 centres and a total of at least around 2 million health workers were directly involved in the process.
Modi said the success belonged to every citizen. He referred to the initial scepticism about India's ability to administer vaccines to its large population and added that the speed with which it crossed the one billion mark is being appreciated worldwide. "...but there is one thing that has not been taken into account. Where did we begin? ...other countries... had expertise in research, etc, India was largely dependent on vaccines from these counties."
Modi said given the numbers of those vaccinated, the world will now consider India safe. "India has got recognition as a pharma hub and the whole world is looking at it." He said the vaccine drive was the biggest example of the "sabka sath, sabka vikas" (inclusive development for all) mantra of the government.
"At the beginning of the pandemic, there were apprehensions that it would be hard to fight the pandemic in India. But we ensured a free vaccination drive. There was only one mantra -- no discrimination in giving vaccines. There would be no VIP culture. No matter how rich or powerful a person was, they would get the vaccine like ordinary people will."
Modi spoke about vaccine hesitancy and said India proved the sceptics wrong. "Some said people will not turn up for the vaccination. In many countries, vaccine hesitancy is a big challenge, but Indians have made them speechless." He took a pot shot at those who criticised his call for lighting lamps and appreciating the health care workers by clanging metal plates in 2020. "…some asked will the disease go away, but for us, we saw the unity and collective power in that. And this is what has helped us reach one billion in such a short time."
Modi credited the use of technology and scientific temper for accelerating the speed and reach of the vaccination. "It is a matter of pride that the whole programme was science bound, science-driven and science-based. From manufacturing to administering vaccines, there was a scientific approach at each step." Modi referred to the CoWIN platform for vaccination registration and said it helped ordinary people and made work easier for the medical staff.
Data shows that about three-fourth (75.6%) of India's nearly 940 million adults have now received at least one dose while around 31% are fully immunised. Of these, around 886 million doses have been of Covishield (the brand name under which Pune-based Serum Institute of India has been manufacturing the vaccine developed by Oxford-AstraZeneca), while around 115 million doses have been of Covaxin (the shot developed by Bharat Biotech in collaboration with the country's apex biomedical research regulator, the Indian Council of Medical Research).
The event was marked with a series of events across India on Thursday, including the launch of a theme song. The largest khadi tricolour in the country, weighing around 1,400kg, displayed only on special days, was unfurled to mark the occasion, and 100 monuments under the Archaeological Survey of India (ASI) were illuminated in tricolour and local artists displayed 100 different ideas across 100 districts.
But Modi cautioned that people still needed to be careful.
"We cannot drop the ball, no matter how modern the shield. Till the war is on, weapons are not laid down. We need to celebrate our festivals with great care and masks have to be on. Just as we wear shoes, we must make wearing a mask a habit." He asked those yet to be vaccinated to make it a priority, and those who have been jabbed to inspire the others to follow suit.
The Congress criticised the Prime Minister, accusing him of "devaluing" the hard work of India's scientific community and researchers and sharing "half-baked" information in his speech. "Modi has shared incorrect and misleading data. He has not recognised the hard work our scientific community and our researchers have put in,' said Congress spokesman Gourav Vallabh.
Vallabh said Modi has been comparing India to nations with smaller populations. "China administered 216 crore vaccines and inoculated 80% of its population with both doses. But India on the other hand has doubly vaccinated only 21% of the population."
Aam Aadmi Party (AAP) leader and Delhi's deputy chief minister, Manish Sisodia also criticised the central government saying that the milestone could have been achieved at least six months ago if the Union government had made adequate arrangements and not exported vaccines at a time India faced a shortage of doses.
"While celebrating the 100 crore vaccine milestone, we must remember that if the central government made adequate arrangements in time and not invested in public relation activities, such as exporting doses when India was facing a shortage, then the medical teams across the country could have achieved the milestone at least six months ago," Sisodia said in a tweet.
Close Story
Personalise your news feed. Follow trending topics