Army says carried out 'surgical strikes' across LoC against terror targets
Updated on Sep 29, 2016 11:16 PM IST
The Indian Army says it has carried out surgical strikes and inflicted "significant casualties" on terrorists and those supporting them across the Line of Control. Army sources say seven terror launchpads -- located up to 3km across the LoC -- were targeted after a week of surveillance. The operation began around midnight on Wednesday and ended around 4:30am on Thursday.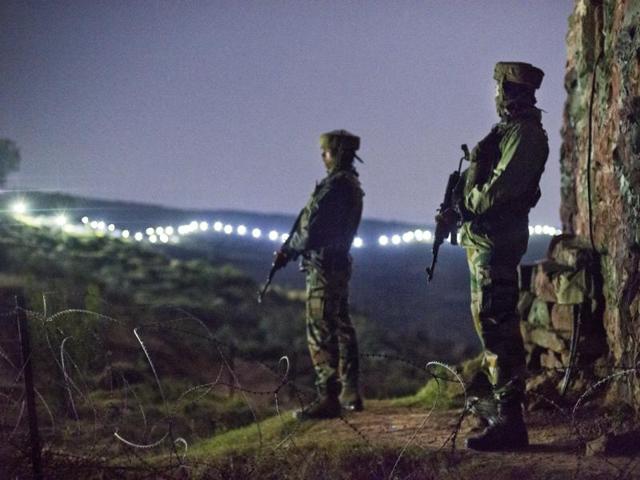 India said on Thursday it carried out "surgical strikes" along its de-facto border with Pakistan, taking out several "launchpads", or temporary shelters, militants were preparing to use to cross over into the country.
The strikes were India's first direct military response to the attack on the Uri army base earlier this month that killed 18 Indian soldiers and was blamed on Pakistan-based militants.
The cross-border action came days after New Delhi reviewed its 56-year-old Indus Waters Treaty with Pakistan and pulled out of the regional Saarc Summit in Islamabad as part of a wider diplomatic offensive to isolate its nettlesome neighbour.
Read: Punjab border villages evacuated after army's surgical strikes across LoC
The move could have wide domestic and security implications for India, where a narrative of a triumphant military campaign could influence a series of impending state polls. It could also trigger a possible escalation in tensions along the Line of Control (LoC), or the de-facto border between India and Pakistan.
The cross-border action is being seen as Prime Minister Narendra Modi following through on his warning that those responsible for the Uri attack "would not go unpunished". The Indian Army had also said it would avenge the attack, which killed 18 Indian soldiers on September 18, at a time and place of its choosing.
The "surgical strikes" could force militants across the LoC to shift their sanctuaries further back into Pakistani territory, bolstering the image of Indian forces as a capable striking power. Such an image could also help tamp down violence in Kashmir, where two months of street protests over the killing of militant Burhan Wani have left more than 85 people dead.
As it happened: Army's press conference on operation against terrorists
Read | Cost of India-Pak nuclear war? 21 mn may die, half of ozone layer will vanish
Lt Gen Ranbir Singh, chief of India's military operations, told a press conference that the "launchpads" were targeted after a week of surveillance.
"Significant casualties have been caused to these terrorists and those who are trying to support them," Singh said, without giving details of casualties. But sources said the army had informed the government that "35-40 people" – who could be terrorists or handlers or "guides" -- had been killed.
Islamabad promptly denied the claim and said it would respond strongly were India to try a military raid on its soil. When Indian opposition parties asked Singh about this at a meeting, he remarked, "What else can they say?" a leader present there said.
Hours after the "surgical strikes", New Delhi moved to mobilise international support for its action against what it says are hubs of terrorism that have bled India time and again. Foreign secretary S Jaishankar briefed envoys of 25 countries in New Delhi. Indian envoys abroad have also been asked to sensitise their host governments about cross-border terrorism from Pakistan.
Anticipating a flare-up, the government directed the evacuation of villagers along the LoC in Jammu and Kashmir and the International Border in Punjab. Junior minister Jitendra Singh, who hails from Jammu region, was assigned to oversee the civilian evacuation. The Border Security Force called up reserves for any fallout of the "surgical strikes".
Lt Gen Singh said the decision to launch the strikes had been taken after the military determined the launchpads had been set up with "an aim to carry out infiltration and terrorist strikes in Jammu and Kashmir and various other metros in our country."
"The operations were basically focused to ensure that these terrorists do not succeed in their design of infiltration and carrying out destruction and endangering the lives of citizens of our country," he said.
India's official announcement of the strikes came just hours after Modi chaired a meeting of the Cabinet Committee on Security (CCS) to review the situation along the LoC.
The government briefed former Prime Minister Manmohan Singh, the Jammu and Kashmir chief minister and governor, the President and the vice-president about the strikes, which the commandos have photographed and filmed.
The news of the strikes unnerved the Indian stock market, which shed more than 550 points before recovering to close at levels lower than of Wednesday.