India, China not 'firing a single bullet' over border dispute shows maturity: PM Modi
India and China "have a long history of cooperation and leadership" on global issues, says Prime Minister in interview to Hindustan Times.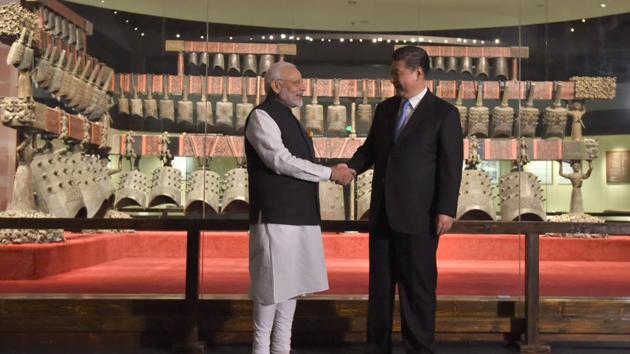 Updated on Aug 12, 2018 03:58 PM IST
India and China have a border dispute but the fact that they have not even 'fired a single bullet at each other' in the last four decades shows their maturity, Prime Minister Narendra Modi has said in an interview to Hindustan Times.
Modi, in the email interview, spoke about Doklam, a disputed border area in Bhutan, where Indian and Chinese troops where locked in a stand-off for more than two months. The standoff was resolved in late August 2017 when the two countries agreed to withdraw their troops, and Beijing indicated it had halted work on a road that triggered the row.
"There have been occasional incidents in the border areas due to differing perceptions about the Line of Actual Control. However, both countries have always managed to resolve these incidents peacefully through dialogue on the ground as well as through diplomatic channels. It is noteworthy that over the last four decades not a single bullet has been fired across the India-China border and peace and tranquility have been maintained in border areas. This shows that we are both mature countries, capable of peacefully resolving our differences," said Modi.
Modi said his informal summit with President Xi Jinping in the Chinese city of Wuhan in April 2018 allowed the two countries to build trust, saying the candid atmosphere was fruitful. Wuhan was the second meeting between the two leaders after the successful disengagement at Doklam, first being at Xiamen during BRICS conference 2017.
"I have met President Xi Jinping a number of times over the last four years. In recent months, we have added a new dimension to our engagement in the form of the Informal Summit in Wuhan in April 2018. It allowed us to interact in a very free and candid atmosphere to understand each other's concerns without being forced into a diplomatic straightjacket," he said.
"We have been meeting regularly on the sidelines of multilateral summits as well. Such frequent interactions and close communication have been very useful in building mutual trust at the leadership level and allowing it to percolate to other levels. We look forward to receiving President Xi in India in the coming year for our next informal summit."
China's support for Pakistan, it's growing influence in South Asia, sharing river waters, trade surplus and the border dispute continue to nag its ties with China, but Modi was confident that the countries can cooperate.
"Both India and China are members of various multilateral mechanisms, such as East Asia Summit, BRICS, Shanghai Cooperation Organization, G-20 and many others. From environment to trade to reform of institutions of global governance, there are a number of issues of global importance where India and China have a long history of cooperation and leadership," he said.
Close Story
Personalise your news feed. Follow trending topics