India condemns 'reprehensible' terror attacks in Afghanistan, offers help
According to Kabul Police, the suicide bomber targeted civilians who had gathered to receive national identification cards.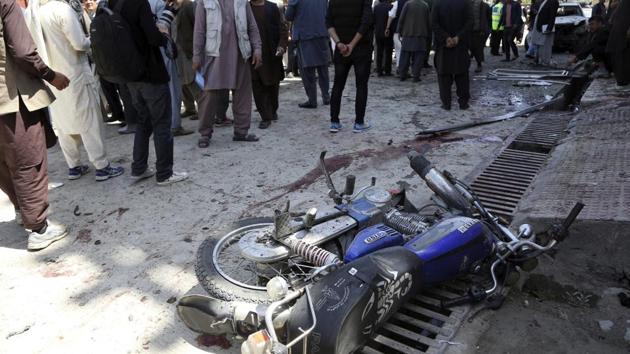 Published on Apr 22, 2018 10:40 PM IST
India on Sunday strongly condemned the terror attacks in Afghanistan's capital Kabul and in the country's Baghlan province during the ongoing voter registration process that claimed at least 48 lives.
"India strongly condemns the cowardly and barbaric terrorist attack in Kabul and Baghlan today (Sunday)," the external affairs ministry said in a statement.
"What makes this attack particularly reprehensible is the fact that the terrorists and their backers chose to attack a voters' registration centre for the upcoming parliamentary and district council elections," it stated.
"The attack has resulted in the death of Afghans who firmly support and believe in the democratic process to empower themselves and make their voice heard."
Around 10 am, a suicide bomber blew himself up among a crowd lining up to get access to an election-related registration site in Kabul on Sunday, killing 31 people and injuring 54 others, officials said.
The blast occurred in front of a school located in Kabul's Qala-e-Nazir area. The dead included women and children while several wounded remained in critical condition.
Hours later, insurgents placed an IED close to a voter registration centre in Pul-e-Khumri city in Baghlan province, killing six of a family, Afghan media reported.
"This is not only an attack on innocent civilians but also an attack on the democratic rights of the Afghan people," the Ministry statement said.
"Our thoughts and prayers are with the family members of the victims, and we wish quick and complete recovery to the injured.
"India stands ready to extend all possible assistance, including for treatment of those injured."
Close Story