India heightens watch over China Covid spiral
Dec 20, 2022 11:34 PM IST
Reports and social media posts from China spoke of flooded hospitals, crowded funeral homes, and a dire shortage of essential medicines since it reopened its cities following widespread citizen anger.
The Centre on Tuesday formally asked states to step up analysis of positive Covid-19 cases to detect new coronavirus variants, and officials aware of the matter separately said that testing and surveillance at airports could be tightened, as the government moved to deal with potential fallout from a spiralling wave in China.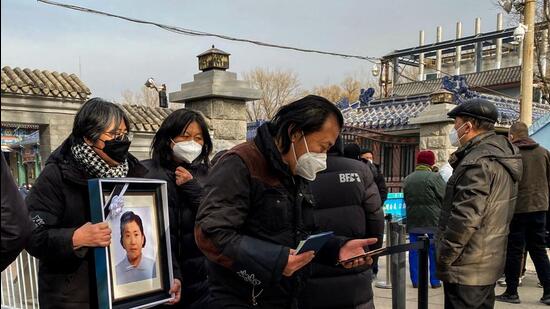 Reports and social media posts from China — which proverbially painted itself into a corner with its Zero-Covid policy and a lack of effective vaccines — spoke of flooded hospitals, crowded funeral homes, and a dire shortage of essential medicines since it reopened its cities following widespread citizen anger.
Also Read: China's crematoriums, hospitals 'packed' as Covid cases rise | Top 10 points
The country's official death figures remained questionably low on Tuesday, further fanning fears that the epicentre of the pandemic is being opaque with crucial data that could help avert any new threats.
The communique sent by the Union health ministry noted the outbreak in China as well as in several other countries to press for increased whole genome sequencing, the process that finds the exact variant an infected person caught.
"In view of the sudden spurt of cases being witnessed in Japan, United States of America, Republic of Korea, Brazil and China, it is essential to gear up the whole genome sequencing of positive case samples to track the variants through Indian Sars-CoV-2 Genomics Consortium (INSACOG) network," Union health secretary Rajesh Bhushan said in a letter to states and Union territories.
According to Our World in Data, Japan reported over 150,000 new cases, US over 67,000, South Korea over 65,000, Brazil over 43,000 and China close to 3,000.
Union health minister Mansukh Mandaviya will on Wednesday hold a meeting with senior officials and experts on the Covid-19 situation in the country in light of the spike in cases elsewhere, people aware of the matter said, asking not to be named.
Also Read: Mandaviya's Covid review meet tomorrow as China sees sharp spike in cases
An expert associated with the government said vigil is crucial, though there is no reason for alarm just yet. "It is an important thing that we keep a close vigil on the Chinese situation. But I would say that there is nothing to be panicked about… The system is very vigilant, we need to be very vigilant. As far as genomic surveillance is concerned, this is the most important part we are doing genomic surveillance of individuals with symptoms," said Dr NK Arora, chairperson of the Covid-19 working group National Technical Advisory Group on Immunization (NTAGI).
Senior officials said monitoring the variant in China will be key. "Presently we are watching the situation very closely," said a senior official from the Union health ministry, asking not to be named.
Another official in the central government, who is aware of the matter, said: "It is too soon to take a decision on it but if things continue to get worse there then there is a possibility we will further increase surveillance here at all crucial entry points and within community."
The official added: "INSACOG is already tracking the changes in the virus through its whole genome sequencing surveillance network; so far there seems to be no cause for concern both in terms of rate of hospitalisations and death not just in India but also other countries, apart from China, from where the sublineage has been reported so far."
This person was referring to the sublineage spreading in China, which has been identified as BF.7. The variant has shown no notable characteristics in terms of severity or transmissibility in other countries such as the US or the UK, where experts have analysed its spread in recent months.
Also Read: Over 60% population in China may be infected by Covid in 90 days, says top scientist
According to people familiar with the matter, India too reported a case of BF.7 around October this year, but has neither seen an unusual surge in Covid cases nor greater hospitalisations.
The Omicron sublineage that is dominant in the country remains BA.2.
"It is an RNA virus; therefore it will mutate at a greater rate but the sublineages that are in circulation across the country, including BF.7, have not posed a threat in terms of severity of disease so far," said an INSACOG member, asking not to be named.
"The fact that a significant chunk of Indian population is already exposed to Omicron and also the high vaccination coverage, both these factors put together seemed to have contributed in keeping the disease less severe. Whereas China has largely been under lockdown, making it a large pool of vulnerable population and leading to the surge," added the member.
Experts warned against dropping the guard just yet.
"What we need to understand is that we do not have a population that is naive to the infection. Because of vaccination and natural infection over the last three years, people in India have immune systems that is robust enough to handle the infection and not let it impact our immunity as badly. However, we need to be vigilant and high surveillance because we do not know how the virus will behave," said Dr Randeep Guleria, former director of the All India Institute of Medical Sciences (AIIMS), who now heads the institute of internal medicine and respiratory and sleep medicine at Medanta Hospital, where he is also the director of medical education.
"Over the past one year, we have consistently seen infections stemming from the sub-lineages of the Omicron variant and there hasn't been any dramatic new variant. Seems like we are in a better position but we cannot lower our guard, we have to be watchful of any new variants," Guleria added.