India launches South Asia Satellite GSAT-9: 5 things to know
Updated on May 06, 2017 09:07 AM IST
India's space diplomacy took a giant stride with the successful launch of the South Asia Satellite, a "gift" to its neighbours that is aimed to provide the one and half billion people of the region with better communication, weather forecasting, tele-medicine and response to disaster management.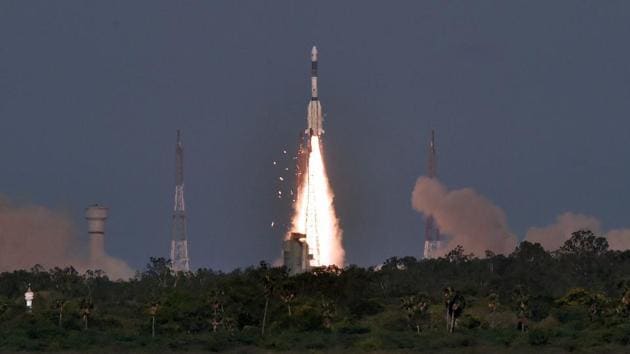 India has successfully launched the South Asia Communication Satellite, fully funded by it and touted it as an "invaluable gift" to its South Asian neighbours, which would provide communication and disaster support to the region.
Here are five things to know about the launch:
1) Built by the Indian Space Research Organisation (Isro), its latest communication satellite GSAT-9 called SAS rode piggyback on the 50-m rocket Geosynchronous Satellite Launch Vehicle (GSLV-F09) with the indigenous cryogenic powering the Upper Stage.
The GSLV-F09 blasted off from the Satish Dhawan Space Centre in Sriharikota in Andhra Pradesh and injected the GSAT-9 into the orbit in a flawless flight.
2) The launch was celebrated jointly through a video conference by PM Narendra Modi, Afghanistan President Ashraf Ghani, Bangladesh PM Sheikh Hasina, Bhutanese PM Thering Tobgay, Maldivian President Abdulla Yameen, Nepalese PM Pushpa Kamal Dahal and Sri Lankan President Maithripala Srisena.
Describing the launch as a "historic moment", Modi said it opens up new horizons of engagement among the countries of the region. In his speech to Saarc leaders, except Pakistan, Modi said, "Our coming together is a sign of our unshakeable resolve to place the needs of our peoples in the forefront. It shows that our collective choices for our citizens will bring us together for: cooperation, not conflict; development, not destruction; and prosperity not poverty."
3) Modi's remarks were seen as a veiled message to Pakistan which stayed out of the project as it didn't want any "Indian gift".
"Together we will achieve better governance, banking services and education in remote areas. Linking people with top-end medical services and quick response to natural disaster," Modi added.
4) Ghani described the launch as "South Asia's giant step towards regional cooperation" and said it makes the region's integration a reality. Hailing Modi's vision, he said, "The gap between talk and action is bridged today."
5) Hasina said it will "change the face of South Asia". With the launch, the cooperation among the South Asian nations has expanded from land, water, air to space, she said. Tobgay said it is for the first time in the history that a country is launching a satellite for an entire region. Yameen said Modi's "sabka saath sabka vikas" is an ideal template for the South Asian integration.
Dahal, popularly known as 'Prachanda', said his country would benefit immensely from the satellite. Srisena said the development signifies inclusiveness and friendly cooperation.
Personalise your news feed. Follow trending topics