India revitalising Buddhist heritage through ties with Mongolia: Sushma Swaraj
Indo-Asian News Service, Ulaanbaatar |
Indo-Asian News Service
Apr 25, 2018 06:19 PM IST
Sushma Swaraj says India has offered to provide a statue of Lord Buddha to the Gandan Monastery in Mongolia as a token of the deep friendship between the two countries.
Indian external affairs minister Sushma Swaraj on Wednesday said that India is reviving its Buddhist heritage through its ties with Mongolia and that the two countries are more spiritual partners than strategic.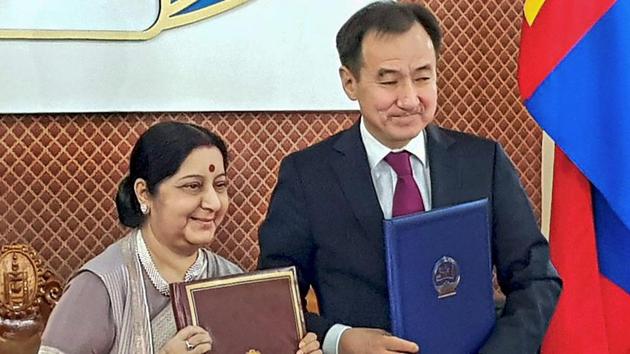 "Buddhism has been a great connector of civilisations since millennia," Sushma Swaraj said while addressing the birth centenary celebrations of Kushok Bakula Rinpoche, a highly revered Buddhist leader and monk from Ladakh and a former Ambassador of India to Mongolia.
Bakula Rinpoche, as the longest serving Indian Ambassador to Mongolia, made seminal contribution to promotion of India-Mongolia ties.
"Even though Buddhism originated in India, it spread across the mighty Himalayas to East Asia and across the seas in southeast Asia," Sushma Swaraj said.
"Eventually, it also made its way to the vast steppes of Mongolia where it has found a permanent abode for over two millennia."
Stating that her country is once again reviving the Buddhist connections to bring together all those who have adopted faith in Buddha's philosophy and teachings, the Indian external affairs ,minister said that one of the efforts in this direction has been to link the Buddhist pilgrimage sites in India for fellow pilgrims from the neighbourhood and beyond, including from Mongolia.
She said that to revitalise this intellectual connection underpinned by shared Buddhist traditions, India has revived the age-old Nalanda University.
"In our engagement with Mongolia, we are also revitalising Buddhism as a strong symbol of our civilisational connection transcending into modern times," she said.
"In our own small way, we are trying to work with our Mongolian friends to protect and preserve our Buddhist heritage."
Stating that India has also offered to provide a statue of Lord Buddha to the Gandan Monastery in Mongolia as a token of the deep friendship between the two countries, Sushma Swaraj said India is also keen to invite Buddhist scholars and students "to visit India to discover our precious heritage".
She said that Mongolian scholars and students can not only visit the Buddhist pilgrimage sites in India but also undertake higher studies in some of the prominent institutions engaged in study of Buddhist philosophy.
She also said that this will help in forging strong people-to-people contacts and allow better understanding about each other's country, culture and customs.
Stating that India and Mongolia share a unique partnership, Sushma Swaraj said: "We are strategic partners, but more than that we are spiritual partners. This spiritual connection through Buddhism provides strength to our relationship. It is not a partnership of convenience but a relationship of trust and spiritual strength. Such partnerships, built on the strong foundation of friendship and mutual trust, are everlasting."
She said that in these times of rising violence and extremism spread in the name of faith, there is increasing need to follow the Buddhist path of peace and tolerance.
"Many regions of the world today, including our own region, is witnessing a trend of radicalism," she said.
"Such radicalism provides a fertile ground for terrorism to flourish. It then spreads to the neighbouring areas and engulfs the entire region," she stated.
"In such difficult times, there is a need for a philosophy that teaches peace and tolerance. Countries like India and Mongolia with our strong Buddhist traditions have a crucial role to counter this trend of radicalism."
Earlier in the day, Sushma Swaraj and her Mongolian counterpart Damdin Tsogtbaatar co-chaired the sixth round of the India-Mongolia Joint Consultative Committee (IMJCC), focusing on a range of issues including economic, energy, political, strategic, educational and cultural ties.
Following the meeting, the visiting Indian minister called on Mongolian Prime Minister U. Khurelsukh here and discussed cooperation in developmental cooperation, mining, capacity building, IT, films and other areas of bilateral cooperation.
She also held meetings with Gombojav Zandanshata, Mongolian Minister and Chief of Cabinet Secretariat, and M. Enkhbold, Speaker of the Mongolian Parliament, the State Great Khural.
Sushma Swaraj arrived here from China on Tuesday in what is the first visit by an Indian External Affairs Minister to this landlocked Asian country in 42 years.