India our best friend: Maldives foreign minister's message to China
Updated on Nov 26, 2018 04:44 PM IST
Maldives foreign minister Abdulla Shahid said the country will keep the two helicopters which India gifted it in 2013.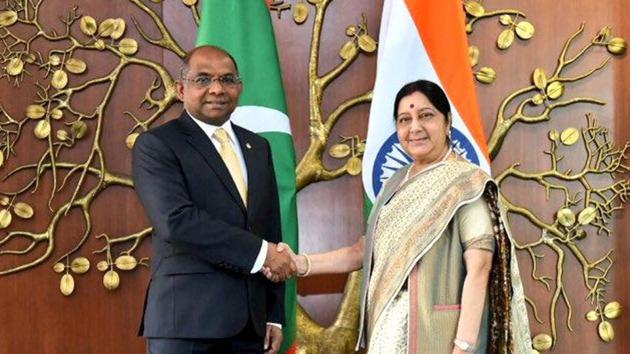 New Delhi |
Asian News International
Maldives foreign minister Abdulla Shahid on Monday said that Male will retain two Indian military helicopters, which were gifted to the Maldives in 2013.
Earlier this year, former Maldivian president Abdulla Yameen decided to send back the helicopters to India after relations between the two South Asian neighbours nosedived over Yameen declaring an emergency in the island nation.
"Helicopters are so generously donated by India to the Maldivian government. They are being used for humanitarian purposes. Several ill people have been airlifted to Male hospital. We have seen this in the past several years that a total of 164 have been airlifted. It is also being used for sea and air rescue. We are grateful to India for providing these. We will continue to engage with India for all our needs and requirements," said Shahid, the new foreign minister of Maldives in an exclusive interview with ANI.
India-Maldives relations were strained recently due to former President Abdulla Yameen's dictatorial behaviour, his growing proximity with China and Pakistan and human rights violations in his own country.
He crushed dissent, jailed several people including top judges and opposition leaders and declared a state of emergency in February, worsening the political turmoil in the country.
The country with 26 coral atolls and 1,192 islands went to polls in September to decide if Yameen will win a second five-year term. Ibrahim Mohamed Solih won the presidential election, defeating Yameen in what was seen as a referendum on democracy.
Shahid's visit assumes significance for India, following the swearing-in of President Ibrahim Solih at a ceremony in Male on November 17, which was also attended by Prime Minister Narendra Modi.
This is the first high-level visit from the Maldives after the new government took office.
"India is our best friend. India has been there for us at all hours of need be it in 1988 when there was a terrorist attack or be it the Tsunami when the entire country was inundated. Your naval ships streamed off in the Indian Ocean and the same time in Maldives archipelago. In the recent past, we had a water crisis in Male. It was India, who airlifted required water for us," Shahid told ANI.
During Prime Minister Modi's day-long visit to the Maldives, Solih briefed the Indian leader about Maldives' fragile economic situation. The two leaders discussed ways in which India can continue development partnership, particularly to help the new government in meeting its pledges to the people of the Maldives.
Both the leaders agreed on the importance of maintaining peace and security in the Indian Ocean and being mindful of each other's concerns and aspirations for the stability of the region. They also expressed their unwavering commitment and support for increased cooperation in combating terrorism both within the region and elsewhere, according to a statement issued by the Ministry of External Affairs.
"Things have started to change. We saw Prime Minister Narendra Modi at the swearing-in ceremony of Ibrahim Mohamed Solih as new President in which people of Maldives received Prime Minister Modi. This is clear evidence that he is most welcome and the manner in which first official meeting took place immediately after the inauguration, the warmth, sincerity and conducive environment in which they discussed substantial issues was a clear signal that new era of Maldives-India relation has begun," Shahid added.
(This story has been published from a wire agency feed without modifications to the text. Only the headline has been changed.)
Personalise your news feed. Follow trending topics