Indian Muslim woman: She is looking within and stepping out
The recent debate on triple talaq has put Muslim women at the centre of the mainstream discourse. But what are the concerns and challenges before Indian Muslim women today?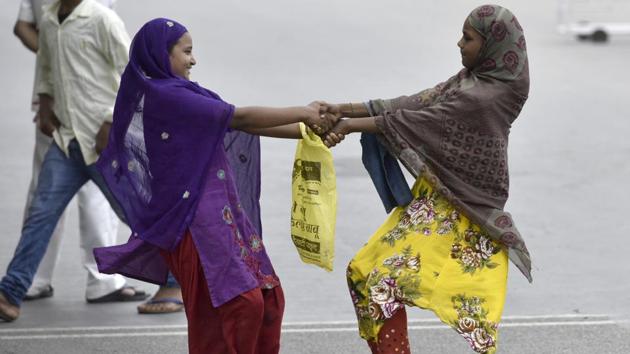 Updated on Apr 25, 2018 01:18 PM IST
Safia Jamal first wore the hijab at 20, when she moved from her hometown of Lakhimpur Kheri in Uttar Pradesh to Delhi, for her graduation. "I lived in a small locality back home, but this was the first time I felt uncomfortable," she says. "People stared on the streets, passed comments, so I opted to cover myself."
Religion may have been only one of the factors for her, but others did not see it the same way. While she was studying MCA at an all-women's university near Jaipur, a male teacher told her to "dress properly" for a viva. Taken aback, Safia asked him what he meant. "He told me, remove that 'round thing' you wear around your head, you don't have to show you're Muslim here".
As a 'visible' Muslim woman, Safia often runs up against prejudice, from those who question her decision to wear a hijab, and very often, from those who expect her to behave a certain way because of it.
Twenty-seven year old Saman Quraishi is familiar with this dilemma. "I am a hijab-wearing Muslim woman, who dances the salsa, goes to Midnight Mass, makes rangoli and has friends who are boys. I don't know why people find this so difficult to digest," she says.
In a political climate where triple talaq is a hot-button issue on daily television news, Muslim women are suddenly at the centre of mainstream discourse. But what are their concerns and apprehensions?
THE ROAD TO EMPOWERMENT
"Education, education, education", says Kouser Fatima, a Bangalore-based dentist who curates Muslim Voices India, a crowd-sourced Twitter handle. "Muslim women need to think of educating themselves, their daughters because this is where the community lags behind."
Numbers tell the same story. The total number of literate Muslim women is 51.8%, as against the national average of 55.9% for all religious communities. The gap is wider for higher education.
A 2007 study commissioned by the Ministry of Women and Child Development found the main factors contributing to low enrolment and high incidence of drop outs among Muslim girls were a combination of poverty, absence of separate girls' school, conservative attitudes and early marriages.
For Safia, coming to Delhi for a BSc degree from Jamia Millia Islamia was not negotiable. "My elder sister is the first woman graduate in my family. The extended family and neighbours back home didn't approve, but my parents were supportive of our decision," she says.
Safia recently moved to Banglaore in search of a job. And when she was in Delhi, she learned to navigate the big city alone, taking tuition classes for pocket money or just hanging out with friends at nukkad chai stalls. "In Kheri, I didn't do anything. There were no challenges, nothing to do," she says.
Samreen Hussain, who teaches law at Ram Manohar Lohia National Law University in Lucknow, echoes this. "Muslim women need education to broaden their horizons," she says.
Things are changing, she feels. In her batch at Aligarh Muslim University's law college in 2009, most women were studying with the full support of their family. Most of her classmates work now – as judges, in PSUs, as teachers, or lawyers. "Women need to step out into the world so they can break patriarchal norms," she says.
WORKING FOR A FUTURE
If the numbers in higher education are low, the poor representation of Muslim women in the workforce is shocking. According to 2001 Census figures, the work participation rate for Muslims in general was the lowest at 31.3, eight points lower than the national average. But Muslim women's presence was a miniscule 14.1, compared to the national average of 25 for women. As per Census 2011, 85% of Muslim women are not part of the workforce.
In 2000, Syeda Saiyidain Hameed, former member of planning commission, authored Voice of the Voiceless, a report on the status of Muslim women. Seventeen years later, the needle hasn't moved much. "No miracles have been created for Muslim women as far as government schemes are concerned. The biggest challenge facing them is dire, abysmal poverty," says Hameed.
Most Muslim Women in India are self-employed in sewing, embroidery, chikan kari, zari, beedi or agarbatti rolling, but the work is usually sub-contracted and poorly paid. "There is a lack of skill and livelihood, when it is there, is meagre," explains Hameed.
To make matters worse, ever so often, some obscure cleric pipes up with a fatwa that women should not work outside, making things even more complicated.
Safia points to another reason. "In our community, a girl's security and settlement is not a job, but marriage," she says. "A lot of distant relatives tell my mother, your eldest daughter is 27, she's past the marriageable age."
REPRESENTATION MATTERS
"The triple talaq debate is an example of how the All India Muslim Personal Law Board missed an opportunity for reform," says Hameed. "We need better representation of women in these bodies. Not women that are just rubber stamps, but who have an agency or voice of their own."
The All India Muslim Women's Personal Law Board was formed in 2005, but has hardly ever taken a position contrary to the Board.
Like in religion, politics too is strewn with hurdles for women.
Back in 2013, Saman was figuring out what to do with life after finishing a social work degree from Mumbai's Tata Institute of Social Sciences. One day, her father asked if she would like to attend a political rally by Arvind Kejriwal near their home in Old Delhi's Daryaganj.
"When I reached there, I was among a handful of women. It was such a novelty that I was invited on the stage and asked to give a speech," she recounts. Saman's speech on women's safety moved Kejriwal so much, he invited her to join AAP. She worked for the party's outreach, and since she was too young to contest at 23, was made the campaign manager for Matia Mahal.
"For the first campaign meeting, people said they couldn't come before 10 because of special Ramzan prayers. No one believed me when I said, I will come at 10.30 at night," says Saman. But slowly, word spread that she was, indeed, at every campaign meeting – the sole young woman among 60-odd men, an indicator of how women are missing from politics.
"They listened to me because I had conviction. But soon enough, the character assassination and personal comments started," she says. Saman quit AAP two years later, disillusioned with politics, but her stint taught her that men hold a lot of sway over how women vote.
For Kausar, the issue of representation is one she wrangles with every day, on social media. Here, as in other areas, representation matters. "I feel we have to engage, most people are really ignorant. But the kind of anti-Muslim vitriol you see online, I have never seen in real life," she says.
Kausar also has to field the occasional backlash from anonymous Muslim men, uncomfortable with the idea of a woman speaking out openly. "Our issues are hijacked by Muslim men or liberal, feminist voices who very often look down upon the same people they claim to defend. Muslim women need to form a community and reclaim our own voice," she says.
(This is Part 4 of HT's series #BeingMuslimNow. Part 1 explored the alienation and mistrust among Muslims for the ruling dispensation at the centre. Part 2 focuses on community's political options and choices in contemporary India. Part 3 looks at the move towards internal reform and empowerment within the community. Next: Naseeruddin Shah on what it is to be a Muslim in India.)
Close Story