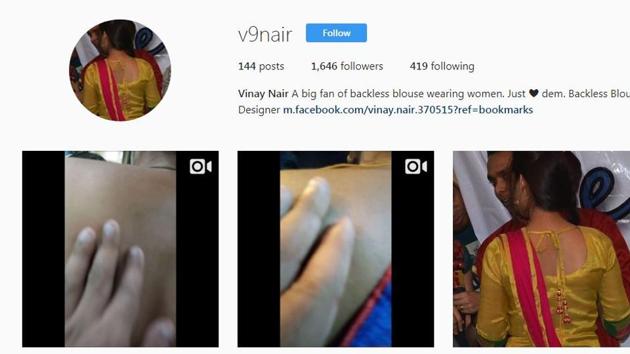 Instagram user films himself 'sexually harassing' women in public, shares videos
A man, from Mumbai, goes by the screen name v9nair on Instagram and has filmed himself touching unsuspecting women in crowded areas in slow motion.
Hindustan Times,New Delhi | By
Neha Gupta
, New Delhi
UPDATED ON OCT 18, 2017 11:53 AM IST
An Instagram user who claims to be a resident of Mumbai has been called out for sharing videos and pictures of him 'sexually harassing' unsuspecting women on Instagram.
He goes by the screen name v9nair, calls himself a 'backless blouse designer' and has filmed himself touching women in crowded areas. He has shared such videos with an assortment of hashtags such as '#marwadiauntywearingbacklessblouse #wideback #touchandgo #longtouch #touchedtheback #sexy #hot #sweaty #closeup #slowmotion #slomo'
He has made 144 such posts and has 1,646 followers. His last post was on October 15.
Angad Gummaraju, a medical student from Manipal, came across v9nair's Instagram account while browsing for blouse designs and shared it on Facebook so that people could report it.
v9nair's Facebook profile linked to Instagram identifies himself as a 1988 graduate of Pune University and a resident of Mumbai.
Following Gummaraju's Facebook post, several people reported v9nair's profile for harassment.
Later, the Instagram and Facebook accounts in question were pulled down.
An Instagram spokesperson told HT: ""Instagram is committed to ensuring the safety of our community and we have a global response team that monitors in-app reporting of content that violates our Community Guidelines. We have reviewed the account mentioned and found that it has violated our Community Guidelines and we have taken the account down."
This comes in the wake of the viral social media campaign #MeToo that draws attention to victims of sexual abuse.
The global response was triggered by allegations against Hollywood film producer Harvey Weinstein who has been accused of rape and abuse dating back decades by several women, including actors Angelina Jolie and Gwyneth Paltrow.
The hashtag started trending late Sunday when American actress Alyssa Milano sparked an outpouring with a simple Twitter request that woman respond 'me too' if they have been sexually harassed or abused.
Close