Interview: Nasim Zaidi says tenure as CEC has been a very positive experience
Updated on Jul 12, 2017 10:34 AM IST
The outgoing CEC said he is leaving office with satisfaction of having made voters the centre of all electoral activity. "Some minor changes in the rules have taken place, but the bulk of reforms still remains," he said.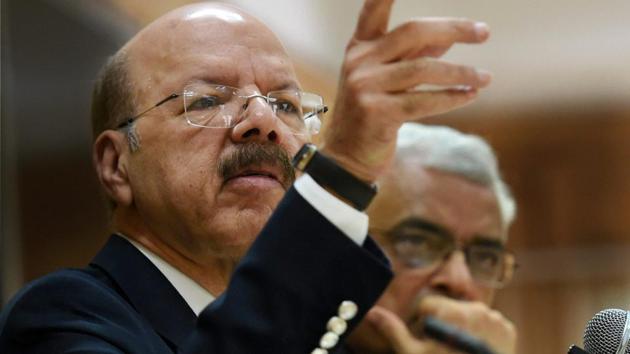 Nasim Zaidi will end his tenure as the 20th chief election commissioner on July 5. After a five-year stint at the poll panel, he says he is leaving office with satisfaction of having made voters the centre of all electoral activity. But he would have been happier if the government had accepted the commission's recommendations to reform the system by making political funding transparent.
In an interview to Hindustan Times, Zaidi hoped the introduction of the VVPAT machines, which give a paper receipt, will end the controversy over electronic voting machines, or EVMs.
Excerpts
Q: Looking back at your tenure, are you satisfied about having accomplished your goals?
A: It has been a very positive experience. I have truthfully discharged my constitutional responsibilities to conduct and supervise free-and-fair elections. I have been able to bring voters to the central focus of all activities.
The entire vision of the commission has been voter-centric. Whenever we planned anything, we used to see how the voter will be impacted.
Another area of satisfaction is that I was able to bring in institutional strengthening that ranged from documentation of processes, regulations and procedures. A large number of new initiatives have been implemented in the past two years.
We made the electoral process easy to understand, and offered an ambient environment by providing facilities at polling stations. A few years ago, the polling stations were in shabby conditions; the compartments were separated by jute bags.
We changed that, offered nice voting compartments and ensured minimum facilities. Another focus was on persons with disabilities. Many associations have complimented the EC (for providing facilities for them). We provided facilities according to the type and number of disabilities.
What has really been an issue of satisfaction is that we controlled muscle power totally and did not allow musclemen to intimidate the voters anywhere. I did not hear complaints that at a particular habitation or village voters have been stopped from casting their votes or prevented them from travelling to polling stations.
Wherever such cases came to our knowledge, we immediately took action and ensured that voters came to the polling station.
Q: What were the challenges you faced?
A: We faced a big challenge of money power; we faced it in Tamil Nadu where assembly elections in two constituencies were countermanded a couple of times.
This is the first time that, invoking Article 324, we countermanded the elections. And we are seeking powers for the Election Commission to countermand elections under such conditions.
Q: Is there anything left unfinished?
A: Every commission would have liked many more reforms to come. Some minor changes in the rules have taken place, but the bulk of reforms still remains. I would have been more satisfied to see these reforms take place.
Q: Could you give examples?
A: Most of these reforms fall into two or three categories. One, the biggest concern of people is transparency in political funding. The second, is the anti-corruption plank in our electoral area and here the proposal of making bribe cognisable offence, criminalisation of paid news and countermanding power (to revoke elections on grounds of bribery), we have been demanding these. Another area refers to the use of totalisers. Correspondence has been going on between the EC and the law ministry and I would have been more satisfied if this had reached its logical conclusion.
I was also keen that voters should get registered the day they turn 18, rather than wait for a whole year. This I would have liked to see happen.
Q: What do you attribute the government's reluctance to accept these recommendations?
A: That answer I cannot provide. One thing we have been hearing is that there is a need to build political consensus. It is not a difficult thing in certain areas, but what is happening (at the government end) I cannot comment. We have been pursuing issues, and doing so relentlessly. For instance, on the issue of getting powers to countermand elections on charges of bribery, the letter has gone (to the law ministry) three or four times. We are insisting that the powers be given, because this is the major challenge for the commission going forward.
Q: The government claims to be a votary of reforms and has introduced electoral bonds to make the funding process more transparent. But election watchdogs and even the Opposition have concerns. What is your view?
A: We have not received the details of the scheme yet. Once it comes to us, we will be able to comment. We have been reading about it, but the government has not officially shared the scheme with us.
Q: What about the move to lower the cash component from Rs 20,000 to Rs 2,000 or allowing companies the liberty to not mention donations to parties?
A: There are concerns there. To a large extent it is a welcome feature. What was hidden earlier is not being made accountable. It is being criticised, but we will have to see how it works. There are many more areas where there are concerns.
Q: Have you shared these concerns with the law ministry?
A: We are still waiting for the details to be shared with us (about these changes) and then we will take these up.
Q: Some political parties such as the AAP have accused the EC of bias.
A: EC remains apolitical, neutral and independent. To say it is biased or soft on the government is not true. The commission has been discharging its duties in a manner to ensure a level-playing field for all. We tried to stay in the centre of the circle. We have been fair to all parties.
The controversy over the electronic voting machines was a surprise. It was not expected. Our mechanism is non-tamperable.
Q: Some accuse you of not doing enough to stem the EVM controversy. Others who doubt the credibility of EVMS claim you did not allow them a free hand to tamper the machines.
Zaidi: People can say that we were late in responding; it is their perception. From the day the controversy broke out to the day the 'EVM open' challenge was held, as a responsible constitutional authority we have dealt with it in the manner it should have been dealt with. We could neither go overboard nor be lying extremely low.
When the controversy broke out, we issued a detailed response to the parties concerned. This was followed by detailed press notes and frequently asked questions.
We have held discussions with political parties and then held the challenge; we couldn't have done any other way. We were followed a charted path.
As for the challenge we were going by the allegations raised. And the allegations were that some people can alter the results stored in the machines by using mobile, Wi-Fi or activating a secret code by pressing a combination of keys.
So, we asked them to come and prove these allegations by using the same techniques. We got the same machines used in the elections.
Nobody came forward. Two parties came, but said we have come to learn more about the EVMs.
I think we have handled the issue in the most effective manner. The Bhind incident was an unfortunate one and that too was proven totally wrong.
Q: Do you think by raising doubts about the safeguards of the EVMs, some political parties have sown suspicion about India's electoral process?
A: We are among the few that use EVMs on such a large scale. Political parties can raise issues; but if they raise issues that are constructive, helpful or credible then we are open to suggestions. Our only point is that wild and baseless allegations were not expected.
We wrote to all (parties) to provide us credible and material information so that we can inquire and proceed to investigate how EVMs are tampered, but till date nobody has provided (it). We expect everybody to engage with us constructively.
I have a great sense of satisfaction that we will employ VVPATs (paper audit machines) at all polling stations going forward. That in itself was a hard-fought battle. The government took too long to release funds.
Yes, but we now have the money, over Rs 3,000 crore, the order of the Supreme Court and we have the manufacturers with us. We have assured voters that in future all elections will be held with VVPATs.
Q: Even the forthcoming assembly polls?
A: Yes, all elections going forward. All voters must see who they have voted for and if they have complaints they must inform the election officer.
We are going to launch an awareness programme. We are ready with a footprint of our strategy to create awareness. And will be on the lines of what was done when EVMs were introduced.
This will be a multi-pronged strategy. We will begin this from the upcoming two elections … our officers will go from village to village from town to and town with EVMs and VVPATS to make people practice using these. The voter needs to be educated about the VVPAT.
The other point is recount rules that are under consideration. We have assured political parties we will count up to a determined percentage of VVPAT slips and compare those with EVM results.
This will be a total game-changer and this is where the EVM controversy will finally be laid to rest.
Q: Recently, the EC debarred Madhya Pradesh minister Narottam Mishra from contesting polls for three years after finding he had not mentioned expenses under "paid news" during the 2008 assembly polls. Why did it take so long to dispose the case?
A: The delay has been explained in the judgment and it has been attributed to dilatory tactics (of the accused) from 2008-2013, after that it took only three years or so. There is not much delay.
The second part is that under section 10 (A) of the RP Act, the disqualification begins from the date of order. Even murder cases take up to 20 years.
Paid news is yet to be criminalised. Since it is not so, we have another power under the RP Act to disqualify him. Paid news is a menace that must be curbed.
Q: Is the commission ready to allow NRIs to vote?
A: It is a long-term vision and under evaluation. We wanted one-way e-postal ballots for NRIs, but we are waiting for the law. We have written to the law ministry, we are ready and have been saying it, we only need a law.
It will be on the lines of the one-way postal ballot for military personnel. The moment we have the law we will be ready to implement it in three months. We have proved that the technology works.
There was also a discussion on allowing voting rights for domestic migrants, for which a committee report has been given. The government has to take a call.
Personalise your news feed. Follow trending topics