I-T, GST raids at premises of BJP, BJD leaders ahead of Odisha's Padampur bypoll
Published on Nov 28, 2022 10:18 PM IST
Odisha's ruling BJD and opposition BJP accused each other of using raids by tax officials to harass people linked to their parties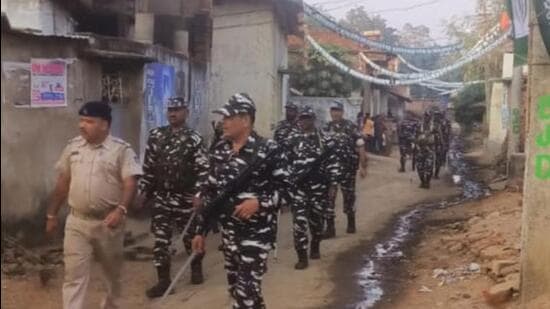 BHUBANESWAR: Income tax officials on Monday conducted raids on the premises linked to three Biju Janata Dal (BJD) leaders of Odisha's Bargarh district while Goods and Services Tax officials raised premises of BJP leaders ahead of the crucial bypoll in the district's Padampur assembly segment scheduled for December 5.
On Monday morning, IT officials raided the premises of senior BJD leader Md Sajid of Hanumanpada, Manabhanjan Sahu of Sahupada and Gajanan Agarwal of Shastri Chhak. The three leaders who run rice mills and other businesses were considered close to late BJD leader Bijay Ranjan Singh Bariha, whose death last month necessitated the bypoll. The raids were conducted under security provided by the Central Reserve Police Force.
Police officials in Padampur said the income tax department did not inform the local police station for security.
Hours after the IT raid, Odisha's GST officials carried out searches at about 6 premises linked to Bharatiya Janata Party (BJP) leaders and their supporters in Bargarh district. The GST officials raided the saree shop of BJP leader and Padmapur Nagar president Sunil Agrawal in Bheunria Chhak. Besides, petrol pump and medicine stores of BJP leaders in Bargarh, Paikmal and Padampur were also raided.
BJD leaders termed the IT raids on the business premises of their leaders as cheap tricks.
"The BJP is getting insecure about the byelection and are apprehending their defeat for which they are making futile attempts to tarnish the image of our party for their political gains," said BJD legislator Debesh Acharya.
BJP's state general secretary Prithviraj Harichandan dismissed the charge, asking why ruling party leaders were protecting people who are not paying income tax and were accumulating black money. He asked the BJD not to lose sleep over the income tax raids as chief minister Naveen Patnaik always preached 'law must take its own course'.
As for the raids by the state GST officers, Harichandan said theey were desperate attempts by Odisha's ruling party to terrorise its workers.
The Padampur contest has turned into of high-stake battle after the BJP won the Dhamnagar assembly bypoll early this month though BJD was fancied to win it. A win in Padampur would be a huge morale booster for BJP workers who say it will signal that the tide was turning against Naveen Patnaik government.
While the ruling BJD has deployed dozens of ministers and MLAs including corporators from Bhubaneswar to campaign in the area, it has also indicated that Naveen Patnaik may campaign in the constituency over the next few days. If Naveen Patnaik does travel to Padampur, it will be the first such instance of the chief minister canvassing in a bypoll after Bijepur assembly bypoll in 2019.
The BJP too has sent union ministers to join the campaign. Union education minister Dharmendra Pradhan is scheduled to spend four days in the constituency from Tuesday.
On Sunday, Union railway minister Ashwini Vaishnaw and agriculture minister Narendra Singh Tomar campaigned in Padampur to boost the prospects of party candidate Pradip Purohit.