It was God's way of testing me, says Maya Kodnani after acquittal in Naroda Patiya case
Former Gujarat minister Maya Kodnani, a gynaecologist by profession, was accused and convicted of inciting violence during the 2002 Naroda Patiya massacre by a SIT court. However, the Gujarat high court gave her the benefit of doubt and acquitted her on Friday.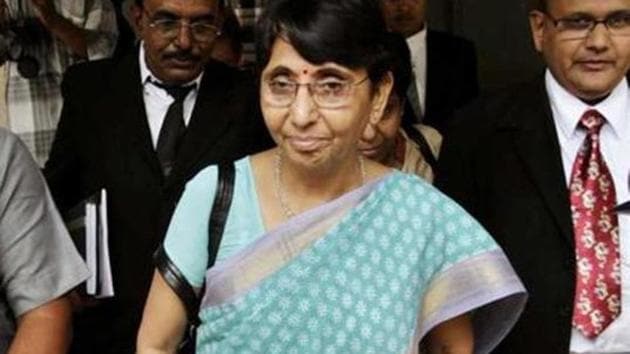 Updated on Apr 21, 2018 11:12 PM IST
A day after the Gujarat high court acquitted former minister Maya Kodnani in the Naroda Patiya massacre case, the Bharatiya Janata Party (BJP) leader said the years that she spent defending herself in the court were "God's way of testing her". Sitting on the porch of her house in Ahmedabad's Shyamal area , Kodnani looked relieved but weary.
Kodnani, a gynaecologist by profession, was elected as a member of the legislative assembly thrice from Naroda constituency in Ahmedabad, in 1998, 2002 and 2007, and became a cabinet minister in the Narendra Modi government in Gujarat in 2007. She headed the women and child development department between 2007 and 2009.
She was made an accused in 2008 in the Naroda Patiya and Naroda Gam massacre cases by the Special Investigation Team (SIT) probing the riots that followed the burning of a train coach carrying Hindu pilgrims in Godhra in 2002. In August 2012, a special SIT court sentenced her to 28 years in jail for her role in the Naroda Patiya massacre case. The witnesses who had deposed against Kodnani in the special court had said that she was present at the site on the day of the massacre and she was "instigating and ordering" the mob. The special court had described her as a kingpin of the riots, relying on these statements by the witnesses. She was arrested in March 2009 but has been out on bail since July 2014.
Following Friday's verdict, Kodnani said that she cried "tears of joy". "The truth had prevailed. There is no bigger court than the conscience, and my conscience was clear that I did not anything wrong." According to Kodnani, the Naroda Patiya massacre in which 97 people, mostly women and children belonging to the minority community, were killed is deplorable.
Since Friday afternoon, there has been a steady stream of visitors and relatives coming to meet the former minister at her residence. "Today (Saturday) I visited a few temples, performed pooja, and paid respects to my gurus," she said.
Kodnani, who was mentored by BJP patriarch LK Advani, rose quickly from a municipal corporator in Ahmedabad to an MLA and then to a minister. However, after the case Kodnani's political career and medical practice were both hit. Kodnani said she would continue to work as a BJP 'karyakarta' (functionary), but stopped short of announcing a return to active politics. "I am a BJP worker; I will continue to work in whatever capacity I can."
She added that during the trial her party gave her the "moral support", and refuted the claims that she was left to fend for herself by senior party leaders. "After the verdict too, many leaders called," she said. She added that BJP national president Amit Shah, who deposed as a witness defending her in the Naroda Gam case, in which 11 Muslims died, has not got in touch with her after the verdict.
The family of the victims are planning to approach the SC against the decision of the Gujarat HC. On Saturday, 66-year old Fatimabibi Yusufbhai Shaikh, who lost 19 of her family members in the Naroda Patiya attacks that left 97 people dead, called the verdict an "injustice". "This is gross injustice…one court finds her (Kodnani) guilty, while the higher court acquits her," Shaikh, who runs a flour mill in Naroda Patiya, said.
Close Story