Kashmir: Senior police officer lynched by mob near Jamia Masjid in Srinagar
Hindustan Times, Srinagar |
Toufiq Rashid/Ashiq Hussain
Jun 23, 2017 11:49 PM IST
The body of deputy superintendent of police Mohammed Ayub Pandith, who was working in the security wing of Jammu and Kashmir police, was recovered on Friday morning from outside the mosque.
A senior police officer was lynched by a mob outside Srinagar's main mosque on Islam's holiest night, officials said on Friday, a rare such killing of security personnel in three decades of militant violence in Kashmir.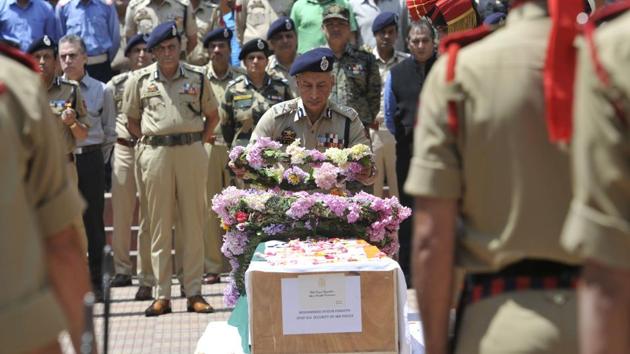 Officials identified the officer as Mohammed Ayub Pandith, 57, a deputy superintendent working in the security wing of state police.
Jammu and Kashmir's police chief SP Vaid said the officer was on duty late Thursday near the Jamia Masjid where thousands of people had gathered for night-long congregational prayers at the mosque led by separatist Hurriyat leader Mirwaiz Umar Farooq.
Reports said the officer, who was in civilian clothes, was taking photos on his cellphone when he was confronted by a a few people. The officer panicked, drew out his pistol and fired, injuring three civilians that led to the lynching, the reports added.
Another report said he was coming out of the mosque after his prayers when he was attacked.
"Initial investigation revealed that there was an altercation and the officer fired to get away from the mob. He was, however, overpowered and killed...," Vaid told HT. The officer's service revolver is missing.
Police said they have arrested two people over the killing and identified another.
The DSP's lynching came weeks after a Kashmiri army officer was killed by militants. Security experts believe the two incidents could lead to a push back by Kashmiris against insurgents and weaken public support to militants across the valley.
Police often face civilian anger during street protests when stone-pelting civilians target security forces. In recent months, many policemen have been killed and their homes ransacked by suspected militants in a warning to local police officials to stop participating in counterinsurgency operations.
Six policemen including an officer were killed in an militant ambush earlier this month.
More than 1,500 police personnel have been killed in the valley since insurgency broke out in 1989.
Family members of Pandith reacted with anger and disbelief.
"Is this the azadi we are fighting for that we have started lynching people? What shall we do with such azadi?" one his sisters-in-law said, referring to an Urdu word meaning freedom and frequently used by militants and separatists.
The slain officer is survived by his wife and two teenage children; his daughter is studying MBBS in Bangladesh.
The lynching occurred during the celebrations of Laylat al Qadr, or night of power, which commemorates the night the Quran is believed to have been revealed to the Prophet Muhammad.
In 1998, more than 20 Kashmiri Pandits were killed by militants on the same occasion.
It had evoked widespread condemnation like Thursday's incident.
Chief minister Mehbooba Mufti described the lynching as "shameful" but warned people not to test the patience of police.
"Jammu and Kashmir police are showing restraint because they are dealing with their own people. But the day their restraint is breached, it will become difficult…I appeal to the people, there is still time…if the police starts giving a befitting reply…," the chief minister said.
Congress president Rahul Gandhi, in a tweet, termed the lynching as "horrific" and said it marked a new low in the state.
Kashmir's chief cleric Mirwaiz Umar Farooq denied allegations that he was present at the mosque when the incident happened.
"We cannot allow state brutality to which we are subject to each day...snatch our humanity and values. What will be difference between them and us then?" said Mirwaiz, who is often accused of giving provocative speeches during Friday sermons.
The incident comes in the backdrop of mounting tensions in the valley that has seen violent clashes between police and civilians following several incidents of alleged human rights violations, including tying a Kashmiri man to an army jeep.