BJP leader's killing: Curfew extended to more areas, army continues flag march in Jammu's Kishtwar, Doda
Police said Anil Parihar, 53, and his brother Ajit were returning home after closing their stationery shop late evening when two unidentified gunmen came and shot them at point-blank range.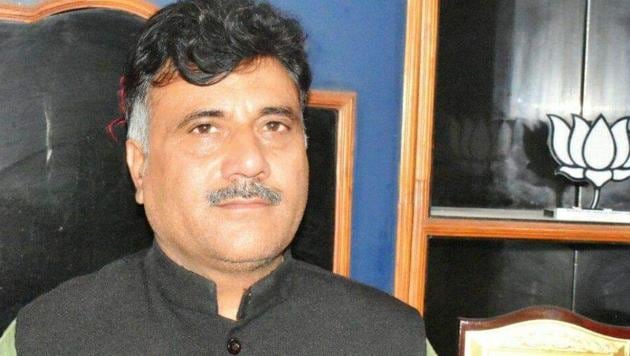 Updated on Nov 02, 2018 11:43 PM IST
Nearly 10,000 people showed up for the funeral of slain Jammu and Kashmir Bharatiya Janata Party secretary Anil Parihar and his brother, Ajit, in Kishtwar town on Friday evening, which passed off without incident amid tight security.
Parihar, 52, and Ajeet, 55, were fired upon from close range by suspected militants in a dark, narrow lane on Thursday night when they were returning home from their stationery shop in Kishtwar district. Officials said this was the first political killing in Jammu region in recent years.
Kishtwar district magistrate Angrez Singh Rana said there was apprehension of trouble when the crowd began raising anti-Pakistan slogans after the cremation.
"We faced a little bit of a problem because of the big crowd but the security forces tackled them competently," he said.
"The security forces, including the Army, were deployed in strength. After the sloganeering, a group wanted to take out a march but they were not allowed to. The army convinced them to go home," he added.
The funeral was attended by Union minister Jitendra Singh, former deputy chief minister Kavinder Gupta, state BJP president Ravinder Raina, BJP MP Jugal Kishore and senior party leaders.
The day passed without any untoward incident, Rana said, adding that the situation in Padder and Chatroo sub-divisions of Kishtwar district remained under control.
Rana said the curfew imposed in the communally sensitive Kishtwar town on Thursday night would not be lifted till Saturday. Prohibitory orders too would remain in place. Reports said there was a total shutdown in Kishtwar, Doda and Bhaderwah on Friday. The army conducted flag marches across the region.
"Prohibitory orders under section 144 Cr PC were imposed in entire Doda district on Friday as a precautionary measure while curfew has been clamped in Bhaderwah town and some parts of Doda town," Doda district police chief Shabir Malik said.
A police officer said the special investigation team probing the murders had detained both of Parihar's personal security officers (PSOs) for questioning. They were being asked why they were not with the BJP leader on Thursday evening.
Inspector general of Jammu and Kashmir police SDS Jamwal said all angles of the case were being probed, including militancy.
"The BJP leader was a protected person and was given two PSOs. How come they were not with him on Thursday evening? Were they sent home on leave by the BJP leader? We are investigating all these aspects," he said.
Another senior officer who did not want to be named said, "Certainly, militants were behind the killings, which were aimed at creating communal strife. This is the third attack on politicians in the past one month. Earlier, two National Conference leaders and a PDP leader were killed in Srinagar."
Telecom authorities have slowed the speed of Internet in Jammu, Samba, Kathua, Rajouri and Poonch to check rumour-mongering, an official said.
Panchayat polls have been scheduled in the state from November 17.
Kishtwar district has witnessed communal clashes, the last in August 2013. Militants have attempted to create communal tension in the region by targeting Hindus, especially in the higher reaches. In 2001, they killed 17 Hindu nomads.
Close Story