Journalist Abhijit Iyer-Mitra arrested for allegedly derogatory tweets on Odisha temples
Hindustan Times, Bhubaneswar |
Debabrata Mohanty
Oct 23, 2018 09:26 PM IST
On September 16, Delhi journalist Abhijit Iyer-Mitra had posted tweets about the erotic sculptures of Sun temple at Konark as well as another disparaging tweet on the 12th century Jagannath temple.
Delhi journalist Abhijit Iyer-Mitra, who was in the centre of controversy in Odisha over his allegedly derogatory tweets on the Jagannath and Konark temples, was arrested Tuesday by the Bhubaneswar police after hours of questioning.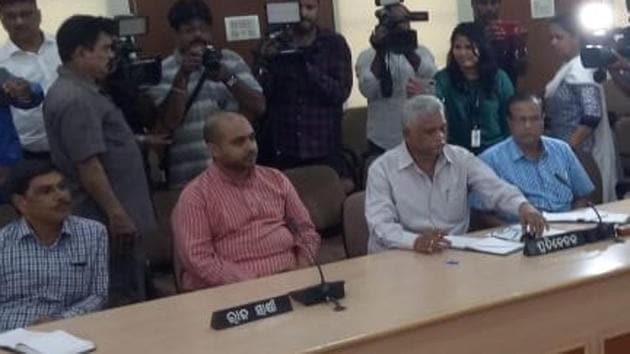 Bhubaneswar police commissioner Satyajit Mohanty said Iyer-Mitra was arrested in connection with a case registered against him in the state capital for allegedly making offensive remarks that could cause communal disturbances and sent to judicial custody. The case was filed at Saheed Nagar police station September 20 under various sections of the Indian Penal Code and Information Technology Act by activist Manoranjan Swain.
Earlier in the day, Iyer-Mitra had appeared before a house committee of the Odisha assembly and apologized for his remarks against the MLAs as well as the Jagannath temple. Standing before the committee set up last month by assembly speaker Pradeep Amat over alleged breach of privileges of the MLAs, he admitted that the comments were indeed stupid.
Leader of opposition Narasingha Mishra, who headed the committee said that Iyer-Mitra accepted all the charges against him, but he would have to submit an affidavit and may have to re-appear again.
In the video posted on Twitter, the journalist said the temple was a humple (a slang for sex). "Here people are seen having sex. You see all these statues where the women, men and the animals are having sex. Can this temple be an auspicious place? Never. These statues are against the tradition of the Hindu community. It is the conspiracy of the Muslims who want to denigrate us. All I want to say is Jai Shree Ram. At least such statues will not be found in our new Ram temple," he said.
But soon after, in a subsequent tweet he clarified that it was meant to be a joke. "Jokes aside this temple is just mind-blowing. The sculptures are exquisite & it has a great sense of symmetry & gravitas."
On September 16 he had posted tweets about the erotic sculptures of Sun temple at Konark as well as another disparaging tweet on the 12th century Jagannath temple.
On September 20, a team of cops from Konark police station had arrested Iyer-Mitra from his Delhi residence. Though he was granted bail by chief metropolitan magistrate of Delhi's Saket court, the bail was subsequently cancelled by Supreme Court and he asked to join the investigation.
Political analysts said Iyer-Mitra may have been collateral damage for taking the chopper ride with former Biju Janata Dal MP Baijayant Panda, who has been facing the heat for railing against chief minister Naveen Patnaik and his bureaucrats. The state police have locked the hangar at Bhubaneswar airport having three choppers of Panda over his alleged low-flying over eco-sensitive Chilika lake.
"Had Iyer-Mitra not flown with Panda in his chopper, then it's possible that no one would have noticed. Though his comments are idiotic, it's possible that he may have been caught in the political crossfire," said Bhubaneswar-based analyst Rabi Das.