Journalist Shujaat Bukhari's killer Naveed Jatt killed in Kashmir's Budgam
Updated on Nov 29, 2018 08:40 AM IST
Naveed Jatt, an LeT militant of Pakistani origin, had escaped from the Shri Maharaja Hari Singh Hospital in Srinagar this February.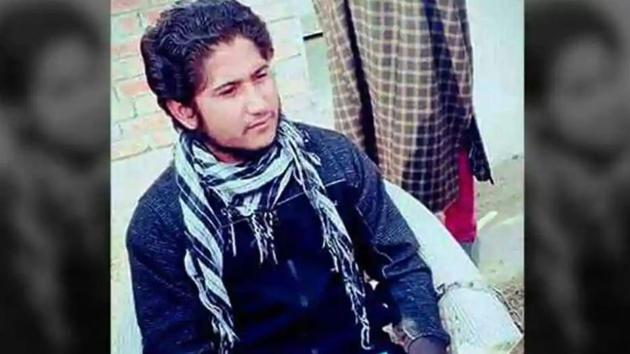 Hindustan Times, Srinagar |
Mir Ehsan
Lashkar-e-Taiba commander Naveed Jatt, who according to Jammu and Kashmir police was the prime accused in the killing of senior journalist Shujhaat Bukhari, and another militant were killed in a gun battle with security forces in central Kashmir's Budgam.
Bukhari, the 50-year-old editor-in-chief of the Rising Kashmir newspaper, was attacked by three motorcycle-borne gunmen while he was entering his car in the Press Enclave area of Srinagar on June 14 this year.
Jatt, the son of a truck driver, was one of the three people named by the state police in Bukhari's killing.
A police spokesperson confirmed that two militants were killed in the encounter in Chattergam. "One of the militants has been identified as Naveed Jatt alias Hanzulla," the spokesperson said.
State's director general of police Dilbag Singh said Jatt was one of the prime accused in the killing of Bukhari.
"If we would have caught him alive, we could have gathered more information about other people involved in the killing of Bukhari,'' Singh said.
He said that more than two dozen militants have been killed in south Kashmir in the recent days.
Also read | Trained at Lashkar HQ, entered India in 2012: All we know about Naveed Jhatt, the Pakistani terrorist who escaped
"The graph has come down after a successful operation, recruitment in militant ranks is less from last two months there is no information that any fresh recruit has joined the militant ranks," the top official said.
Singh said they will try to hand over the body of Jatt to Pakistan through the competent authorities. He said the other militant who was killed in the operation has not been identified.
"He was really a headache for the forces and several operations were launched to trap him. Finally, we trapped him in central Kashmir,'' a top police officer said.
Jatt had escaped from the Shri Maharaja Hari Singh Hospital in Srinagar this February. Two policemen were also killed during Jatt's escape from the hospital. His escape was termed as a big security breach and officials had apprehensions that he was trying to re-energise militancy in south Kashmir.
Jatt, a resident of Chak No 421 in Pakistan's Vehari Multan, was detained in south Kashmir's Kulgam four years ago when he was acting as the district commander of Lashkar. Officials said before his arrest he was the close aide of Abu Qasim and Abu Dujana, two top Lashkar commanders before they were killed in Kashmir.
Jatt, as per the police records, had joined Lashkar in 2011 and sneaked into Kashmir in autumn of 2012. Police said Jatt was involved in three murders in 2013 in Pulwama and was facing trials in many cases.
Soon after his escape from the Srinagar hospital, he was spotted in south Kashmir along with the commanders of Hizbul Mujahideen.
Before his arrest in 2014, Jatt was active in south Kashmir for two years and had a good network of sources who helped him to hide after his escape. Jatt was spotted at several funerals of militants and even circulated his pictures carrying weapons in different parts of south Kashmir.
Also read | Shujaat Bukhari, journalist who championed peace in Kashmir for 30 years
Police said an operation was launched at around 3am on Wednesday on the specific intelligence-based information about the presence of two to three militants in Chattergam. As the forces began the operation, militants opened fire resulting in an encounter which ended at 11am.
Clashes erupted in the area as villagers tried to move closer to the site to help militants escape. However, police used tear smoke shells to disperse the protesters.
Police later recovered the bodies of the militants from the site.
Authorities have suspended mobile internet in Budgam and Pulwama districts.
Security forces had killed three militants, including a close associate of militants Jatt and Azad Dada, on Tuesday in separate gun battles in south Kashmir's Kulgam and Pulwama districts. A soldier of the Indian Army was also killed in the gun battle in Kulgam.
Jatt's associate Ajaz Ahmad Makroo was killed in Redwani area of Kulgam and police said that several cases of terror were registered against him in Kulgam.
You may also like | Journalist Shujaat Bukhari was killed because he tried to find a middle path: Jitendra Singh
Personalise your news feed. Follow trending topics