'Rising Kashmir' editor Shujaat Bukhari shot dead; police say initial probe indicates terror attack
Updated on Jun 15, 2018 12:33 AM IST
Shujaat Bukhari was leaving his office in Press Enclave in Srinagar's Lal Chowk when he was shot dead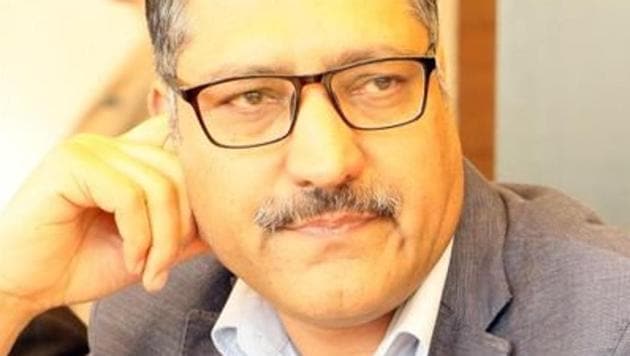 Hindustan Times, Srinagar |
Mir Ehsan
A senior journalist and chief editor of a popular Kashmiri newspaper was killed on Thursday by unidentified gunmen in a drive-by shooting in Srinagar that put an already tense state on edge and led chief minister Mehbobba Mufti to describe the attack as a "new low for terrorism".
Shujaat Bukhari, 48, the editor-in-chief of Rising Kashmir, was targeted by three gunmen on a motorcycle while he was in his car, having just left his Press Colony office just before Iftar. He was accompanied by two security guards, Abdul Hameed and Mumtaz Ahmad, who were also killed as multiple bullets were sprayed at them.
Union home minister Rajnath Singh said "there is no doubt that terrorists have killed Shujaat Bhukhari." He also spoke to the Jammu and Kashmir CM Mehbooba Mufti late on Wednesday, and said she was "distraught".
Jammu and Kashmir Police released pictures of the assailants, asking the public to help identify them.
A journalist for three decades, he had worked for 15 years at The Hindu and was known in the state and the rest of the country as an important Kashmiri voice. No militant organisation had taken responsibility for the attack by the time of going to print. Bukhari was an advocate of a peaceful resolution of the Kashmir issue and was instrumental in organising several conferences involving former diplomats and generals from India and Pakistan.
He was also part of the Track-II diplomatic process with the neighbouring country.
The killing led to an outpouring of condolence messages from people on all sides of the political spectrum, including separatist leaders.
"The killing of @RisingKashmir editor, Shujaat Bukhari is an act of cowardice. It is an attempt to silence the saner voices of Kashmir. He was a courageous and fearless journalist. Extremely shocked & pained at his death. My thoughts and prayers are with his bereaved family," the home minister tweeted.
"I'm anguished to hear about the killing of Shujaat Bukhari, editor of @RisingKashmir. He was a brave heart who fought fearlessly for justice and peace in Jammu & Kashmir. My condolences to his family. He will be missed," said Congress president Rahul Gandhi in a tweet.
Chief minister Mehbooba Mufti, who went to Bukhari's house to meet his family, broke down while speaking about him. "This is really shocking. He came to meet me a few days back. This is upsetting...," she said. Bukhari is survived by his wife and two children.
"Deeply saddened and shocked by the tragic news of Shujaat Bukharis killing! Such inhumanity is unpardonable and condemned in the strongest terms! Proud son of the soil his death is a huge loss.Shujaat was an erudite intellectual a fearless journalist and above all a selfless human deeply concerned for his people. My heartfelt condolences to his bereaved family. Pray to almighty for his magfirat and place in Jannat," tweeted Mirwaiz Umar Farooq, who is chairman of the separatist All Parties Hurriyat Conference.
His brother Syed Basharat Bukhari is the horticulture minister in the Jammu and Kashmir government.
A senior police officer said that gunmen had opened fire on Bukhari and his security guards from two sides. "He (Bukhari) has several bullet injuries and probably died on the spot,'' the officer said.
Another police officer who reached the spot soon after the attack said the guards, who were carrying weapons, had been taken by surprise. He said that they were investigating whether the gunmen had used small arms or rifles, which would be confirmed after a detailed examination of the shells by ballistic experts.
Bukhari's colleague at Rising Kashmir, Ishfaq Ahmad, said he had just left the office. "Within minutes, we heard gunshots. I can't believe that our editor is dead.''
Former Jammu and Kashmir chief minister Omar Abdullah said that Bukhari had died in the line of duty. "Even in the last tweet he put out, he was defending himself, his colleagues & his profession. He died in the line of duty doing what he did best & loved doing – journalism,'' Abdullah tweeted.
Bukhari had written in the tweet at 11.33am that he and his colleagues had "done Journalism with pride and will continue to highlight what happens on ground", in response to a tweet that had described him as intolerant.
The Centre had on May 16 announced a unilateral ceasefire in Jammu and Kashmir during Ramzan, saying this was necessary to help "peace loving Muslims" observe the holy month in a peaceful environment.
Bukhari's killing has cast a cloud of uncertainty over the extension of the Ramzan halt to operations against militants in Jammu and Kashmir, which, according to few security agencies, has allowed militants to regroup.
The pros and cons of extending the so-called unilateral ceasefire were earlier discussed at a meeting called by home minister Rajnath Singh, officials said.
During the one-month ceasefire, three local policemen, four civilians, three army soldiers and 24 militants have been killed in more than 60 incidents of violence.
Personalise your news feed. Follow trending topics