Kanpur train: Cracks in rail tracks expose disregard for passenger safety
Updated on Nov 22, 2016 07:41 AM IST
A bureaucrat said passenger safety is neglected because officials are busy firefighting to keep railways financially afloat.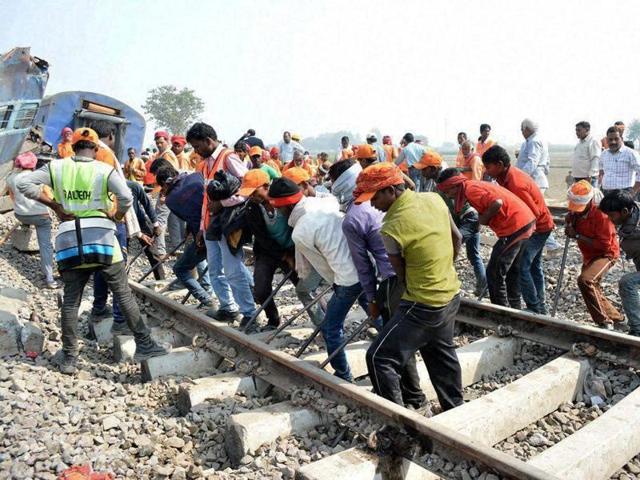 The train tragedy in Kanpur on Sunday brought back to the fore the Indian Railways' poor safety record and neglected proposed measures such as the need to fix "rail fractures" and other critical infrastructure issues.
Rail fractures – or cracks that develop on tracks because of contraction or expansion – have been behind 75% of railway accidents in the country, which has the world's fourth largest train network, official documents show.
From 2000 to 2010, as many as 1,680 derailments happened on the 64,500km network. In all, the derailments killed 2,429 people.
Read | Tehsildar guards unclaimed luggage, helps injured find their belongings
A senior bureaucrat said passenger safety has become a neglected area because officials, for the most part, are engaged either in formulating grand schemes or firefighting to keep the organisation financially afloat.
Even basic "monitoring and supervision of permanent way inspectors and gangmen, who maintain tracks, has been lax", the official said.
The country's creaking railway system runs 11,000 trains a day, including 7,000 passenger trains that ferry more than 20 million people. But approximately 60% of the tracks are from the British era, while 30% of the rolling stock is believed to have over-aged. Besides, as many as 38,195 bridges are more than 100 years old.
The pace of bridge and track rehabilitation work has been tardy. In the past two years, only 1,377 bridges had been rehabilitated or rebuilt.
A railway document, written after the NDA government came to power in 2014, says funding for track renewal plans have been coming down progressively over the past six years.
The 2012 rail safety committee headed by Anil Kakodkar recommended `103,110 crore at the rate of `20,000 crore each year to ramp up safety measures, including renewal of tracks and distressed bridges, and mechanised track maintenance with ultrasonic flaw detectors.
The suggestions didn't get off the drawing board and plans to set up a rail safety fund also remained in cold storage.
"Recurring rail fractures indicate the ultrasonic flaw-detection gadgets used by the railways are imperfect. Also, the quality of rails, welding material and track fitments need to be thoroughly examined," former Indian Rail Transport (IRT) president R Ramanan said.
Read | Indore-Patna Express derailment: Doctors use WhatsApp to find kin of survivors