Karnataka govt formation: Congress-JD(S) coalition stares at several fault lines
Hindustan Times, Bengaluru |
Venkatesha Babu
May 23, 2018 09:22 AM IST
It remains to be seen how the Congress-JD(S) alliance works towards waiving off farmers' loans, completing pending irrigation and drinking water projects, empowering Lokayukt and providing subsidies to weaker sections.
Even as the new Congress-JD(S) coalition government takes oath on Wednesday amid much wrangling about portfolio distribution, it has to tackle several challenges to fulfil promises made by both parties to the electorate. The biggest promise, of course, is JD(S)'s commitment to waive, without any conditions, all farmer loans which are owed to nationalised banks and other ancillary banks.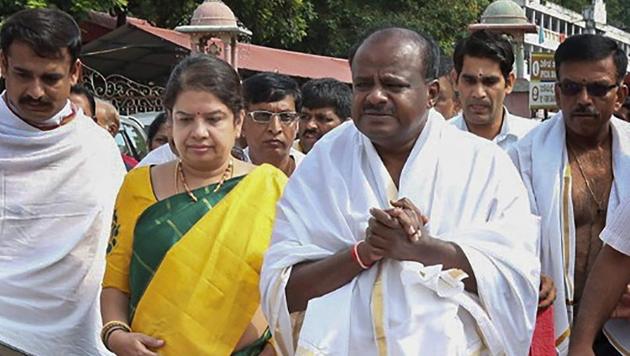 The previous Siddaramiah-led government had only waived all farmer loans up to ₹50,000 taken with co-operative banks. This had cost the exchequer ₹8,165 crore. The JD(S) promise is likely to cost ₹53,000 crore.
The JD(S) had also said that it would spend ₹1,50,000 crore over the next five years to complete all pending irrigation projects. The Congress, on the other hand, had committed to spend ₹125,000 crore for the same purpose. While in opposition, JD(S) had opposed the Congress government's ₹12,193 crore Yettinahole project to provide drinking water to several districts, alleging irregularities.
The JD(S) had indicated that it might revisit or even scrap the project given that many people who lived in the coastal region were opposed to the diversion of water. Now that they are in coalition, it is not clear whether the project will be retained or scrapped and if alleged irregularities will be probed.
The previous Congress government had carried out a controversial caste census but had not released it fearing a backlash from certain sections of the electorate in an election year.
The Congress government had justified the caste census saying it provides better and more transparent data in targeting government subsidies and programmes. This census had come in for severe criticism by JD(S) and it remains to be seen whether the new coalition government will release the report.
The Siddaramaiah government had also weakened the institution of the Lok Ayukta by floating a parallel body called Anti-Corruption Bureau.
Critics, including Kumaraswamy, had then said that ACB, which was under political control, was being used to suppress corruption complaints about the government and had promised to strengthen and empower the Lok Ayukta once they came to power. It remains to be seen what will happen on this front.
As a part of its social welfare measure, the JD(S) had declared it would give ₹6,000 per month as pension for every person more than 65 years old. All women irrespective of age getting less than ₹5,000 per month from agricultural activities are to be given ₹2,000 per month as assistance. Lawyers have been promised a ₹100-crore grant for their association and trainee lawyers a stipend of ₹5,000 per month. Where the funding for all these schemes will come is another challenge confronting the new coalition.
What the fate of the Siddaramaiah government's pet projects of several 'Bhagyas' (subsidy schemes) like Anna Bhagya, Ksheera Bhagya, Shaadi Bhagya and various others initiatives like 'Indira Canteens' is not known. The JD(S) has been running 'Appaji Canteens' to honour its leader Deve Gowda and to counter Indira Canteens.
Finding funds for all these schemes as well as agreeing on what schemes to back will be a challenge for both parties.
Political analyst Mahadev Prakash said: "While both parties have spoken of arriving at a common minimum programme, finding funds and implementing their respective manifestos will not be an easy task."