Kumaraswamy's portfolio struggles continue in Karnataka, 22 berths for Congress
Bengaluru, Hindustan Times |
HT Correspondent
May 22, 2018 09:35 PM IST
After a meeting of JD(S) and Congress leaders on government formation in Karnataka, Kumaraswamy said the speaker and deputy speaker would be elected on 25 May and portfolios would be decided day after tomorrow.
Janata Dal Secular leader HD Kumaraswamy on Tuesday indicated that Karnataka Congress chief G Parameshwara would be the deputy chief minister in the new government amid hectic wrangling for cabinet posts.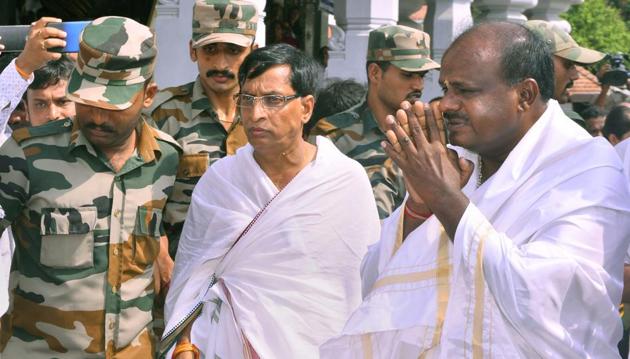 After a meeting of JD(S) and Congress leaders, Kumaraswamy said the speaker and deputy speaker would be elected on 25 May and portfolios would be decided day after tomorrow. "I and Dr Parameshwara will be taking oath tomorrow," the chief minister-designate said. "Everything is alright, there are no differences," he added.
Multiple claimants had emerged for the deputy CM's post from within the Congress after the allies decided to form a coalition government.
"Congress-JDS leaders met and discussed cabinet formation. Out of 34 ministries, 22 ministries will go with the Congress party and 12 ministries, including that of the chief minister, will be with be with the JD(S)," the Congress party's Karnataka in-charge K.C. Venugopal said. "Portfolio allocation will be decided after the floor test," he added.
Parameshwara belongs to a prominent Dalit family that owns the Siddhartha group of educational institutions in Tumkur. He has served as the joint secretary of the Karnataka Congress Committee before becoming its president.
News agency ANI reported that Congress's KR Ramesh Kumar will be the new speaker of the legislative assembly.
The Congress with 78 seats and the JD(S) with 37 came together as allies after election results delivered a hung assembly in Karnataka. The BJP with 104 seats was initially invited to form the government. But its leader BS Yeddyurappa resigned as chief minister two days after taking oath as he did not have enough seats to win a Supreme Court-ordered floor test.
Kumaraswamy faces a delicate balancing act in allocating portfolios in his coalition government.
A group of Muslim organisations demanded earlier on Tuesday that a minority leader be made the deputy chief minister of the state.
Either seven-time Congress MLA Roshan Baig or some other leader from the Muslim community should be made the deputy CM in the new government in Karnataka, the representatives of the organisations said in Bengaluru, according to news agency ANI.
"What is wrong in it? Why not? If people from other communities can make demands then why can't people from my community? But, in the end high command will decide," said Baig .
Congress leader DK Shivakumar, who was instrumental in keeping the Congress flock together in the run-up to BJP leader BS Yeddyurappa's trust vote, was also reported to be an aspirant for the deputy CM post.
"I don't want to show my strength. I don't want to show my numbers. I have faith in Rahul Gandhi & Sonia Gandhi. We all believe in one man resolution,that is the party high command. They will take a call on who has to be what," Shivakumar told ANI when asked about his chances of becoming the deputy CM.
A leader close to Shivakumar said if he doesn't get the deputy chief minister's post, he is demanding that he should get the home minister's portfolio as well as the post of the state Congress chief.
Congress leader Mallikarjun Kharge said his party's first objective was the election of the speaker of the Karnataka assembly and then the vote of confidence, expected to be held within 24 hours after Kumaraswamy takes oath.
The two parties will set up a joint coordination committee and formulate a common minimum programme for the smooth functioning of their coalition government in Karnataka over the next five years. The committee will have five to six members.
The decision was taken at a 20-minute meeting between Kumaraswamy and United Progressive Alliance (UPA) chairperson Sonia Gandhi and Congress president Rahul Gandhi on Monday evening.
Kumaraswamy told reporters after the meeting that Rahul Gandhi has authorised Congress general secretary in-charge of Karnataka KC Venugopal to discuss all the modalities related to the government formation, including the issue of deputy chief minister's post, with the JD(S) leadership and the party's local leaders.
On Tuesday, Kumaraswamy acknowledged that running the Congress-JD(S) coalition government over the next five years would be a "big challenge."
"This is a big challenge in my life. I'm not expecting that I will be able to fulfill my responsibilities as chief minister easily," Kumaraswamy said.