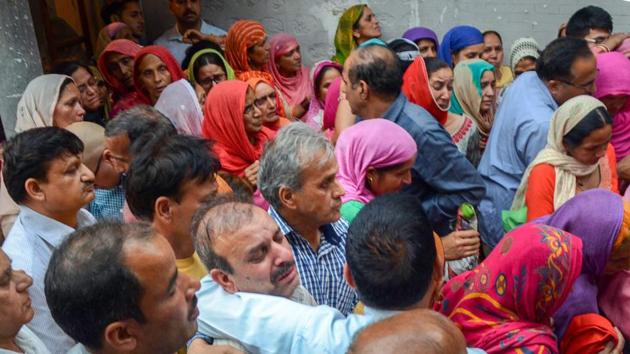 Kasauli hotel owner tried to bribe officer, killed her in rage: Sources
A police officer investigating the killing said that Vijay Singh had requested to spare his building. Singh allegedly chased and shot the officer leading the demolition drive 'out of anger'.
UPDATED ON MAY 05, 2018 10:30 AM IST
The man accused of killing a woman officer leading a demolition drive against illegal constructions in Himachal Pradesh's Kasauli town has said he shot her "out of anger" after she refused to accept a bribe, sources said on Friday.
Vijay Singh, a Himachal Pradesh State Electricity Board Limited employee, allegedly chased and shot at assistant town and country planner Shail Bala Sharma after an argument over the demolition of the unauthorised construction in his Narayani Guest House after a recent Supreme Court order.
"I requested the authority to spare my building but the team had one point agenda to demolish the building," Singh was quoted as saying by a police officer, who is a part of the interrogation team.
Singh was arrested on Thursday in a joint operation by Himachal Pradesh police and Delhi Police in Mathura in Uttar Pradesh, where he had fled after allegedly shooting Sharma on Tuesday. He had shaved off his moustache and got a haircut to conceal his identity, police said.
He was brought to Dharampur police station and interrogated for six hours, officials said.
Solan's former superintendent of police Mohit Chawla, who has been transferred to the police headquarters in Shimla, reached Dharampur police station at 12pm to complete the paperwork before Singh was produced in a local court.
The court sent Singh to five-day police remand.
Read: Shaved moustache, trimmed hair, changed locations: How Kasauli hotel owner evaded arrest
The demolition drive to bring down the unauthorised portions inside 13 hotels in Kasauli was carried out on Friday in the presence of a deputy superintendent of police deputed to oversee the security arrangement of the staff from different departments.
The public works department also engaged labourers as well as earth movers to demolish the unauthorised parts.
Sharma and her team launched the demolition drive on Tuesday after the Supreme Court on April 17 ordered the state government to demolish unauthorised structures in several hotels and guest houses in Kasauli and Dharampur areas of Solan. Four teams were constituted by the authorities to carry out the work.
Read: Cops fled when hotel owner opened fire, says colleague of officer killed in Kasauli
Close