Kashmir internet ban: No one knows who ordered the shutdown, shows RTI
Updated on Jun 03, 2017 07:41 AM IST
Order banning mobile internet service in 2016 was not issued by home department or divisional commissioner's office.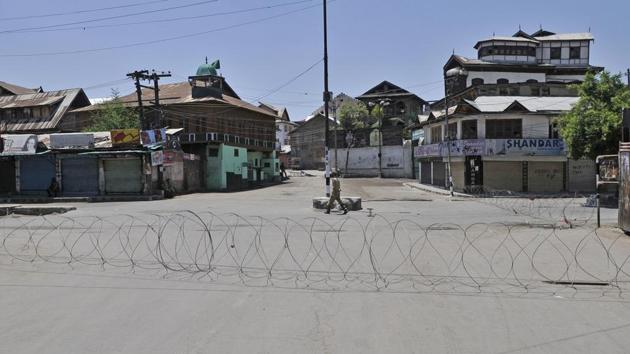 For about four months last year, Kashmir reeled under a mobile internet ban clamped to tamp down on rumours and controversial videos that fanned a snowballing unrest in the Valley.
Prepaid mobile phones, a select batch of landline numbers and even fixed-line broadband services were occasionally snapped as authorities struggled to contain clashes that left nearly 100 dead and thousands injured. The internet ban triggered widespread condemnation and criticism that the government was infringing fundamental rights.
But who ordered the clampdown? Two arms of the state government responsible for law and order – the home department and the divisional commissioner's office -- deny ordering any shutdown of phone and internet services on July 9 last year.
The revelation came in response to Right to Information queries filed by the Srinagar-based Jammu Kashmir Coalition of Civil Society (JKCCS).
The state government usually takes decisions on withdrawing internet services as part of its mandate to maintain law and order. "The information given in the RTI will be checked," a Union home ministry spokesperson said.
The divisional commissioner, Kashmir and principal secretary, home department, couldn't be reached for comment despite repeated phone calls.
The RTI was filed by the JKCCS to the state's home department, asking for a copy of the order by which phones, internet, mobile phones, mobile internet and landline phones were shut down from July 9, 2016 and a list of landline phone numbers shut down.
But the home department wrote to the divisional commissioner, Kashmir's office saying the "subject matter of information sought pertains to your department, therefore, the application is forwarded to you…"
In his response, public information officer of the divisional commissioner's office, Noor Mohammad, wrote that "no such order was issued by this office regarding shut down of phones, internet, mobile phones, mobile internet and landline phones from July 9, 2016".
"From the responses, it seems the state is not run by the civil administration here but by some invisible force. And people have a right to know who is these invisible forces are. They have a right to know under which law or authority are telecommunication services blocked," Khurram Parvez, activist and programme coordinator of the JKCCS, told HT.
Over the past year, the suspension of mobile internet services has become common in Kashmir that was under another shutdown following the killing of militant commander Sabzar Bhat last week – the fourth this year.
Authorities feared large-scale unrest after Hizbul Mujahideen commander Burhan Wani died on July 8 and immediately snapped mobile internet services. Mobile internet services were restored on post-paid numbers in mid-November, while on pre-paid it returned on January 30 this year.
And throughout the period of unrest, mobile telephone services, apart from the state-owned BSNL, were intermittently withdrawn. Every time such a ban is imposed, residents complain they are never given prior information or who has ordered the shutdown.