Kashmir: Mobile services ban hits migrant labourers, security forces hard
Published on Jul 24, 2016 07:51 PM IST
A three-storeyed building in the heart of Srinagar's old city has for years hosted migrant labourers, mostly from Uttar Pradesh and Bihar.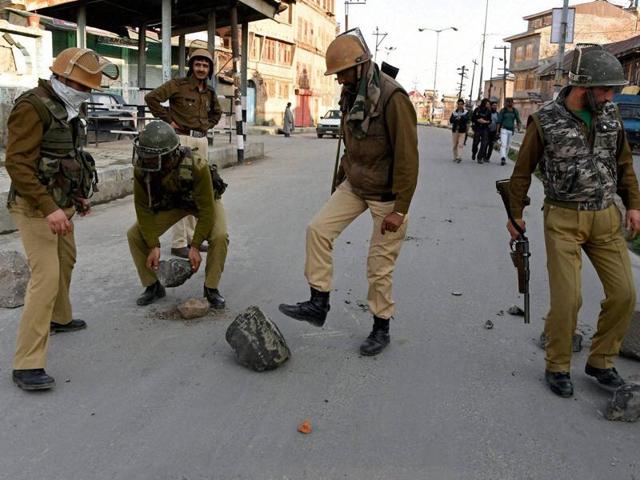 A three-storeyed building in the heart of Srinagar's old city has for years hosted migrant labourers, mostly from Uttar Pradesh and Bihar.
In the past few days, however, the 40-room inn has gone almost empty, as the labourers have moved out until the conditions improve. But it was not the curfew or the violence that drove them out, but the communication breakdown.
Labourers say families watching cable TV back home are worried. "Labourers have no work as the city is curfew bound, most people are leaving as they cannot even contact their families back home," Parvesh Kumar, a painter from Bihar, said.
"For days, our families had no idea where we are and how we are, it was only after the person in whose house we are working made a call from his BSNL phone did we speak to our families," Kumar added.
Ahmad Alam, from Baroli Parkhand in Bihar, said his wife was trying to reach him as his two-year-old son was ill. "She must have called 10 times but could not get through," he said. "We had taken a contract nearby, so stayed back."
Of the 400 residents of the building, only about 50 remain.
The story is the same in another building, a few metres away. "Getting ration is also difficult...we don't know how long the situation will take to improve. Everybody might leave if we are not able to contact families for long," said another labourer Ramesh Kumar.
"In the next five days, you will find all migrant labourers have left," he said. "The landlord has waived off the rent, but phones are [a] problem."
Locals have been forthcoming in helping these labourers contact their families back home, but the queues to get access to their phone are long. Mobile services from private companies have been suspended in Kashmir for the past 16 days.
Kashmir has been on the boil since protests erupted a day after security forces shot dead the 22-year-old, social media-savvy militant of Hizbul Mujahideen. At least 47 people have died and thousands have been injured in the violent protests till now.
Government officials say the banning of mobile and internet services is to prevent rumour mongering and controlling protests. Home minister Rajnath Singh on Sunday assured the services will be back soon. Newspaper publication too was banned for a few days in the Valley.
This disruption of services has also the security personnel. A Hindustan Times team was stopped by the CRPF on the streets to ask about the phone services ban. A jawan of the 28 BN posted at Nowhatta Chowk in the old city said he had not spoken to his family in 15 days.
"They must be wondering whether we are dead or alive" he said.
"Our families have heard 2,000 CRPF men are injured. They must be wondering if the injured include us. I hope our families are able to get in touch with us," said another jawan.