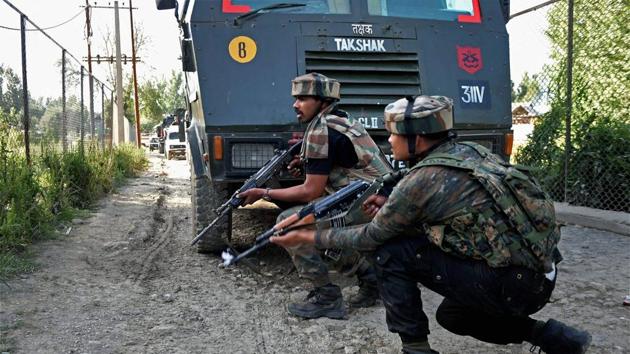 Kashmir: 6 cops killed, faces disfigured in ambush in Anantnag, LeT claims attack
Five police personnel were killed as militants attacked a police team in Thajiwara Achabal of Anantnag district on Friday.
UPDATED ON JUN 17, 2017 12:28 AM IST
In yet another militant attack within three weeks, terrorists on Friday ambushed a police party on the outskirts of Anantnag district of South Kashmir and killed six policemen, including a station house officer, of Achabal area.
The daring attack took place when the police party was travelling in a jeep at Thujwara in Achabal area, some 65 km from summer capital Srinagar.
The militants laid an ambush on Anantnag-Achabal road near Kulgad village and fired at the police party. They fatally shot the policemen in their faces from close range, disfiguring them, and escaped with their weapons.
All the six policemen, including station house officer, Feroz Ahmed, died on the spot, senior police officials said. Army has been called out to undertake a combing operation in the area.
"It is an unfortunate incident to have lost six men, including sub-nspector Feroz, a resident of Pulwama. Their contribution to the police service will be remembered," director general of police SP Vaid told PTI.
Feroz Ahmed, 32, a 2010 batch sub-inspector and a resident of Dogripura in Awantipora, was a father of two daughters aged six and two. The other deceased officers are constables Sharik Ahmad and Tanveer Ahmad (Budgam district), Sheraz Ahmad (Achabal), Asif Ahmad and Sabzar Ahmed (Anantnag).
Pakistan-based Lashkar-e-Taiba has claimed the responsibility for the attack. Its spokesman Abdullah Ghaznavi told a news agency that they attacked the police party in Achabal in which six policemen were killed.
Police said it seems they wanted to take revenge of the Arwani encounter on Friday morning in which their local commander Junaid Mattoo is believed to have died.
After the encounter at Arwani in Bijbehara area, all the three militants involved are believed to be dead. No bodies have been recovered so far.
Mattoo, who carries a bounty of ~10 lakh on his head, was involved in a day light attack last year on a police van in which three policemen, including an officer, were killed. His involvement is also suspected in the killing of a policeman in Kulgam on Thursday afternoon.
This is the second major attack on a police party. Earlier on May 28, militants attacked a police party at Phambai area of Kulgam in South Kashmir, killing five policemen and two bank guards.
The incident saw immediate reaction from political parties, including former Jammu and Kashmir CM Omar Abdullah. "It seems that South Kashmir is slipping everyday from the hands of the state government. I hope somebody in New Delhi wakes up now," Omar said.
CPM leader Mohammed Yusuf Tarigami said the incidents in South Kashmir were a clear example of lawlessness prevailing in the entire area.
State Congress chief G A Mir said: "It shows that the state government has completely failed ... I wonder when will the Union home ministry wake up."
(With agency inputs)
Close