Kerala flood highlights: Situation improving, state govt tells crisis management committee
Updated on Nov 07, 2019 10:36 AM IST
Thirteen more deaths were reported on Sunday in the floods triggered by 10 days of torrential rainfall in Kerala, taking the death toll to 239. The overall death toll since May 29 rose to 370. Chief minister Pinarayi Vijayan said most people who were stranded would rescued by the end of the day. The biggest challenge now would be to provide adequate compensation to those who had lost virtually everything, he said.The rainfall intensity over Kerala has decreased over the past two days, the meteorology department said, adding that there was no alert of heavy precipitation for the next four days in the state.Here are the highlights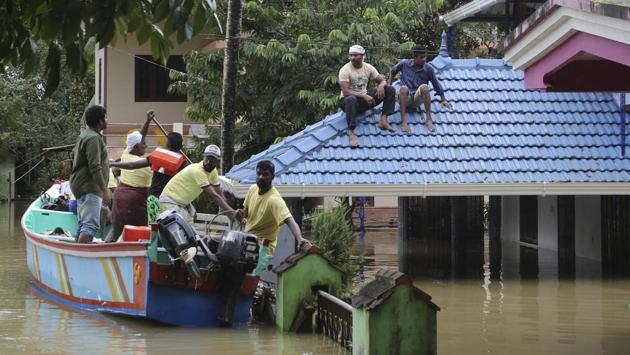 Hindustan Times, New Delhi |
HT Correspondents
10:15pm IST
CII sets up task force for relief work
"Emergency Response Centres are being set up in the CII offices in Kochi, Thiruvananthapuram and Chennai to coordinate and facilitate all efforts," a CII statement said.
"The CII is in constant touch with government agencies and local authorities to assess the situation and initiate most urgent relief operations in the affected areas."
9:55pm IST
Situation improving, Kerala govt tells crisis management committee
The Kerala government on Sunday informed the National Crisis Management Committee (NCMC) that the situation in the flood-ravaged state was gradually improving.
"Kerala Chief Secretary (Tom Jose) participated in the NCMC meeting through videoconference. He said that the situation is gradually improving (in Kerala)," said the Union Home Ministry on Sunday.
Cabinet Secretary PK Sinha, during the meeting, directed all ministries concerned to focus on emergency supplies of food, water, medicines and restoration of essential services as flood waters recede.
9:41pm IST
Imposter wearing combat uniform in video spreading wrong info: Army
Imposter wearing Army combat uniform in video spreading disinformation about rescue & relief efforts. Every effort by all & #IndianArmy aimed to overcome this terrifying human tragedy.Forward disinformation about #IndianArmy on WhatsApp +917290028579. We are at it #KeralaFloods pic.twitter.com/ncUR7tCkZW

— ADG PI - INDIAN ARMY (@adgpi) August 19, 2018
9:32pm IST
Locals in Palakkad's Alathur village reconstruct road
Kerala: Locals in Palakkad's Alathur village are reconstructing the main road near Venganoor bridge, washed due to rain, by contributing money. Locals say 'Authority says it'll take 6-7 months to complete paperwork for construction. Don't know when will permanent road be built.' pic.twitter.com/dbAKwnCE7X

— ANI (@ANI) August 19, 2018
9:23pm IST
Bodies of 20 animals seen floating in waters near Kochi airport
Near the Kochi international airport, bodies of at least 20 animals could be seen floating in the waters, reports PTI.
9:10pm IST
Kerala received 164% more rains in August alone: IMD
Kerala has received over two and a half times more rainfall over average for August so far, the India Meteorological Department said on Sunday. Between August 1 and 19, the state received 758.6 mm of rainfall, against the average of 287.6 mm, or 164% more.
The highest rainfall was recorded in Idukki district, which received 92% more rains. This was followed by Palakkad, with 72% more rains. Read more
8:58pm IST
Health ministry to airlift 60 tonnes of emergency medicines tomorrow
Ministry of Health&Family Welfare to airlift 60 tonnes of emergency medicines tomorrow. A special train with 14 lakh litres of water & Navy ship with 8 lakh litres of water to reach Kerala by tomorrow: Government of India
8:45pm IST
Assam announces Rs 3 crore in aid
Assam government will extend a financial aid of Rs 3 crore to the flood-ravaged Kerala, Chief Minister Sarbananda Sonowal said on Sunday.
Sonowal also directed the state Revenue and Disaster Management Department to open a helpline to extend help to the people of Assam who are trapped in the deluge and by expediting their rescue and providing relief to them.
8:31pm IST
Extend all possible help to Kerala: RSS
Stating that Kerala was facing an unprecedented flood havoc that had killed hundreds of people and rendered thousands homeless, RSS joint general secretary Suresh Soni said, "The Rashtriya Swayamsevak Sangh calls upon the people of Bharat to stand by Kerala in this period of crisis and extend all possible help to the victims."
8:24pm IST
DGP urges UP Police to voluntarily donate one day's salary for aid
Director General of Police (DGP) OP Singh appeals to UP Police to voluntarily donate one day salary for Kerala flood victims. He says, "Over 300 people have lost their lives in #KeralaFloods. It's a national calamity and we all need to think how we can help the people of Kerala." pic.twitter.com/1KEd0tmYfp

— ANI UP (@ANINewsUP) August 19, 2018
8:17pm IST
Manipur donates Rs 2 crore
"People of Manipur stand in solidarity with the people of Kerala, may you find comfort in knowing that the rest of India stand with you. The people of Manipur pray for you and extending a sum of Rs 2 crore to relief funds from the state, Chief Minister N Biren Singh said.
8:06pm IST
38,000 people rescued, 3 lakh food packets supplied: Centre
"More than 38,000 people rescued and evacuated from the flood-affected areas in Kerala. Medical aid has been provided to over 23,000 people. 3,00,000 food packets have been supplied by the Food Processing Ministry," Central government says.
"The Petroleum and Natural Gas Ministry has made available 9,300 kilolitres of kerosene to Kerala. Additional 12,000 kilolitres of kerosene will be allocated. LPG bottling plant in Kochi has been reopened. The Department of Food and Public Distribution has provided 50,000 million tonnes (MT) of food grains. The Dept of Consumer Affairs has made arrangements to airlift 100 metric tonnes of pulses by tomorrow with additional quantities to be sent by train," the govt says.
7:56pm IST
RSS, CPI(M) cadres engage in relief efforts
"We stock materials and transport it via trucks and trains.We started this on August 15 and will continue as long as it's required," a member of RSS' community service unit , Seva Bharati, told ANI.
CPI(M) cadres, along with Nemmara MLA K Babu, are carrying out rescue and relief operations in Palakkad.
Seva Bharati, a unit of RSS (pic 1), and CPI(M) cadres (pic 2) have been carrying out rescue and relief operations across the state of Kerala. #KeralaFloods pic.twitter.com/y6Ln8V42Vl

— ANI (@ANI) August 19, 2018
7:46pm IST
Maharashtra dispatches 30 tonnes of relief material
Another 30 ton relief material dispatched to Kerala this evening from Mumbai Airport through Indian Airforce flight for #KeralaFloods affected persons and 5 ton more relief material would be sent tomorrow morning with the help of Indian Airforce. @IAF_MCC pic.twitter.com/lTraR3JQvH

— CMO Maharashtra (@CMOMaharashtra) August 19, 2018
7:32pm IST
Health ministry extending all support to relief measures: Nadda
"We are monitoring the flood situation in Kerala on a regular basis. Secretary (Health) is in constant communication with the state health functionaries and monitoring the situation daily through the disease surveillance network," Union health minister JP Nadda said.
According to an official statement, 90 types of medicines in the requested quantity are being sent to Kerala, as requested by the state government.
7:23pm IST
Odisha announces Rs 5 crore more in assistance
Odisha CM Naveen Patnaik announced additional financial assistance of Rs 5 crore for Kerala from Chief Minister's Relief Fund, in addition to Rs 5 crore sanctioned earlier. He also ordered 500 MT of polythene sheets worth about Rs 8 crores to be sent to Kerala, reports ANI.
244 fire service personnel trained in rescue operations have been sent from Odisha with 65 rescue boats and other equipment. The CM has directed Odisha Relief Commissioner to extend all help to people from the state stranded in Kerala, reports the news agency.
7:01pm IST
Pope calls on international community to help flood victims
Pope Francis prayed for the victims of the flooding at St Peter's Square, the Vatican News reported.
"The inhabitants of Kerala have been harshly struck by intense rains, which have caused flooding and landslides, with heavy loss of human life, with many people missing and displaced, with extensive damage to crops and homes," he said.
He voiced his hopes that "these brothers and sisters" would be supported by "our solidarity, and by concrete support from the international community".
6:57pm IST
Next task to help people get back to normal life: CM
CM Pinarayi Vijayan said the biggest challenge now was to provide adequate compensation to those who had lost virtually everything they had as the swollen rivers simply washed away countless homes and left a trail of destruction.
He said the next task would be to help people get back to normal life, for which a plan was being worked out. "Rehabilitation will be done by various agencies."
CM pledged that all towns and cities hit by the floods would be cleaned on a war footing.
6:48pm IST
J&K announces Rs 2 crore assistance
The Jammu and Kashmir government on Sunday announced a relief of Rs 2 crore. Governor NN Vohra gave this information to CM Pinarayi Vijayan while expressing sorrow over the tragic loss of hundreds of innocent lives in the unprecedented floods.
The Governor has also announced that suitable arrangements are being urgently put in place to enable people of Jammu and Kashmir to contribute to Kerala flood relief fund.
6:35pm IST
Qatar extends Rs 34.89 crore in aid
After the UAE, Qatar has come out in support of flood-hit Kerala by announcing a financial aid of Rs 34.89 crore, a media report said today.
The Qatar Charity, through its representative in India, has launched emergency relief for those affected by the huge floods with a total value of half a million riyals during the first stage, the Gulf Times reported. Amir Sheikh Tamim bin Hamad al-Thani issued a directive to allocate $5 million (Rs 34.89 crore) to help provide shelter to those who lost their homes.
6:29pm IST
Tamil Nadu devotees end Sabarimala pilgrimage in local Ayyappa temples
Several Ayyappa devotees from Tamil Nadu chose to end their pilgrimage at local temples in Chennai and elsewhere in the state as heavy rains and floods made Sabarimala out of bounds.
Several devotees who had planned to visit the Sabarimala temple for the 'Chingam' monthly pooja season (August 16-21) and later Onam between August 23 and 27, ended their pilgrimage by offering prayers at the Ayyappan Temple at Raja Annamalaipuram in Chennai.
6:14pm IST
Mullaperiyar dam 'safe' to store water upto 142 ft: OPS
"Experts have opined that water could be stored upto 142 ft.. There is no need to fear.. The dam is strong.. the dam will not be affected even if there is a tremor or quake," Tamil Nadu deputy chief minister O Panneerselvam told reporters in Theni on Saturday night, after visiting the Kumuli road, which got damaged due to a landslide
"People of Kerala are our brothers and sisters.. Some people are trying to create misunderstanding between us," he said.
The statement comes following Kerala's plea Kerala on August 15, for reducing the water level in the Mullaperiyar reservoir to 139 feet over safety concerns in view of heavy inflows. The Tamil Nadu government had turned down the request saying the century-old reservoir was 'safe' enough to store water up to 142 feet.
6:11pm IST
Badal appeals to food processing firms to donate generously
Food Processing Minister Harsimrat Kaur Badal appealed to all food processing industries to come to the aid of people in Kerala.
She said the Food Processing Ministry has nominated two officers to coordinate this effort and that the industries could contact them to make the desired donations. The officers are Joint Secretary Parag Gupta (9650872875) and Deputy Secretary Atyanand (9891614895).
6:05pm IST
Two special trains to evacuate people stranded in Ernakulam
The South Eastern Railway will run two special trains from Ernakulam in flood-ravaged Kerala to Santragachi/Howrah to evacuate stranded people this evening, an SER spokesman said.
On a request from the West Bengal government, SER will run the two trains, which will commence journey from Ernakulam at 6.00 pm and 9.00 pm today, a communique from the state Transport department said. The railway will also run a special train to Ernakulam from Santragachi, which will leave here at 5.15 pm on Wednesday, the SER spokesman said.
5:59pm IST
Use social media with caution, urges CM
CM Pinarayi Vijayan urged people to desist from spreading false information on the social media as such actions would only affect rescue operations. "Sending erroneous information can only delay rescue efforts. Kindly forward only messages that are valid," the chief minister's office said in a tweet. Read more
5:43pm IST
No heavy rainfall in Kerala for next 5 days: IMD
It is expected that for the next 5 days there won't be heavy rainfall in Kerala, rainfall will gradually decrease over the state: Mrutyunjay Mohapatra, India Meteorological Department
5:38pm IST
Roads being cleared after landslides in Palakkad's Nelliyampathy
Massive landslides have occurred at Nelliyampathy hill roads in Palakkad. Road clearing operations underway, reports ANI.
5:32pm IST
13 deaths today, over 7 lakh people in 5645 relief camps: CM
"There are 7, 24,649 people in 5645 relief camps. Thirteen deaths today. 22034 have been rescued so far," says CM.
The waters have not fully receded, there is moderate rain in some parts. Rescue work will continue till things go back to normal," he says.
"Most people will be rescued today and the rescue operation may be completed. But it will continue till the last person is rescued," he says.
5:18pm IST
Kerala govt to provide free fuel, Rs 3000 per day to fishermen involved in rescue work: CM
"The fishermen community has made selfless contribution to the relief effort. For every boat involved in the rescue and relief operations, the government will provide free fuel and Rs 3000 per day. Compensation will be provided for the boats that were damaged or destroyed during relief work. Once their work is complete, the government will take the responsibility of transporting the boats back to where they came from," says CM.
5:07pm IST
Schoolchildren will be provided new textbooks free of cost:CM
"Every schoolchild who lost textbooks in the floods will be provided new ones free of cost.
36 lakh books have been published and will be provided by the Kerala Books and Publications Society under the direction of the Education Department. The Onam exams have been postponed," says CM
4:59pm IST
A policewoman to be posted at every relief camp: CM
CM Pinarayi Vijayan holds a press conference. "As water recedes, we are working on disinfection of drinking water sources. Ways to provide food to staying at home and not in relief camps are being worked out," he says.
CM says a policewoman will be posted at every relief camp.
"We must adopt sanitary practices to ward off an outbreak of diseases," he says.
4:44pm IST
Vijayawada, Begumpet airports facilitating relief operations by IAF aircraft
Civil aviation minister Suresh Prabhu said the watch hour at Vijayawada and Begumpet airports has been extended to facilitate relief operations by IAF aircraft. Watch hour refers the period during which the airport remains open for operation.
4:31pm IST
Kochi naval base inspected for commercial flight operations
The Centre on Sunday said a joint team of different aviation-related bodies and CISF inspected the Cochin Naval Base, a day after announcing operation of commercial flights from the base from Monday to aid rescue efforts in Kerala.
"A Joint team comprising representatives from DGCA, BCAS, CISF, AAI and Indian Navy carried out inspection of #Cochin Naval Base today to check the feasibility of scheduled operations from there. Steps being taken to start operations with ATR-72 from Monday, 20th August," the minister tweeted.
The base will be used by carriers such as Alliance Air, a subsidiary of Air India, to operate 70-seater ATR aircraft to places such as Bengaluru.
The main Kochi international airport, the seventh busiest in the country, will remain closed till August 26
4:26pm IST
Coast Guard ship with 65 tonnes of relief items leaves for Kochi
An Indian Coast Guard ship, carrying 65 tonnes of relief material for flood victims in Kerala, left Mumbai this morning, an official said.
The consignment on board the ship, 'Sankalp', includes items donated by people to various NGOs and the Maharashtra government, a spokesperson said. It is expected to reach the Kochi port by tomorrow, he said.
Another ship with 50 tonnes of relief material was also scheduled to leave from the New Mangaluru port for Kochi today, he said. Around seven tonne of food items have already been sent from New Mangaluru to Kozhikode and Kochi and about five tonne material has been transported in the ICG aircraft through Visakhapatnam and Chennai, the spokesperson said.
4:16pm IST
RAF builds temporary bridge in Palakkad to block flood waters
Temporary bridge is being built by Rapid Action Force (RAF) in Palakkad's Erumachery to block flooding water. Deputy Commandant,RAF Coimbatore,says, "After dam gates were opened, overflowing water damaged roads in the area and entered paddy fields. Bridge will stop the overflow."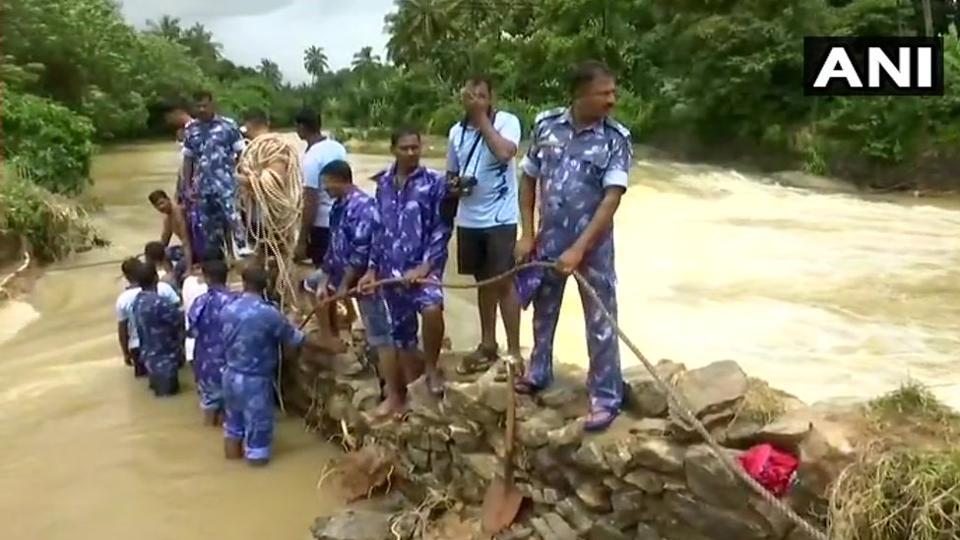 4:08pm IST
Community kitchen set up by Navy at CUSAT
A community kitchen has been set up at Cochin University of Science & Technology (CUSAT), Kalamassery by a team of 21 Navy personnel. The kitchen has provided 50,000 meals over last 3 days to flood affected people, with support from students and local administration, reports ANI.
3:51pm IST
Many river-rafting volunteers brought in from Rishikesh: Southern Air Command
"Today, total 288 boats available at air force station. Many river-rafting volunteers have been brought from Rishikesh. 26 helicopters are in operation. One team of Task Force Commanders placed in Trivandrum and one in Kochi," Air Marshal B Suresh, Southern Air Command, tells ANI.
3:44pm IST
47,125 kg of food items, medicines distributed: Southern Air Command
"On August 18, 18 sorties were carried out and 99 survivors were brought. Total 526 survivors have been winched up. 29 tonnes of total relief material air dropped, so far. 47,125 kg of food items and medicines distributed," Air Marshal B Suresh, Southern Air Command tells ANI.
3:39pm IST
Telangana Home Minister contributes Rs 25 crore for relief work
Home Minister of Telangana, Naini Narshimha Reddy, handed over a cheque of Rs 25 Crore to Kerala CM Pinarayi Vijayan earlier today. Around 50 RO machines worth Rs 2.5 Crore will be airlifted from Begumpet (Telangana) to Kerala shortly, to provide clean drinking water to the state, news agency ANI reported.
3:00pm IST
Kerala CM asks people to send rescue requests for valid cases
Kerala Chief Minister Pinarayi Vijayan has requested people to make valid rescue requests on helpline numbers . "Attention:Efforts are in progress to save even the last person stranded. Many of the requests coming to helpline numbers are for people who are already rescued. Sending erroneous information can only delay rescue efforts. Kindly forward only messages that are valid," he said on Twitter.
2:24pm IST
Airlines advised to ensure optimal airfares for Kerala flights
Union Minister Suresh Prabhu said that airlines have been asked to maintain optimal fares for flights to and from airports in Kerala. "Scheduled domestic airlines have also been advised to ensure that airfares for flights to/from Trivandrum and Calicut airports in Kerala and nearby airports i.e. Mangalore and Coimbatore are kept at optimal level proportionate to sector distance," he tweeted. Accordingly, airlines have been advised to cap the maximum fare around Rs. 10,000 for longer routes and around Rs. 8,000 for shorter routes to and from Kerala and nearby airports, he added.
2:19pm IST
Indian Navy releases deployment details
#KeralaFloodRelief #KeralaFloods2018 #OpMadad Deployment of @IndiaCoastGuard Disaster Relief Teams as of 1400h @DefenceMinIndia @SpokespersonMoD @nsitharaman @CMOKerala pic.twitter.com/r5loMdXnlk

— SpokespersonNavy (@indiannavy) August 19, 2018
1:30pm IST
IAF official rescues toddler from rooftop in Alappuzha
#WATCH: Wing Commander Prasanth of Garud Special Force of Indian Air Force rescues a toddler from rooftop in flood hit town of Alappuzha. #KeralaFlood (Source IAF) pic.twitter.com/wT12zszMya

— ANI (@ANI) August 19, 2018
1:18 pm IST
Airlines add more flights to and from Trivandrum, Calicut and Coimbatore
Scheduled domestic airlines have added more flights to and from Trivandrum, Calicut and Coimbatore airports to minimize passenger inconvenience, Union minister Suresh Prabhu said. "A Control Room has been set up by DGCA which is working around the clock 24x7 to aid stranded and affected passengers due to flight cancellations in Cochin. Based upon request received from Kerala Government, to facilitate them in air dropping of relief material, DGCA is in contact with three private helicopter operators to carry out such relief operations," he said in a series of Tweets.
He also said that steps are being taken to start operations with ATR-72 from Monday adding that watch hours at Vijayawada and Begumpet airports have been extended by AAI upon the request received from the Ministry of Home Affairs and Defence regarding assistance for relief operations with IAF aircraft.
1:13pm IST
Railways announces free transportation for sending relief material
The railways has issued a set of guidelines allowing all government organisations as well as private bodies to transport relief material to flood-ravaged Kerala for free. However, non-government organisations have to be vetted by divisional railway managers in order to avail this provision, said the guidelines.
12:52pm IST
Coast Guard undertakes 'Operation Water Baby' in Kerala
The Coast Guard and armed forces personnel saved a newly-born baby in a night-long rescue operation near the Idukki dam two days ago. The rescue operation began after a call from the Mumbai Coast Guard about rising water level in the Idukki dam area, the Army officer who led the team said. "We were in the weekly commanders' conference at Kochi when a call came from the Coast Guard office in Mumbai to send the best team near the dam where water was flowing above the danger level," Lt Col Shashikant Waghmode told PTI. Waghmode said he volunteered to lead the team and within 30 minutes, the team members were selected. Many Coast Guard personnel were called from various ships, he told said when asked about the operation.
12:47pm IST
President Kovind speaks to Kerala Governor, CM
President Ram Nath Kovind spoke to the Governor and the Chief Minister of Kerala and inquired about the flood situation. He acknowledged the grit and resilience of the people of Kerala in coming together in this trying hour. Assured the people of the state that entire nation was with them, the Rashtrapati Bhawan said in a tweet. "President Kovind expressed satisfaction that the Union and state governments were working together and in synergy in rescue and relief operations in Kerala. He praised relief agencies such as NDRF and public officials at state and Central level for their response and commitment," it added.
12:36pm IST
Nirmala Sitharaman shares measures taken for relief work
Relief measures undertaken by various Defence services as on 18.08.'18 @SpokespersonMoD @the_hindu @ddmalayalam @DDNewsLive @airnewsalerts @Malayla_Manoram @mathrubhumieng @mathrubhuminews @CMOKerala pic.twitter.com/Sxme53QEGl

— Nirmala Sitharaman (@nsitharaman) August 19, 2018
11:53am IST
Mamata Banerjee to contribute Rs 10 crore for Kerala relief work
We are also ready to extend all other assistance and support that may be needed to tackle the calamity. We pray that our brothers and sisters of Kerala resume normal life soon 2/2

— Mamata Banerjee (@MamataOfficial) August 19, 2018
My heart goes out to the people of Kerala battling #KeralaFloods In this hour of crisis, to stand beside the flood-affected people of Kerala, we have decided to make a contribution of Rs Ten Crore to the Chief Minister's Distress Relief Fund 1/2

— Mamata Banerjee (@MamataOfficial) August 19, 2018
11:12am IST
People gather relief material for Kerala
People from Mumbai gather essential commodities to be sent to flood-hit Kerala. #KeralaFloods. pic.twitter.com/HnxYff0r6r

— ANI (@ANI) August 19, 2018
10:51am IST
2 shutters of Idukki dam closed
Two gates of the Idukki reservoir were closed after water level receded and was recorded at 2402.28 ft at 10am today. The water flow into Periyar River is now 913 cusecs per hour, reports news agency ANI.
10:42am IST
Amber alert in 10 districts, yellow in 2; red alert withdrawn
Red alert withdrawn for all districts of Kerala today. Amber alert issued for 10 districts, yellow alert for 2 districts. Rescue operations underway across the state, reports news agency ANI.
10:32am IST
10 bodies recovered from Palakkad
An RAF team recovered one body from Nemmara landslide area in Palakkad district early morning today."We have recovered total 10 bodies from the area. Landslides are still occurring in the area,it was a tough task to recover the bodies," District Commandant RAF Coimbatore unit told ANI.
10:20am IST
'Our thoughts with everyone affected,' says Justin Trudeau
Tragic news from Kerala, India - Canada sends its deepest condolences to all those who have lost a loved one in the devastating floods. Our thoughts are with everyone affected.

— Justin Trudeau (@JustinTrudeau) August 18, 2018
10:15am IST
Railways send 14 lakh litres of drinking water in special train
The Central Railway today sent over 14 lakh litres of drinking water to Kerala by a special train from Pune. The water train consists of 14 wagons filled up in Pune and 15 wagons that came from Ratlam, Milind Deouskar, Divisional Railway Manager, Pune Division, said. The special water train will reach Kayamkulam in Kerala via Daund, Wadi and Renugunta, he told PTI.
10:09am IST
6 rescuers on board missing boat in Chengannur
There were six rescuers in the boat which has been missing in Pandanad area of Chenganur since yesterday. However, the number of evacuees is yet to be known.
10:02am IST
Andhra Pradesh IAS Officers Association to contribute a day's salary
The IAS Officers Association of Andhra Pradesh has decided to contribute one day salary of its members to aid relief work in the flood-hit Kerala, news agency ANI reported.
9:39am IST
Rescue boat missing in Chengannur
A rescue boat has been missing in Pandanad area of Chenganur where heavy downpour continues to worsen the flood situation. The boat has been missing since yesterday. However, the number of people in the boat is yet to be ascertained.
9:32am IST
Heavy downpour in Chengannur, Pathnamthitta, Aluva and Adoor
Heavy downpour has been reported in areas like Chengannur, Pathnamthitta, Aluva and Adoor even after the weather department's forecast of better conditions from Sunday. A senior official on Saturday said that with many areas reeling under food and power shortage, and thousands still awaiting evacuation, the government faces an uphill task in the weeks to come.
9:18am IST
8000 houses razed, death toll 243 since August 8
The death toll in Kerala since August 8 has risen to 243. With more than 8,000 houses razed, around 8 lakh people have been placed in relief camps.
9:04am IST
Around 8 lakh people in relief camps
Around 8 lakh people have been placed in relief camps in flood-hit Kerala as rescue operations continue. Over 33 people died in the state on Saturday alone.
8:49am IST
'Anbodu Kochi' establishes collection centres for relief material
"Anbodu Kochi", a team of volunteers, has established collection centres to collect relief materials for Kerala flood victims.The team has also started call centre to help victims. Around 40 people are on mobile and laptops to receive calls and communicate callers' needs to concerned departments. "We are closely associated with District Collector's team. We take requirements of callers and cater the same to respected departments," a member told ANI.
8:15am IST
Navy choppers load up on relief materials
Relief materials are being loaded onto Naval Advanced Light Helicopter (ALH), Chetak helicopter and Naval Sea King helicopter at Naval Air Station INS Garuda in Kochi. Personnel have been air dropping food and water packets to people stranded and marooned amid the flood waters.
8am IST
Air Alliance to fly out of Kochi naval air base
The state-run Alliance Air, a subsidiary of Air India, will commence operations from Kochi naval base from August 20 (Monday). Flight operations to begin between Bengaluru and Kochi, with connectivity to expand to Madurai and Coimbatore.
7:58am IST
Navy scale up Operation Madad
The Indian Navy has scaled up its rescue efforts – Operation Madad – which is in its 10th day. Rescue teams have been augmented by resources from Eastern and Western Naval Commands, ANI reports.
7:56am IST
Heavy downpour in some areas
Rescue efforts in Kerala are hampered on Sunday morning as it begins raining heavily again. The weather had cleared up a little on Saturday, leading officials to limit the red alert to just three of the 14 districts.
Close Story
Personalise your news feed. Follow trending topics