Kerala nuns hit the streets, demand action against rape accused bishop
A protester said the nuns were planning to move a petition in Kerala high court, demanding action against the Jalandhar bishop accused of sexual abuse.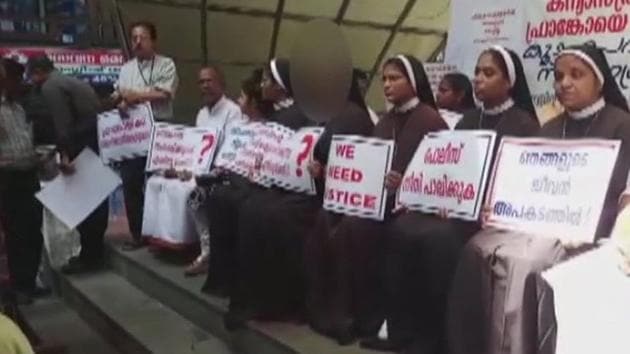 Updated on Sep 08, 2018 03:28 PM IST
Hindustan Times, Thiruvananthapuram |
Ramesh Babu
A group of nuns took to the streets in Kerala's Kochi on Saturday protesting the delay in action against Jalandhar bishop Franco Mulakkal who is accused of sexually exploiting a nun.
Holding placards and banners, the nuns, along with activists, staged a sit-in at the High Court junction in the city, saying they had been denied justice by church authorities and police.
"More than 70 days have passed since the nun filed a police complaint against the bishop. We have given clinching evidences also. It seems police are reluctant to take action due to pressure. Church and police both let us down. Now, we pin our hopes on the judiciary," said a nun who did not want to be named.
She accused the police of delaying action by finding loopholes in the complaint and called the Kerala police team's visit to Jalandhar a drama.
She said the nuns were planning to move a petition in Kerala high court on Monday.
The 43-year-old victim nun will hold a press conference in Kottayam on Sunday.
She had in her complaint alleged that the bishop had sexually abused after summoning her on the pretext of discussing an important issue in 2014. He later raped 13 times in the next two years.
However the bishop said he was implicated for taking action against her. Bishop Mullakkal, hailing from Kottayam, was appointed as the Auxillory Bishop of Delhi diocese in 2009 and made the Bishop of Jalandhar in 2013.
She had complained to the church last December, but filed a police complaint in July after it failed to take action against him.
Veteran Marxist leader VS Achuthanandan said authorities should take steps to redress grievances of agitating nuns.
Many activists and church insiders have also pledged support to agitating nuns.
Perhaps, this is the first time nuns are coming out in the open against church authorities and police.
"Their wails should be heard. Wedded to religion, they sacrifice their lives for the cause of Jesus and the church is duty-bound to hear them," said Father Paul Thelekkat, former spokesman of the Syro-Malabar church.
Close Story