Land release case: Gurgaon realtors push for license on contentious land, Haryana govt turns to AG
Published on Feb 06, 2018 03:07 PM IST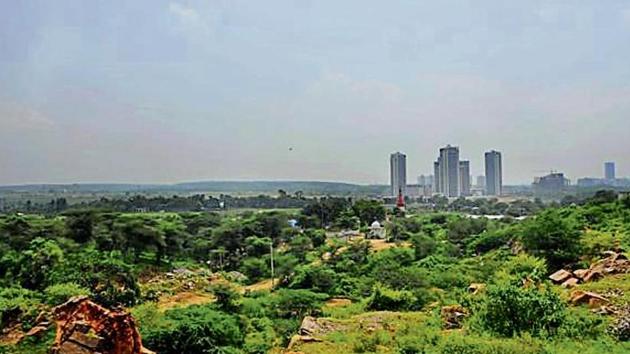 Real-estate developers are mounting pressure for grant of licenses and approvals in Sectors 58 to 63 and Sectors 65 to 67 of Gurgaon, forcing the Haryana government to seek an advice from the advocate general since the land parcels in these sectors are subject of a CBI probe.
The Supreme Court had on November 1, 2017, ordered a CBI probe into the initiation of the acquisition process for 1,407 acre and subsequent release of 95 % land in the area now falling in these sectors.
The advocate general office in its advice to the state government has said that either the department of town and country planning should wait for the completion of the CBI investigations within a period of six months or the department may seek the expressed permission from the SC for processing any application by land owners in these sectors.
A number of real estate developers like the Emaar MGF, M3M, Manglam Multiplex, Commander Realtors, Yule Property Build, Kay Kay Build Homes, Krish Landscapper, who have applied for residential and commercial licenses in these sectors, are awaiting approvals. Also, builders like IREO KSS properties and IREO Commander Realtors, which have obtained licenses previously and got sanctions for revised building plans and occupations certificates could also be affected.
On being asked, principal secretary, town and country planning, Arun Gupta said there could be a restriction on grant of fresh licenses since the land is the subject of CBI probe. However, if a land owner applies for occupation certificate, it would be hard to deny it since the end user would get unjustifiably affected.
The land in question
The matter pertained to 1,407 acres in Gurgaon where the previous Congress government had issued a notification under Section 4 of the Land Acquisition Act June 2, 2009 for acquiring the land of Nagli Umarpur, Tigra, Ullhawas, Kadarpur, Maidawas, Badshahpur, Behrampur and Ghata for the purpose of development of residential Sectors 58 to 63 and residential-commercial Sectors 65 to 67.
The land acquisition collector finally passed the award only in respect of 87 acres on December 22, 2011. Thus, there was release of about 95% of the notified land for acquisition. Taking the CBI investigation into the release of land in Manesar into consideration, the Supreme Court while hearing a petition had ordered a CBI probe into the acquisition and release process. "In the circumstances, without making any further comments, as they may prejudice the investigation itself to be made by CBI regarding action of release of land in the instant case, let there be CBI investigation and it may submit report to this court within a period of six months from today,'' the apex court had ordered.
Personalise your news feed. Follow trending topics