Low Narmada Dam water level forces Gujarat to curtail rabi season sowing
Indo Asian News Service |
, Gandhinagar
Indo Asian News Service
Jan 13, 2018 08:40 AM IST
With last monsoon's scanty rainfall in Madhya Pradesh reducing the Narmada dam reservoir's water storage to its lowest in 15 years, the Gujarat government asked the state's farmers to skip the summer sowing, which starts around March.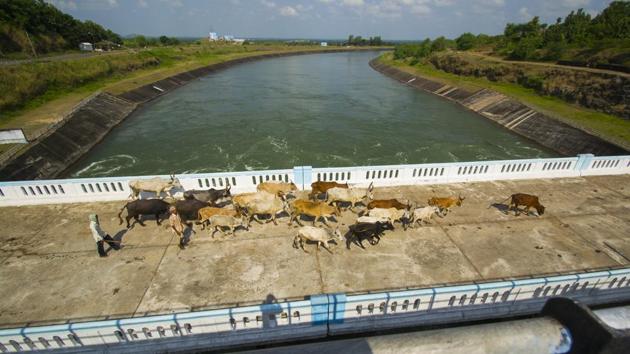 The decision was taken following the Narmada Control Authority's (NCA) decision to curtail water supplies to the state by half due to the scanty rainfall.
The Gujarat government, in a statement issued on Friday, said that water storage in the dams under Narmada command area had dropped by 45 per cent this year, following which it had decided to suspend water supplies in the Narmada canal network for irrigation purposes from March 15.
Citing the NCA meeting held on January 10 in New Delhi, the government advisory, quoting Sardar Sarovar Narmada Nigam Ltd (SSNNL), said: "The NCA had decided to curtail water supplies to the beneficiary states of the Sardar Sarovar Dam.
"As a result, Gujarat state will get 4.71 million acre feet water from the scheme as against the planned 9 million acre feet. This necessitated curtailment in the Narmada water supplies and store it for drinking purpose."
The SSNNL statement said: "We urge the farmers depending on Narmada waters for summer cultivation not to take up sowing, as there will be no water supplies for irrigation from Narmada scheme from March 15. Those, having alternate irrigation facility can make use of that instead."
The statement also said that the Narmada water supply for drinking purposes would not get affected due to the NCA decision.
The state has about 1.5 million hectares under summer cultivation, where some of the major summer crops include sesame, millets, pulses, groundnut and paddy.