Mandsaur farmers' stir: Violence spreads, Rahul meets victims amid high drama
Violence flared up in Mandsaur after five protesters were killed in police firing with farmers blocking highways, torching factories and attacking government officials.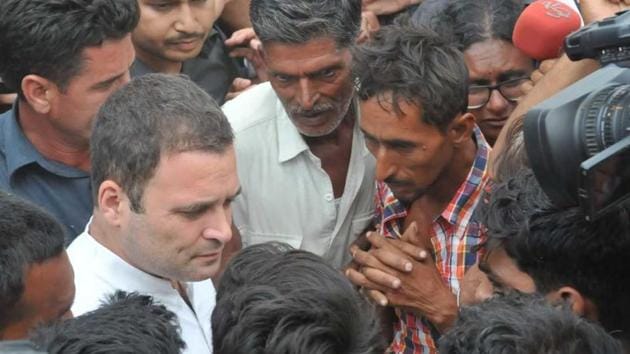 Updated on Jun 11, 2017 09:46 PM IST
HindustanTimes, Mandsaur/Bhopal |
Punya Priya Mitra and Ranjan
A political storm over violent farmer protests in Madhya Pradesh intensified on Thursday as Congress vice president Rahul Gandhi was arrested and held for hours before finally meeting families of five farmers who died in police firing two days ago.
Gandhi, who met the families at Doria on the Madhya Pradesh-Rajasthan border, is believed to have discussed prices of vegetables and produce.
"I am being stopped everywhere from UP to MP. I just wanted to meet the family of the deceased. Don't I have the right? The MP government has created problems for everyone," said Gandhi in Doria.
Police stopped Gandhi and a slew of top Congress leaders outside Mandsaur that has been scorched by angry agitations with several vehicles burnt and buildings torched.
The farmers are pressing for a loan waiver, better crop prices and better support for farmers reeling under successive droughts and a supply glut that has sent prices crashing.
"Modi cannot waive loans of farmers, cannot give them bonuses…he can only give them bullets," Gandhi said minutes after his arrest. "What law of the land says that it is illegal to stand in solidarity with farmers who were killed simply for demanding what is their right?"
Chief minister Shivraj Singh Chouhan has blamed the Congress for stoking violence and appealed to farmers to not be incited by "anti-social elements".
"Deliberations can only solve problems", he said.
The morning kicked off with high drama as Gandhi abandoned his car halfway to Mandsaur from Udaipur airport and rode pillion on a motorcycle before walking to the Rajasthan-Madhya Pradesh border on foot. He then jumped over barricades to enter Mandsaur but was pushed back across the border almost immediately by a huge posse of security personnel.
Farm protests have spread like wildfire across India's food bowl states in recent weeks with a slew of suicides in neighbouring Maharashtra and simmering discontent in Rajasthan.
The farmers complain of a lack of storage facilities that forces them to either abandon produce or sell them at below-par prices – a result of chronic underinvestment in India's agriculture sector.
Violence flared up in Mandsaur on Tuesday after five protesters were killed in police firing with farmers blocking highways, torching factories and attacking government officials.
The state government has struggled to contain the demonstrations and even transferred senior officials from violence-hit districts – including the district magistrate and superintendent of police in Mandsaur -- in a bid to tighten law and order. The central government has rushed in 11,000 Rapid Action Force troops and detained 62 people.
Chouhan and the BJP leadership have blamed the Congress of trying to destabilise the administration in a state that the saffron party has ruled for 14 years.
"He (Gandhi) behaved like a college student. He was riding a bike without wearing a helmet. He was smiling and did not look concerned over farmers' problems," said state home minister Bhupendra Singh.
More than 10 million people in Madhya Pradesh are dependent on agriculture but the state has clocked one of India's highest rates of farmer suicides in the past few years. The deaths have come as a major embarrassment for Chouhan, who calls himself a farmer's son and is banking on the farmers to guarantee him a fourth term in elections slated for next year.
The state government has attempted to open dialogue with the farmers and even announced a Rs 6,000 crore scheme to waive interests on loans, but without much success.The protests have singed atleast six districts in Madhya Pradesh with fresh clashes reported from Shajapur on Thursday. Thousands of protesting farmers blocked the highway and set trucks and motorcycle ablaze. Stone pelting was also reported.
In neighbouring Maharashtra, the family of a farmer who killed himself on Wednesday evening refused to cremate him unless his loan was waived and chief minister Devendra Fadnavis visited the family. This was the fourth farm suicide in two days.
Close Story