Mandsaur farmers' protest: A blow-by-blow account of how violence escalated
Madhya Pradesh farmers' protest saw sporadic incidents of violence, but it boiled over in Mandsaur after five persons were killed in police firing on Tuesday.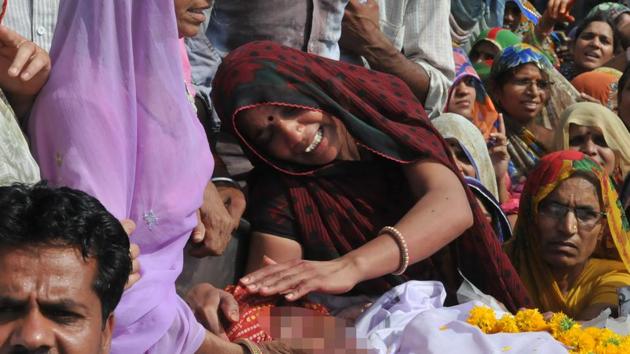 Updated on Jun 07, 2017 07:59 PM IST
At least five farmers were killed and several injured in Madhya Pradesh's Mandsaur district when police fired on protesters demanding better prices in the drought-ravaged region that recorded a farm suicide every five hours in 2016-17.
Below is a detailed account of how the violence escalated
June 1: The agitation starts and farmers stop vehicles carrying milk, vegetables. At some places, protesters pour the milk on roads and throw away the vegetables. This goes on for the next four days.
June 5: Farmers head to Pipliyamandi and forcibly close traders' shops. A few traders resist and their shops are vandalised. After a majority of protesting farmers leave, traders allegedly catch hold of the remaining few and thrash them. One of the farmers suffers a head injury and is sent to a hospital in Udaipur in Rajasthan. Farmers allegedly burn down the houses of traders in retaliation.
June 6: Farmers find out traders are at Pipliyamandi police station to lodge a complaint against them. The farmers head to the police station and demand the traders be handed over to them. The police refuse and CRPF is called in. Agitated, farmers allegedly start throwing stones. The forces retaliate and shots are fired at the farmers.
Five farmers are killed in two separate incidents. State home minister Bhupendra Singh says, "There were two incidents at Pipalia. In one of the incidents police had to fire in self-defence when a mob gheraoed the police station. In the other incident, the police fired when there was firing from the mob."
Following the farmer deaths, protesters torch trucks and other vehicles on the Neemuch-Mhow highway. Police keep their distance and the frenzied mob sets more than a dozen vehicles on fire.
June 7: Farmers start a chakka-jam (blockade) on the highway at Barkheda with body of one of the slain farmers, Abhishekh Patidar. They heckle and manhandle Mandsaur district collector Swatantra Kumar Singh when he approaches them to complete Patidar's last rites and ensure peace.
The protesters perform Patidar's last rites, but continue the highway blockade during which vehicles are torched again. Among the vehicles set on fire is a multi-axle vehicle transporting new motorbikes.
Protesters also torch a small factory in the area owned by one of the traders they suspected of having beaten farmers two days ago.
The police arrive at the arson site nearly an hour later. The protesters make a run for villages nearby and police do not give chase.
Some protesters also heckle journalists covering the unrest.
Close Story
Personalise your news feed. Follow trending topics