Rahul Gandhi's Mandsaur steeplechase: Plane, car, motorbike and even on foot
Congress leader Rahul Gandhi was on way to Mandsaur, that has been rocked by farmer protests and the death of five people in police firing two days ago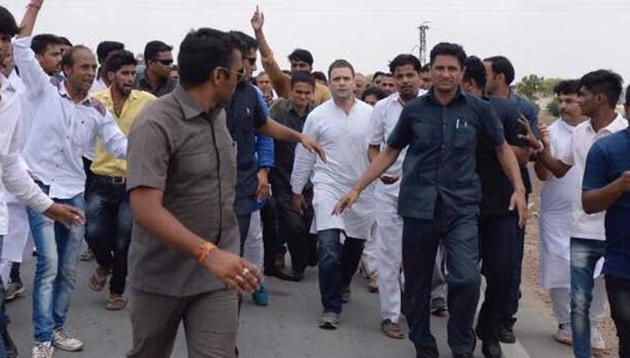 Updated on Jun 08, 2017 02:56 PM IST
New Delhi: He took a plane, a car, a motorcycle and even walked. But in the end, Rahul Gandhi couldn't reach his destination.
The Congress vice-president left Delhi on Thursday morning for a small town in Madhya Pradesh's Mandsaur district that has been rocked by farmer protests and the death of five people in police firing two days ago.
But he faced his first hurdle when he landed at the Udaipur airport around 10.30am as hundreds of Congress workers mobbed him for a selfie. Police had to resort to caning to disperse the crowd and let Gandhi get into his car, and onwards to Mandsaur.
But that was not to be. A few kilometers away from the border at Nimbaheda, Gandhi got down from his Bolero and got onto a motorcycle, taking a different route to dodge checkposts put up by police at the district border.
The motorcycle show ended around 500 metres from the border, as police put up fresh barricades. He got down from the motorcycle and walked upto the checkpost on foot as other Congress leaders were locked in a heated dispute with police.
But there was more drama left. Gandhi neared the barricades and jumped over one of them but could only go 50 metres into Mandsaur before a swarm of police personnel surrounded him and detained him.
The authorities then put him, and other leaders, in a bus and send them packing to a guest house in Neemuch that was treated as a temporary jail. Gandhi now awaits bail.
Close Story